It's Hard to Cheer About GE When Cash Flow Is Cut
(Bloomberg Opinion) -- General Electric Co.'s earnings are an important reminder that CEO John Flannery still has a lot of work to do.
The embattled industrial giant on Friday reported its first batch of quarterly results since announcing plans to spin off its health-care unit and divest its stake in the Baker Hughes energy business. Its adjusted earnings per share of 19 cents surpassed analysts' (lowered) expectations. But few GE watchers put much in stock in company-defined earnings numbers at this point, given the still over-the-top degree of adjustments. In the category that matters most — cash flow — GE is coming up short.
GE reported only $258 million in adjusted industrial free cash flow including Baker Hughes dividends for the second quarter, about $100 million less than the previous period last year. That puts its first-half 2018 free cash flow at negative $1.4 billion and forced the company to dial back its full-year goal to $6 billion.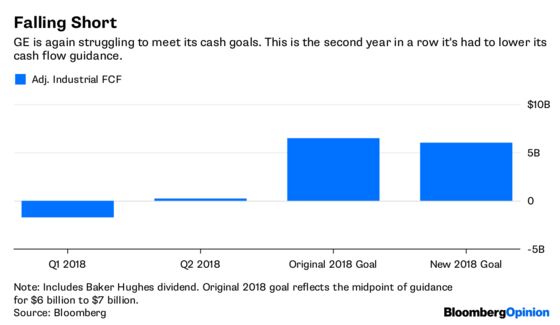 A big cash-flow shortfall last year forced Flannery to cut GE's dividend for the second time since the Great Depression. He's signaled another cut is in store after the company completes the health-care spinoff. By bundling a dividend cut with a breakup, Flannery appeared to be trying to mitigate the blow and spin a more positive narrative. Simplifying GE is the right move and should put the company on a better path, but at the end of the day, a cut is still a cut. Today's numbers are both a testament to why a lower payout is necessary and an indication that the reduction will likely be significant.
Following its breakup, GE will be an aviation, power and renewable-energy company. It will no longer have the benefit of the health-care business's steady cash-flow generation and stable earnings to offset disappointing results elsewhere. This shift will require its aviation unit to continue to be a powerhouse and generate near-perfect results. It will also make the company more vulnerable to economic downturns.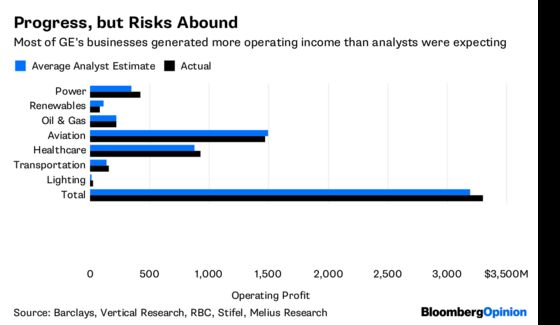 The risks to its strategy showed in Friday's earnings report. Aviation earnings of $1.475 billion came in slightly below the average of five analysts' estimates compiled by Bloomberg Opinion. Nothing too troubling on its own, but again, aviation has no wiggle room for mistakes. To GE's credit, operating profit for the power unit was better than expected. But earnings were still down more than 50 percent from the prior year and GE said first-half trends continue to point to market demand of less than 30 gigawatts in 2018. This business isn't going to be fixed any time soon.
It bears repeating that GE's current woes are happening at a time of growth for most other industrial companies. GE's 6 percent decline in organic revenue in the second quarter (sales excluding the impact of M&A and currency swings) compares with 6 percent growth in the same metric at rival Honeywell International Inc., which also reported results on Friday.
There are a lot of things that need to go right for Flannery's transformation to work out. He's saying the right things in terms of cutting back the bureaucracy that hamstrung the old GE and allowing business units to operate independently. But even the best laid plans can be disrupted by uncooperative markets.
This column does not necessarily reflect the opinion of the editorial board or Bloomberg LP and its owners.
Brooke Sutherland is a Bloomberg Opinion columnist covering deals and industrial companies. She previously wrote an M&A column for Bloomberg News.