Beating the Next Superbug Needs a  Big Pharma Payoff
(Bloomberg Opinion) -- Antibiotics might be the most important medicines we have. They treat everything from dirty cuts to rapidly mutating superbugs that make a stay at a hospital an increasingly scary proposition.  
With new strains of drug-resistant and potentially deadly bacteria continuing to emerge, it's essential from a public-health perspective that the antibiotic pipeline remains robust. But instead, big pharmaceutical companies are scaling back. Just last week came news that Novartis AG is killing off its prominent anti-bacterial research group in the San Francisco Bay area and ditching drug candidates. Earlier this year, Sanofi split off its antibiotics business and Allergan PLC announced its intention to do the same, following similar moves by other big players including AstraZeneca PLC and Bristol-Myers Squibb Co.
It's not that the need isn't urgent, or that there would be any lack of demand. So what's happening here? The issue, as so often is the case with corporations and their priorities, is about dollar and cents. In the antibiotics market, cheap generics dominate and many new products have been commercial flops. And if a company were actually able to create a novel antibiotic, it would likely be reserved for emergencies, so even a breakthrough might be rewarded with minimal sales. It all combines to make developing antibiotics an awful business proposition, and it explains why there hasn't been a new class of the drugs in 30 years.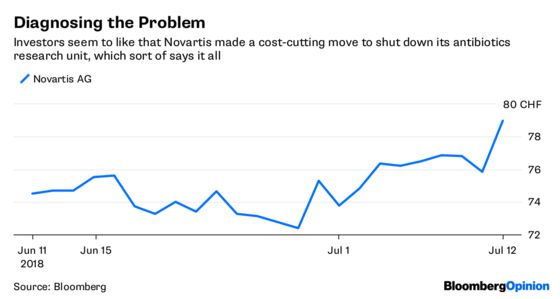 This is a serious problem. And that's why, even as Big Pharma gets grilled over drug prices that many find excessive, lawmakers in Congress are considering legislation that would effectively boost their bottom lines in exchange for gaining their support in the fight. A bipartisan bill introduced in late June in the House of Representatives — known as the Re-Valuing Anti-Microbial Products Act of 2018, or  REVAMP — would let a drugmaker that develops an antibiotic meeting certain criteria extend exclusivity on any medicine they want, including a best-seller. 
While employing incentives to nudge drugmakers in a specific direction isn't new (think tropical ailments and rare diseases), the carrot involved here would be unprecedented, potentially worth billions of dollars. But it may be what's required in order to actually attract big profit-motivated companies back into the antibiotics business. And with so many potential lives on the line, it needs to be considered. 
Currently, the Food and Drug Administration gives extra exclusivity to rare-disease drugs, but it is often narrow and doesn't always extend beyond patent protections. The broad and flexible 12 months of exclusivity that would be allowed under REVAMP would be far more valuable because it could be tacked on when protections have lapsed. There are some limits to the grant, and only drugs licensed after Jan. 1, 2023, would be eligible. Still, the upside would be truly enormous, given that the biggest blockbuster drugs generate billions of dollars in annual sales in the U.S. And it appears as though the award could be sold, offering another avenue for generating revenue.
Should drugmakers receive the equivalent of a multibillion dollar check just to encourage work they should arguably already be doing? It does seem a little unpalatable. After all, many medicines developed by Big Pharma suppress the immune system and would be difficult to use without antibiotics.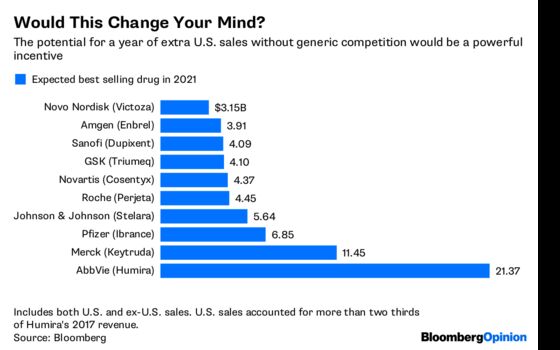 Previous-drug incentives have been roundly abused. The Orphan Drug Act, for example, has frequently been manipulated to give extra incentives to mass-market drugs. And REVAMP would have novel consequences: By delaying generic competition for blockbuster drugs, it could create substantial costs to the health-care system.
But letting the current state of antibiotic research persist could result in a higher price. And the failures of past programs could serve as valuable lessons for the design and implementation of the new measure. The fact that the bill would restrict the award to antibiotics that fit a specific list of key needs created by a panel of experts is an excellent start. 
The pharmaceutical industry is a trillion-dollar reminder of how much incentives and outsize rewards matter. A bitter pill, perhaps, but one we may need to swallow to beat the next superbug.