Praxair Gas Assets Give Japan a Solid Win
(Bloomberg Opinion) -- Japanese acquirers aren't known for underpaying. So the country's top industrial-gas producer looks to have lucked out in buying the European cast-offs of the $45 billion merger between Germany's Linde AG and Praxair Inc. of the U.S.
Praxair agreed to sell assets valued at about 5 billion euros ($5.9 billion) to Taiyo Nippon Sanso Corp. as part of efforts to win regulatory approval for its plan to create the world's largest industrial-gas supplier. Tokyo-based Taiyo Nippon will pay with a combination of cash and a bridge loan.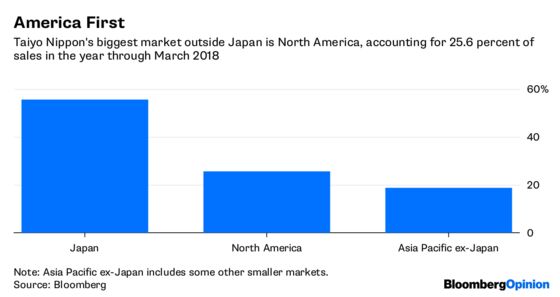 The price is fair, valuing Praxair's European assets at 12.5 times the 400.8 million euros Ebitda they generate. That's in line with the multiple of about 13 at which industrial gas players are trading.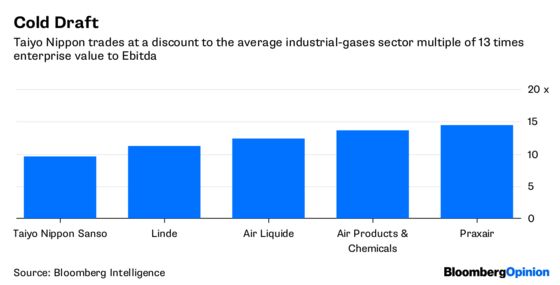 The deal gives the Japanese firm exposure to European countries from Germany to Portugal and the U.K., and some attractive margins. While Taiyo Nippon sees the U.S. and Asia as growth markets, according to Nomura Holdings Inc., the European industrial-gases market is alluring for its high profitability.
Praxair's European business has an operating margin of 19 percent. Taiyo Nippon's was 8.8 percent last year, according to data compiled by Bloomberg.
The acquisition is the latest indication of the Japanese hunger for overseas assets, as aging demographics wreak havoc on domestic growth prospects. It may not be in the same bracket as Takeda Pharmaceutical Co.'s $80.2 billion purchase (by enterprise value) of Shire Plc, but $6 billion isn't peanuts either.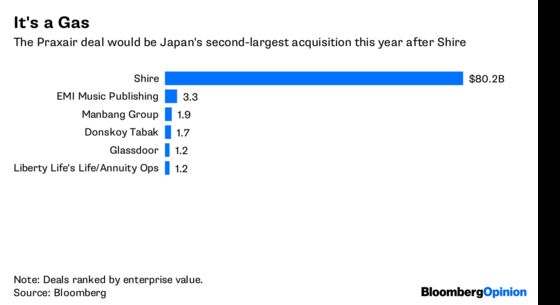 Finance won't be a problem. Ample cash is likely to be available from banks desperate to make Japan's negative interest rates work for them, while Taiyo Nippon has a hefty parent in Mitsubishi Chemical Holdings Corp., the nation's largest chemical maker.
Taiyo Nippon CEO Yujiro Ichihara said the purchase was a unique opportunity to acquire highly attractive assets in key European geographies. Given the terms, that's far from hot air.