The U.S. Slow Lane's OK for Japan's Automakers
(Bloomberg Opinion) -- As U.S. President Donald Trump lobs tariff threats at China, Mexico and Canada, one of the world's biggest economies has been largely absent from his rhetoric. And yet, Japan stands to bear the brunt of many of them.
Unlike its neighbor South Korea, which was exempted, Japan has been struck with levies on steel and aluminum by a Trump executive order on national security grounds. Now, his administration is threatening tariffs on vehicles imported into the U.S., the largest market for Japan's big three automakers.
In response, Japan is looking at imposing tariffs of its own, and Prime Minister Shinzo Abe lashed out in parliament on Wednesday, calling Trump's push unacceptable.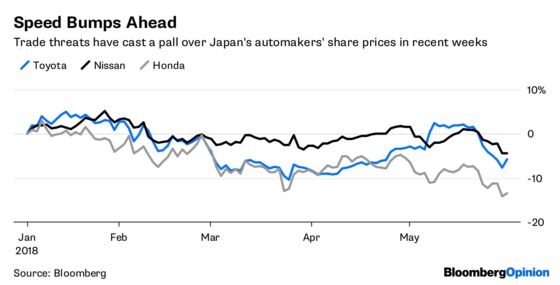 His angst is understandable. Abe was one of the first world leaders to meet Trump after he was elected in 2016. Companies including Toyota Motor Corp. and SoftBank Group Corp. have promised U.S. investment and jobs. Such gyrations in trade policy are no doubt unsettling for the nation at a time when global growth has hit a soft patch.
Sure, steel and aluminum only account for around 2 percent of Japan's total exports to the U.S. and the types of products it makes can't be replaced that easily. The trickle-down impact to GDP would be less than half a percentage point. But, low as that may seem, Japan's economy can't afford any growth dampers.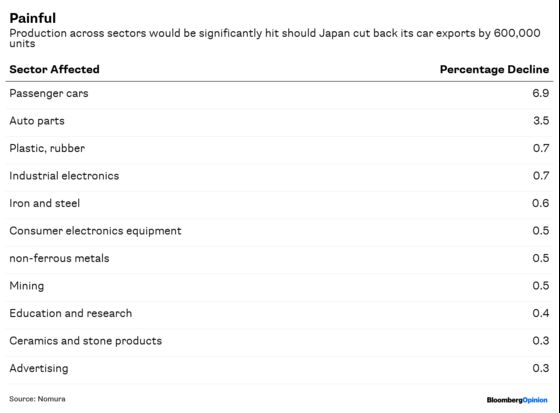 The auto industry tensions are a deja vu of sorts. The U.S. and Japan were sparring more than two decades ago, when the former's carmakers were struggling and blaming the latter's for unemployment. Japan responded by capping car exports at around 2 million units and doubling down on local production. Japanese automakers' share of the North American market fell from almost 40 percent of sales in the late 1990s to just over 20 percent. Such explicit and voluntary pullbacks aren't allowed under World Trade Organization rules now.
Cars and the industries that surround them are hugely significant for Japan's economy. Autos and parts account for more than 75 percent of the nation's trade surplus with the U.S. and around 40 percent of U.S. imports from Japan are cars. Data from Toyota Wednesday showed the company's exports to the U.S. continued to rise.
Last year, of the more than 4 million cars that Japan shipped, 1.7 million went to the U.S. There are workarounds to WTO rules, though, and according to Nomura Holdings Inc. analysts, if Japan exported 600,000 fewer vehicles a year, that would shave at least 0.3 percent from GDP growth, not accounting for the impact on other sectors like machinery, steel and rubber. Industrial production would be hit by about 0.8 percent, including a 7 percent reduction for passenger cars and 3.5 percent for parts.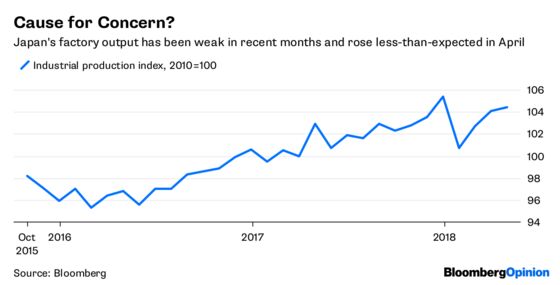 Japan isn't in any position to weather this well. Factory output rose less than forecast in April, adding to concerns about the strength of the economy following a contraction in growth during the first quarter. Companies' capital spending continues to rise, but any unexpected hiccup for automobiles could quickly derail that. The manufacturing sector is also one of Japan's biggest employers, and there's the secondary, but potentially more damaging, knock from a stronger yen too if tensions flare.
Japan's carmakers, already struggling with the currency's impact on profitability, high fixed costs and a weaker North American market, can't afford much more bad news. As a second round of trade talks looms, it may be better to stay in the slow lane in the U.S. than risk any further investment under an unpredictable Trump.