'No Deal' Brexit Brings Its Own Hell to Shoppers
(Bloomberg Opinion) -- So much for hell on the British high street. Next Plc, the clothing retailer, has upgraded its profit forecast for this year by 10 million pounds ($13 million), meaning they'll be on a par with 2017. The shares jumped by 8 percent.
Simon Wolfson, chief executive, had expected U.K. shoppers to rein in their spending in August and September after splashing out in the July heatwave. That didn't happen; they kept on buying. It's all very different from the tales of woe at other major British store chains such as John Lewis, Moss Bros and House of Fraser (which was rescued by retail tycoon Mike Ashley.) Even the European online specialist Zalando SE suffered over the summer, blaming the hot weather.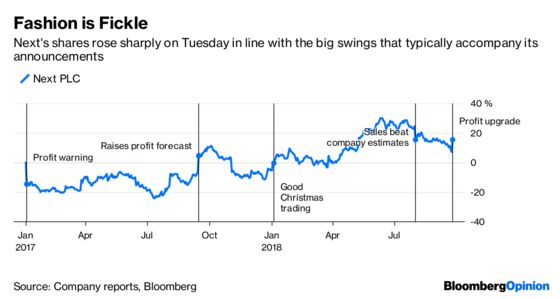 Yet Next shows that if your clothing hits the right spot for shoppers in terms of style and price, it sells. Still, as with British business generally, no-one can afford to be complacent as the country prepares for Brexit – especially the chance of a no-deal.
Wolfson is a Conservative peer and leave supporter. But even he has had to acknowledge the financial risk to his company of crashing out of the EU.
Chief among them is if imports to the U.K. from the EU and Turkey (which is in a customs union with the EU) moved from zero tariffs to a levy of 11.8 percent, the average for countries under so-called WTO rules. About 10 percent of Next's stock would be affected. Another 3 percent comes from countries that have free trade agreements with the EU, primarily Tunisia, Morocco and Mauritius, and so also benefit from zero tariffs.
The worst case scenario for exports from both regions would impose an extra 20 million pounds of duty, pushing up clothing prices by as much as 0.5 percent if passed onto consumers.
Next wants the government to cut tariffs in the event of a no-deal to offset the potential cost to the consumer. It says a cut from the WTO rate to 5.8 percent would maintain the government's income from clothing imports while avoiding a hike in prices for shoppers.
Wolfson has a point. While the British consumer is looking a little less distressed, there are dangers still. Inflation and interest rates are rising. The rows with Brussels will do little for confidence.
Investors were right to be pleased about Next's financial update on Tuesday. It is a high-quality operator, and has done a good job of navigating this year's difficult retail conditions. But even the euroskeptic Wolfson could do without the nightmare of a no-deal Brexit.
This column does not necessarily reflect the opinion of the editorial board or Bloomberg LP and its owners.
Andrea Felsted is a Bloomberg Opinion columnist covering the consumer and retail industries. She previously worked at the Financial Times.