$3.5 Trillion of Pension Cash Looks for a Safe Home
(Bloomberg Opinion) -- During a period in which the investing world is captivated by wild price swings in cryptocurrencies, looking at the $3.5 trillion corporate defined-benefit pension industry can feel like a throwback to simpler times.
For these fund managers, their mandate at the highest level is straightforward: Make sure the company's pension plan has enough assets to pay workers what they were promised in retirement. To calculate what's known as the funded status, they use a market-based discount rate to estimate the current value of liabilities that will come due in decades as employees leave the workforce. As I noted in March, the sharp rise in benchmark U.S. Treasury yields during the first three months of the year was a huge windfall for pensions because their projected benefit obligation, or PBO, falls when the discount rate rises. As of April 30, the funded status of the 100 largest U.S. corporate pensions reached 98.3%, the smallest deficit since before the 2008 financial crisis. 
This is a moment that pension funds can't afford to squander. To reiterate, they're not in the business of speculating on assets that will go "to the moon." To the extent that they own investments that have soared in price, taking profits and rotating into stable, low-risk alternatives is the prudent decision when the plan's funded status approaches 100%. In fact, defined-benefit pensions can in theory become insulated from market swings by purchasing enough long-term bonds to align principal and interest payments with payouts to retirees, a process known as immunization. This is a core tenet of liability-driven investing, or LDI.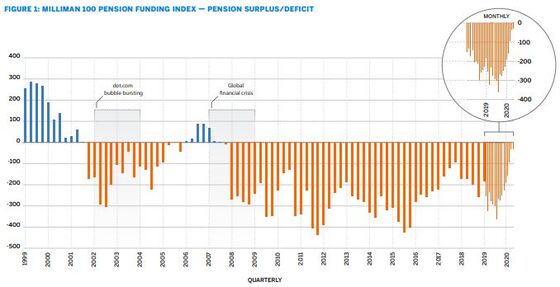 Remarkably, there's growing evidence pension-fund managers are heeding this advice and resisting the temptation to push their luck after a remarkable run for risk assets. "We are seeing significant de-risking to take advantage of the equity market tailwind coupled with the recent rise in long-term rates," said Gary Veerman, head of LDI solutions at Capital Group. He chalks it up to companies learning a decade ago that underfunded plans could pose a risk to their business as a whole. Capital Group clients in recent months have stepped up their search for additional managers to add to their LDI programs, he said in an interview.
Pension funds have also evolved by incorporating quantitative "glide paths" that shift the portfolio's asset allocation based on the funding level. Research from Capital Group quants in 2014 presented a sample base-case glide path that showed a huge move into long corporate bonds as a plan's funded status approached 100%. "Once a plan hits a funded status 'sweet spot,' there is a declining benefit to improving" the ratio, Veerman said. "On the flip side, every dollar of funded status downside is increasingly painful." This argues for a move into LDI strategies rather than stocks and other volatile assets.
It's difficult to know exactly what pensions are up to on a real-time basis, but evidence points to a rotation to fixed income. Federal Reserve data show that private defined-benefit plans increased their holdings of debt securities by $114.2 billion last year while paring back on equities by $48 billion. One of the best reads of pension demand for liability-matching assets is the amount of outstanding Treasury Strips — an acronym for Separate Trading of Registered Interest and Principal of Securities. After declining in the first half of 2020, these ultra-long duration assets have surged back to a record. The $10.2 billion monthly increase in Strips in March, when U.S. yields reached their recent peak, was the largest since October 2018. Meanwhile, benchmark Treasury yields have traded sideways for more than two months, and analysts generally expect the range to hold until there's a new catalyst one way or the other.
While well-funded pension funds might be backstopping the bond market now, there's reason to believe some struggling plans might also help bolster the fixed-income market down the road. As part of this year's $1.9 trillion federal pandemic-relief bill, Pension Benefit Guaranty Corp. will make a single lump-sum payment to multi-employer pensions, which often cover union workers. Strategists at Citigroup Inc., which wrote a report cleverly titled "Corporate pensions are buying bonds like it's the law," expect that some $86 billion of federal funds will flow to about 230 plans starting as soon as 2022. They'll be required to invest in investment-grade securities or other approved assets.
All this is to say, when investors like Ray Dalio, founder of Bridgewater Associates, say they might rather own Bitcoin than government bonds, it's worth remembering the $3.5 trillion pension behemoth that has a desperate need for safe, long-duration assets and cares more about matching liabilities than absolute return. There's rightfully some unease about the amount of low-yielding debt being sold by both the U.S. Treasury and corporate America, especially as inflation appears to be moving higher, and these funds might not have enough muscle on their own to prevent a gradual move higher in Treasury yields through the rest of 2021. But history shows they'll flex their muscles when the market moves too far, too fast.
This column does not necessarily reflect the opinion of the editorial board or Bloomberg LP and its owners.
Brian Chappatta is a Bloomberg Opinion columnist covering debt markets. He previously covered bonds for Bloomberg News. He is also a CFA charterholder.