World's Richest Country Looks for Soccer Love
(Bloomberg) -- If the World Cup just helped burnish Russia's international standing, now it's the turn of Qatar to try and benefit from the enduring relationship between sport and politics.
Soccer fans returned home this week after a month of sporting drama that culminated in the highest-scoring World Cup final since 1966. Off the field, few fans will take home memories of the oppression associated with President Vladimir Putin's leadership. Instead, there was peaceful hospitality and slick organization. U.S. President Donald Trump congratulated Putin on a "really great" tournament when the two met in Helsinki on Monday.
Next up is Qatar in 2022, and the richest country on the planet could do with exercising some similar soft power.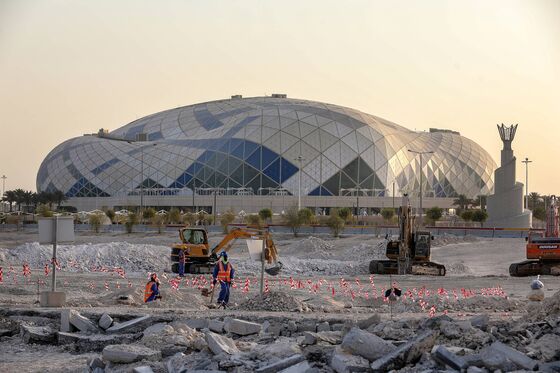 It's in a feud with Saudi Arabia, which has led an embargo to cut off the country since last June after alleging its neighbor funds terrorism. Qatar denies the claim and has been lobbying the U.S. for support.
When it comes to soccer, Qatar was embroiled in a corruption scandal over its bid for the competition. It also had to improve conditions for low-paid migrant workers building the stadiums, hotels and roads needed to host it after criticism from soccer organizations and human rights activists.
Its sports television network beIN Media has been pirated on an industrial scale –- Qatar blames Saudi Arabia -- and the soccer club it owns in Europe, Paris Saint-Germain, stands accused of breaking spending rules to buy the world's most expensive player.
It all adds up to Qatar experiencing "soft dis-empowerment," or the loss of prestige that countries suffer after mega-events shine a light on a nation's issues, according to Simon Chadwick, professor of sports enterprise at the Salford Business School in England.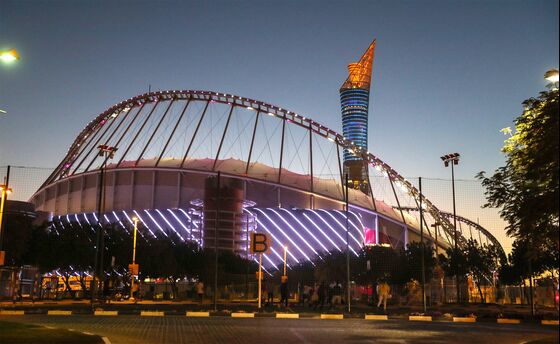 "The decision makers in Doha had an idealized view of how this would work," said Chadwick. "They won the rights to the tournament and suddenly everybody would love them."
FIFA President Gianni Infantino is openly lobbying for an expanded competition in 2022, and said last week it could help ease tension between Qatar and Saudi Arabia.
Qatari officials say they are open to a conversation about adding more teams, but the country refuses to share the spotlight with Saudi Arabia and the United Arab Emirates, which is also part of the boycott, according to people familiar with the matter. They asked not to be named because they weren't authorized to speak publicly.
Qatar is spending $500 million a week to build the infrastructure needed to host 32 teams, not 48. A spokesman for Qatar's organizing committee for the World Cup didn't provide officials to be interviewed or respond to emailed questions.
For FIFA, which drew fans and world leaders to a sanctioned Russia, achieving a thaw in the Persian Gulf standoff would help the organization's rehabilitation following a scandal in 2015 that engulfed it in bribery and corruption claims and led to the demise of Infantino's predecessor, Sepp Blatter.
"Maybe football can open up a door to communications between neighbors," Infantino said at his only World Cup news conference on July 13. Still, he said Qatar won't be forced to expand the competition and that a 32 team tournament "would be great in and of itself."