Soccer Is the World's Most Popular Sport and Still Growing
(Bloomberg) -- More than four out of 10 people consider themselves soccer fans, making the game the world's most popular sport. In a Nielsen survey that spanned 18 global markets, 43 percent of people said they were "interested" or "very interested" in the sport in 2017. Basketball, with 36 percent, is No. 2.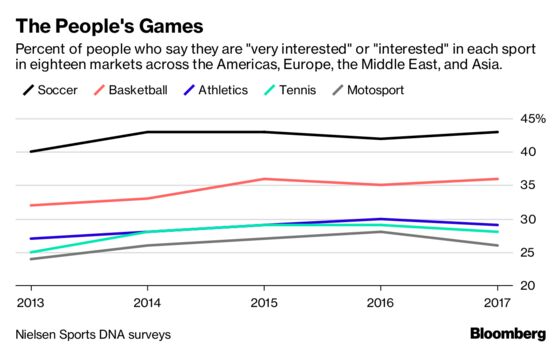 These numbers come from Nielsen's World Football Report, an annual survey of the sport's audience released on Tuesday morning in advance of the 2018 FIFA World Cup in Russia. The report shows soccer in an extraordinary position: It's dominant in global sport and has room to grow in major markets. While 19 countries show a majority of the population expressing interest in soccer, the U.S. and China—the world's two largest economies—are not among them.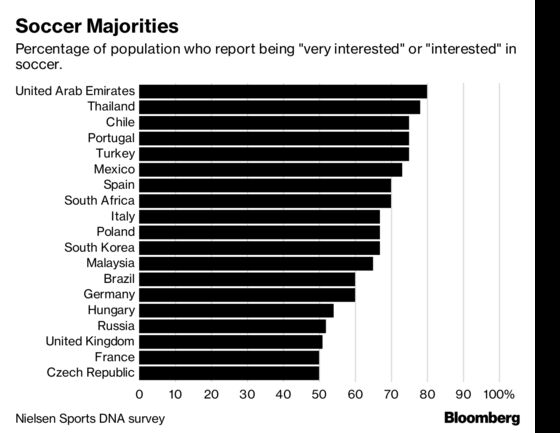 Nielsen's research shows a long runway for soccer growth in both countries; in the U.S. and in China, 32 percent of those polled expressed interest in the game, with young people much more likely to follow soccer when compared to their parents. "Football's extraordinary reach into countries and cultures around the world makes it unequaled among sports, in terms of value to media and sponsors," said Glenn Lovett, global managing director, Nielsen Sports.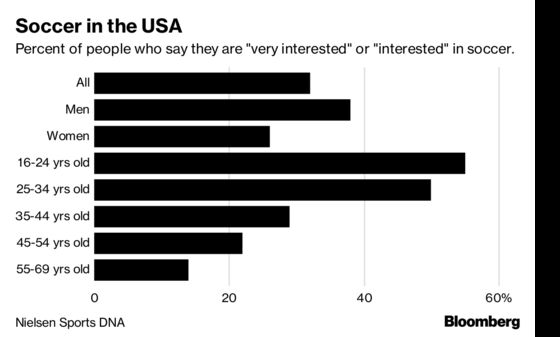 Waves of young fans in the world's two largest economies are good news for FIFA. Soccer's global governing body is expected to take in $3 billion in media rights for the 2018 World Cup, an increase of $600 million over 2014. But to capitalize on its newest fans, FIFA, like most rights holder in sports, will need to figure out how to make money off mobile viewers: Among fans aged 11-20, some 25 percent plan to watch the 2018 World Cup via smartphone or tablet.