Delhi Politics Turns Nasty and Violent While Issues Go Ignored
India's capital New Delhi is renowned for its colorful, hard-fought politics.
This week -- just days before the city goes to the polls on Sunday in India's marathon federal election -- the campaign turned violent.
Arvind Kejriwal, the chief minister from the Aam Aadmi Party, was attacked while standing in an open jeep that was moving slowly through a crowd. It prompted allegations that Prime Minister Narendra Modi's Bharatiya Janata Party was behind the assault. Manoj Tiwari, a singer and actor who's also contesting the election as BJP candidate, condemned the incident, but also alleged the AAP might have "scripted" it.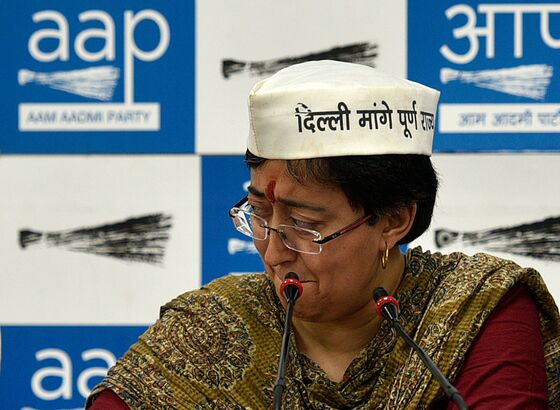 Another candidate, Atishi Marlena -- a Rhodes Scholar who is making her electoral debut -- broke down during a press conference on Thursday while reading a pamphlet containing "obscene and derogatory" remarks against her. She claims they were distributed by the BJP rival candidate Gautam Gambhir, a charge denied by the cricketer-turned-politician. "I declare that if its proven that I did it, I will withdraw my candidature right now. If not, will you quit politics?," Gambhir said in a tweet.
Meanwhile, BJP candidate Ramesh Bidhuri used a Hindi slur against Kejriwal at a public meeting. He later justified his use of abusive language by saying, "If you don't call a cow a cow, a rat a rat and a donkey a donkey, then what will you call them?"
The casualties of this high-pitched campaigning are the core issues affecting the city of 18.6 million people -- education, cleanliness, water, traffic congestion and rehabilitation of slum dwellers. Few politicians have mentioned the urgent need to curb smog in one of the most polluted metropolises in the world.
Delhi's election has also drawn other heavyweights like Sheila Dikshit, former chief minister from the Congress party and former minister Ajay Maken into the fray. The question is whether the Aam Aadmi Party, and Congress will be able to prevent the BJP from repeating its 2014 sweep of all seven seats.
The Delhi vote is taking place along with seven states including Bihar, Haryana, Madhya Pradesh and Uttar Pradesh in this sixth of the seven rounds of polling.
Modi to address rallies Friday in Himachal Pradesh, Haryana and Punjab.
Congress President Rahul Gandhi to address public meetings in Himachal Pradesh and Chandigarh.
Celebrity MPs: lower attendance, but more efficient with funds: IndiaSpend
Election 2019: What Is Chandrasekhar Rao's Game Plan? BloombergQuint
Modi's Politics All About Dead Men: Twitter On PM's Rajiv Remark: Quint
Supreme Court junks plea questioning Rahul Gandhi's citizenship: Indian Express
Flows to Indian stock funds slow as poll anxiety grips savers
Still, inflows into small and mid-cap funds compared with large caps suggests that high net worth investors are "hoping for a rally after election," SBICAP Securities Ltd. said in a note to investors on Thursday
The rupee may appreciate to 67-68 level to the dollar over the next three months should the elections return a stable government, Yes Bank Ltd. said in a report to clients
"I heard that Mamata didi wants to slap Modi; I respect you, call you didi (elder sister), your slap will be a blessing for me," the Prime Minister Narendra Modi said in an election rally referring to Mamata Banerjee. "While Didi is engaged in building the career of her nephew, ministers and leaders are involved in scams, and party cadres in extortion. How can the fortunes of the general public of the state improve?"
"He (Modi) is saying that I have said I will slap him. That's the slap of democracy," Mamata Benerjee, chief of the Trinamool Congress, said at a rally. "Try to understand the language. Why should I be slapping you. I am not that kind of a person."
Bullet-Proofing Experts, Slogan Writers Win Big in India Polls
India's Ruling Party to Get Majority With Allies, Leader Says
The Woman Standing Between Modi and a Majority
A Journey Down the Ganges in the Age of Modi
Here's What India's Frequent Flier Modi Achieved on Trips Abroad
Weak Leaders Are Better for India Than Strongmen: Mihir Sharma
India Slips Further Behind China During First Five Years of Modi
Sri Lanka's Pain Is Fueling Ugly Debate in India: Mihir Sharma
Secretive Hindu Hardliners in India Are Fueling Modi's Campaign
What's Modi's Secret? The Same as Kylie Jenner's: Pankaj Mishra
How Facebook Fights Fake News in the World's Largest Election
Suicides and Drought Plague the 'Angriest' State in India
Five Years On, Modi's Vision of a New India Remains Elusive
India's 'Silent' Water Crisis High in the Mind of Voters
A Murky Flood of Money Pours Into the World's Largest Election