Indian Cities Ignored as Politicians Woo Village Dwellers
Prime Minister Narendra Modi's Bharatiya Janata Party and the opposition Congress party are vying with each other to offer sops to people in the villages, leaving many city dwellers disenchanted with the election process.
Political parties have pledged to raise living standards of the rural poor, double farmers' income, write off farm loans and power bills to lure about 68 percent of the nation's 1.3 billion people -- a key voting bloc in the world's largest democracy. In cities, many residents aren't aware about the contestants, agendas or even election date. Some voters in towns and cities prefer to stay away from voting or plan to skip polling during long weekends.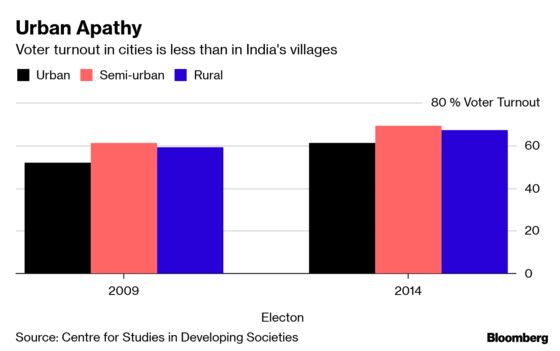 | | | | | | |
| --- | --- | --- | --- | --- | --- |
| Area  | Seats | Congress Won in 2014  | Congress Won in 2009  | BJP Won in 2014 | BJP Won in 2009  |
| Rural  | 342 | 27 | 116 | 178 | 66 |
| Semi Urban | 144 | 15 | 67 | 67 | 32 |
| Urban  | 57 | 2 | 23 | 37 | 18 |
| Total  | 543 | 44 | 206 | 282 | 116 |
* Source: Centre for the Study of Developing Societies
"City voters, particularly in southern states, are not enthusiastic for voting in absence of a political wave and lack of leadership which can motivate workers," said Bhopal-based author and political analyst Girija Shankar.
Voting in 116 parliamentary constituencies in third phase of voting on Tuesday
Modi to address rallies on Monday in Maharashtra, Rajasthan
Congress President Rahul Gandhi to address rallies Monday in Uttar Pradesh
Cong makes public its report on national security: PTI
Guide to third phase of voting in general elections: Bloomberg Quint
Congress won't get majority; post-poll alliance crucial, says Kamal Nath: PTI
North Bengal, west Uttar Pradesh could boost BJP's national prospect: HT
Muted government spending and high election-related expenses have created a liquidity deficit of 700 billion rupees in the banking system, A.K. Capital says in a note on Monday. That's "clogging the efficacy" of the central bank's rate cuts, according to the report
READ: As World's Largest Democracy Votes, Here's Where Markets Stand
READ: How to diversify as India vote rocks most-expensive Asian stocks
"The country has faith that Modi can tolerate attacks on himself and can risk his political future but cannot let the country down," he said while addressing a rally.
"Leaders will decide who will be the next prime minster. It all depends on which party leads. If it is the Congress, then the next PM will be our chief Rahul Gandhi," said Congress leader Anand Sharma.