1.1 Million BJP Workers Trained to Lure Electors: India Votes
India's ruling Bharatiya Janata Party has trained over 1.1 million workers on ways to influence citizens in the world's biggest democracy to vote for the right-wing group.
The trained pro bono cadres have fanned out across the world's seventh-largest landmass to contact voters and educate them about Prime Minister Narendra Modi's programs and policies, P. Muralidhar Rao, a general secretary of the party, said in an interview. They have been discussing issues ranging from the economy to "national pride and identity politics."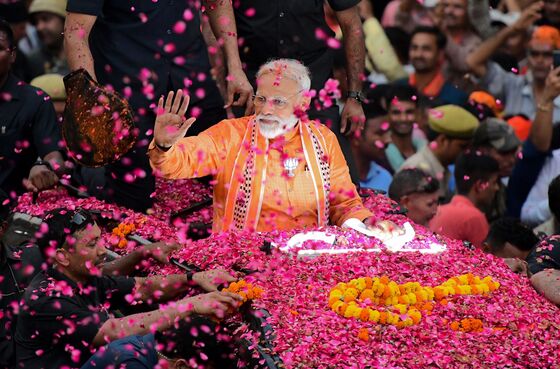 "No other party has this kind of strength,'' said Rao, who's also in charge of training the workforce. " Our cadres are ideologically motivated and driven. They are our main force.''
Modi's government, which has been criticized for failing to create enough jobs and reduce distress in the agriculture sector, has been trying to weave its narrative around the prime minister's "strong and decisive" action in tackling security issues. Modi's authorization of airstrikes on Pakistan in response to a deadly attack in Kashmir has been a recurrent theme in poll speeches by the BJP's leadership. It is also counting on the welfare programs -- including the provision of toilets, electricity connections and cooking gas for the poor – to woo voters.
The workers have been trained about the party's ideology, Rao said. They have also been educated on how to reach out to the deprived section of the society, manage journalists and devise social media strategies, he said.
This pool of trained party workers have grown five fold since the 2014 polls, Rao said. The Hindu nationalist BJP's membership has crossed 110 million, making it world's largest political party, according to Rao. The program called the Pandit Deendayal Upadhyaya Prashikshan Mahabhiyan has books that refer to China being a challenge to India's interests as part of its curriculum, the Economic Times reported.
Its leaders have been highlighting Indian Air Force Feb. 26 air strikes on a terrorist training camp inside Pakistan -- to stave off challenge from main opposition Congress party-led by Rahul Gandhi, which has pledged jobs and as much as 72,000 rupees annually for the country's poor.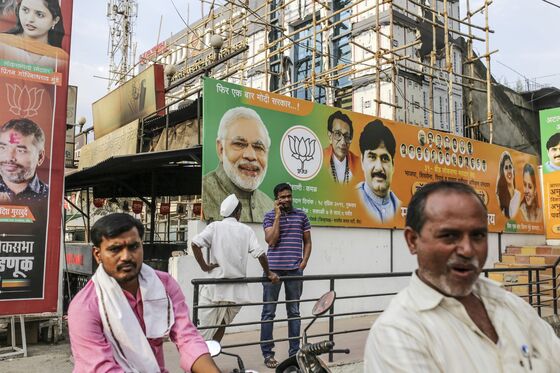 Modi to file nomination paper on Friday in Varanasi, Uttar Pradesh
Modi to address election rally on Friday evening in Mumbai
Gandhi to address public meetings in Maharashtra on Friday
No Priyanka vs Modi, Congress' Ajay Rai to Contest From Varanasi: Bloomberg Quint
BJP contesting more seats than the Congress for first time: PTI
How caste and class shape election results in India: Mint
BJP banks on Modi factor as Kanhaiya perks up fight in Begusarai: PTI
Elections have led to slow "volume off-take" for ACC's cement demand, ICICIdirect Research said in a note. However, a "revival in real estate should help keep overall demand stable in second-half."
"During the month, information technology and auto sectors have performed well with a monthly gain of 4%-5%," Rahul Mishra, assistant vice president at Mumbai-based Emkay Global Financial Services said in a note. "Earning season is going on and we have election result in the coming month which will keep market busy, investors are advised to pick stocks selectively."
"In the first half of campaigning, the opposition kept abusing Modi, but it did not materialize." Modi said in a rally. "So, now in the remaining half, the opposition will keep abusing the EVMs," he said, referring electronic voting machines.
"Like the BJP, the Congress too believes in threatening political opponents," Akhilesh Yadav, chief of the Samajwadi Party, said in a rally. "We had an alliance with the Congress, but found that their ego is too big."
A BJP-led coalition government to likely to emerge after the polls, according to the Economist Intelligence Unit. "After the election, the difficulty of managing the various interests of the coalition's constituent parties will mean that progress on reforms aimed at improving the business environment will be slow and subject to political pressures."
"There are still incremental reforms required to get the economy to fire," Vetri Subramaniam, head of equity funds at UTI Mutual Fund. "We only have the consumption firing now for many years. Capex has failed to fire and export leg is missing in action. We need at least two of these engines to fire for the economy to gain momentum. If we get all three to fire, that's when you'll see significant momentum.
Slackening Consumer Demand Reins in Animal Spirits in India
India Jobless Rate Doubles Since 2011 Amid World-Beating Growth
RBI Inflation Goals Need to Be Reviewed, India PM's Adviser Says
History Suggests India Rupee Is Set for a Post-Election Hangover