India's Dollar Bond Returns Beat Asian Peers After RBI Steps
(Bloomberg) -- India is leading returns this month in Asia's dollar bond market, after the country's central bank ramped up steps to help borrowers stung by the coronavirus pandemic.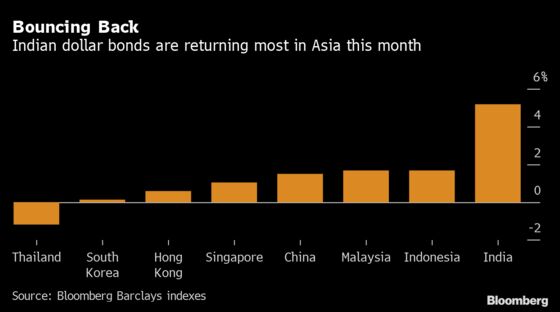 Local firms' dollar-denominated bonds have returned 5.2% in April, the most among major economies in Asia and exceeding an average of 1.7% for the region's emerging markets, according to Bloomberg Barclays indexes.
That's only a few weeks, of course, and serious risks still linger. The nation's economy is reeling amid the world's biggest lockdown to slow the spread of Covid-19. But it's still a welcome development for noteholders after the securities plunged 16% in March, the worst in Asia.
The Reserve Bank of India in late March cut interest rates the most since 2009 and took measures to boost banking system liquidity that added up to 3.74 trillion rupees ($49 billion). The central bank has since unveiled further steps to boost liquidity and support lenders.
"The RBI's measures, Asia's most unconventional, have boosted global investor sentiment for Indian bonds," said A.S. Thiyaga Rajan, a senior managing director in Singapore at Aquarius Investment Advisors Pte. "India has given a clear signal that it is serious about supporting the economy."
The economy will need all the help it can get. Even before the pandemic, it was headed for its weakest growth in about a decade. And the country had already been grappling with a crisis in its important shadow banking sector.
For now, the policy steps have brought some relief to cash-strapped borrowers, helping boost fundraising in the local credit market. And while domestic firms haven't sold offshore bonds much since late February, the rally in returns could encourage such issuance ahead.