India Readies First Corporate Bond ETF to Fund State-Run Firms
(Bloomberg) -- India is set to start its first corporate bond exchange-traded fund to deepen the pool of investors and finance state-run firms.
The basket of bonds will comprise top-rated debt sold by federal manufacturers, financial institutions and other government run organizations, Finance Minister Nirmala Sitharaman said at a briefing on Wednesday. The unit size has been kept at 1,000 rupees ($14) to attract retail investors.
"Lower ticket size of the bond ETF is likely to provide better opportunity to retail investors for participation in the corporate debt market with lowest credit risk," said Anil Gupta, who heads financial sector ratings at ICRA Ltd. "Investors may however be mindful of the risk, which these ETFs will have because of interest rate movements."
Prime Minister Narendra Modi's government is trying to boost alternative sources of funding for firms as a series of corporate defaults keep banks and shadow lenders wary. Cheap credit is key to revive investment and economic growth from a six-year low as the government is running out of space to stimulate the economy.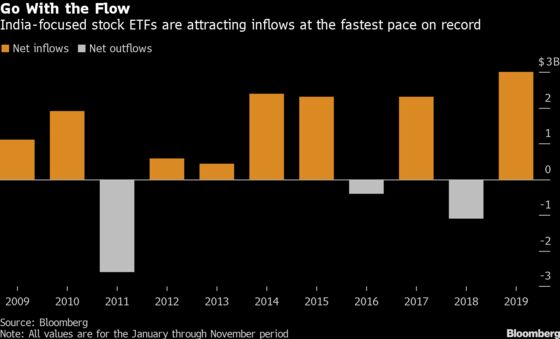 More money is currently pouring into India-focused ETFs than at any time in at least a decade, according to data compiled by Bloomberg.
The bond ETF will expand companies' investor base through participation by retail and wealthy individuals, according to a government statement. While initial maturities are limited to three and 10 years, the goal is to ultimately create a yield curve for better pricing.
Features of Bharat Bond ETF
Unit size: 1,000 rupees ($14)
Portfolio disclosure on website daily
Cost: 0.0005%
The Bharat Bond ETF may be started this month, Investment & Public Asset Management Secretary Tuhin Kanta Pandey said at the briefing.