India Allows Banks to Trade in Offshore Currency Markets
Indian banks will be allowed to trade in the offshore currency market in a step toward liberalizing foreign-exchange trading.
Banks in India that operate out of the International Financial Services Center will be allowed to participate in the so-called non-deliverable forwards market with effect from June 1, according to a statement from the Reserve Bank of India. The banks may operate via their local branches, foreign branches, or their international banking unit in IFSCs.
"This is a major move toward currency liberalization. We need to wait and see how the risk would be managed," said Jayesh Mehta, treasurer at Bank of America Corp. in Mumbai. "We believe the risk management would be done possibly through the international banking units."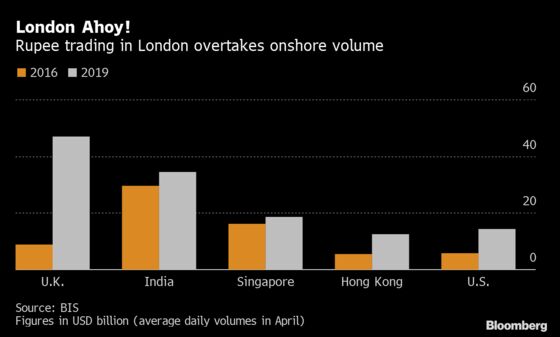 India's authorities are concerned a surge in rupee trading overseas threatens the stability of the currency, especially in times of stress. That worry has intensified after London became the biggest center for trading the Indian currency, according to the latest survey by the Bank for International Settlements in September.
Average daily volumes for the rupee in the U.K. soared to $46.8 billion in April, exceeding the $34.5 billion recorded in India. Volumes have also substantially jumped in other centers like Singapore, New York, and Dubai.
"The time is appropriate to remove segmentation between the onshore and offshore markets and to improve the efficiency of price discovery," RBI said in the statement Friday.
In response, India has been moving to make its onshore market more attractive and preparing to replicate offshore centers in specially designated financial zones within the country. Authorities have moved to allow local banks to offer foreign-currency transactions outside local market hours in January.
The new ruling comes after a central bank-appointed panel warned against allowing local banks access to offshore markets, citing the potential loss of liquidity.
"Today's announcement would lead to more liquidity in the NDF market and reduce volatility vis-a-vis onshore market," said Madhavi Arora, an economist at Edelweiss Securities Ltd. "And this would tighten the central bank's grip too indirectly and add another ammunition on the FX front."