Default Risk for Indian Banks Has Dropped Since Stimulus Package
(Bloomberg) -- Default risks for India's banks have declined from six-year highs on expectations that recent policy support will help the lenders avoid worse damage from the coronavirus pandemic.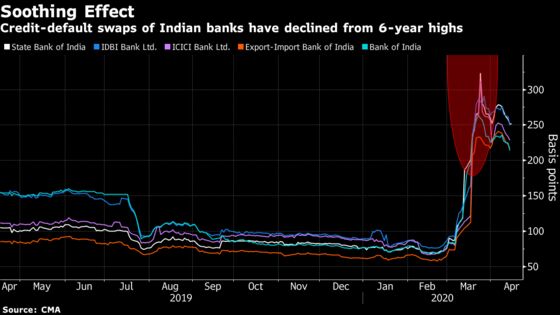 Average credit-default swaps on five Indian lenders, including State Bank of India, have dropped sharply since the Reserve Bank of India unleashed a 3.74 trillion rupee ($49 billion) stimulus package on March 27. The swaps touched a six-year high of 282 basis points on March 24, according to CMA prices. Default risks on domestic non-financial firms more than doubled in the same period.
Declining default-insurance costs for banks indicate that investors have grown less pessimistic. But even with huge support, they still face considerable challenges after the pandemic prompted the government to unveil the world's biggest lockdown. That threatens lenders in a country that was already battling one of the worst bad-loan ratios among the world's major economies.