RBI Signal on Higher Money-Market Rates Worries Bond Traders
(Bloomberg) -- Bond traders in India are bracing for more turmoil as the central bank signals its intention to keep lifting money-market rates.
The Reserve Bank of India offered a cutoff yield of 3.55% for a cash-draining operation on Friday, higher than traders had expected and a full 20 basis points above the lower boundary of its interest-rate corridor.
"Future operations may see even higher cutoffs, and this will put pressure on short-term bond yields," said Pankaj Pathak, a fixed-income fund manager at Quantum Asset Management in Mumbai. The result on Friday is "a signal that the central bank is comfortable with higher money-market yields," he added.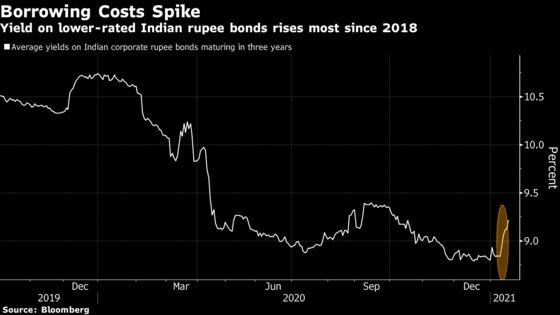 The RBI is in a delicate balancing act as it tries to correct an excessive slump seen in money markets late last year, while still capping longer-term borrowing costs. Short-term sovereign and corporate bonds sold off last week, prompting the central bank to meet with bankers to address concerns while offering to buy more bonds.
Yields on short-dated sovereign bonds rose as much as 33 basis points last week, while average yields on three-year BBB-rated corporate bonds climbed the most since 2018 over the period. Yields fell by two to three basis points on Monday.
The RBI said on Friday it would buy 100 billion rupees ($1.37 billion) of sovereign debt on Jan. 21 -- its first direct purchase since October.
"The most delicate task in front of policy makers is to ensure that the bond market doesn't get disrupted because of any communication mishap on the withdrawal of liquidity," said Maneesh Dangi, who oversees $25 billion of debt investments at Aditya Birla Sun Life AMC Ltd. in Mumbai.