Another Recession Gauge Signals Longest U.S. Expansion Has Ended
(Bloomberg) -- A Federal Reserve Bank of Chicago gauge of the national economy declined in March to a level that indicates the U.S. has slipped into a recession, led by weaker production and employment indicators that highlight the severe impact of the coronavirus pandemic.
The Chicago Fed's National Activity Index fell to minus 4.19 during the month from a downwardly revised positive 0.06 in February as all four broad categories of indicators that make up the gauge made negative contributions. The index's three-month moving average decreased to minus 1.47 in March -- the lowest since 2009 -- from minus 0.20 in February.
Following a period of economic expansion, an increasing likelihood of a recession has historically been associated with when the three-month moving average falls below minus 0.70.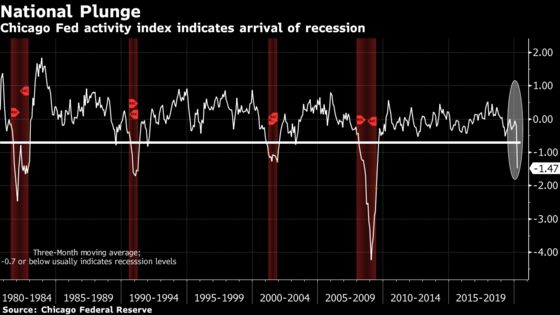 The report reflects data available as of April 16. At that time, 50 of the 85 indicators had been published and the rest were estimated. Sixty-five made negative contributions, 18 were positive and two neutral.
Production-related indicators contributed minus 2.72 to the CFNAI, while employment data contributed minus 1.23.