Trump Lauds Trade, Economic Wins in Davos Victory Lap
Be honest. If someone in January 2017 had told you that three years after Donald Trump's inauguration, he would sign a trade deal with China before a roomful of approving CEOs, watch Congress ratify a rebranded Nafta the next day and head to Davos the following week to hail it all, you would have raised a skeptical eyebrow. That an impeachment trial in the Senate would begin the same day as his Davos address would have seemed more likely.
But here we are. The most prominent man in the Swiss Alps this week is the leader of a populist movement that in 2016 sent political shivers through the World Economic Forum. With top billing as the celebrations opened on Tuesday, he arrived bearing trade deals. This year he is Davos Man, a designation given only partly tongue in vintage champagne-swilling cheek.
"Just last week alone the U.S. concluded two extraordinary trade deals," Trump declared on Tuesday. His deal with China and the renamed Nafta (now the USMCA) "represent a new model of trade for the 21st century, agreements that are fair, reciprocal and that prioritize the needs of workers and families."
The global economic order has changed a lot over the past three years. So it's hard to look around and conclude that Trump failed to live up to his promise to be a disruptor.
Yet one feature of the trade wars, ironically, has been the willingness of the global business elite and investors to bend to the president's will and, at least publicly, happily brush off the tariffs and turmoil.
The biggest feature of Trump's "phase one" deal with China is that it leaves tariffs in place on $360 billion, or two-thirds, of American imports until a second phase that few experts (and some within the White House) doubt will ever get done. Beijing, too, is showing no signs of dropping its retaliatory tariffs. The deal may be labeled a truce, but don't tell that to the companies that are still taking bullets in the form of tariff bills every day.
On the eve of Trump's return to Davos, French President Emmanuel Macron announced a peace had been reached after a phone call with Trump in a dispute over France's digital services tax. That's a relief, temporarily at least, for Davos devotees worried that tariffs might start flying across the Atlantic this week.
Let's be honest, though. The willingness of the world's business elites and investors to look beyond that reality and hail Trump while pushing financial markets to record highs has to do with how the president manages expectations more than anything else.
Most economists will tell you that Trump's trade deals are far from history-shifting economic victories and point to the remaining duties as a continuing drag on growth. The pacts also hang on promises — such as that China will buy $200 billion in additional U.S. exports (over 2017 levels) over two years — that look improbable.
The fact is that Davos is embracing Trump for opting to not make matters worse through escalation. But that embrace ignores that things are getting worse.
The U.S. and China may have signed a truce but in Davos this week you'd be brave to predict anything other than a future of grinding economic conflict between them. Transatlantic trade tensions remain high. The IMF on Monday cut rather than raised its global growth forecasts, even after the China deal was sealed. It predicts the U.S. economy will expand by 2% this year. That may be faster than the rest of the G-7 and give Trump some bragging rights. But it's hardly the "spectacular" comeback and "profound economic resurgence" that Trump just took credit for at Davos.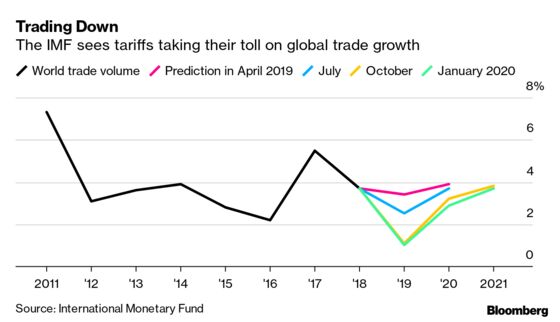 The International Monetary Fund predicted the world economy will strengthen in 2020, albeit at a slightly slower pace than previously anticipated amid threats related to trade and tensions in the Middle East. It also sees growth in the global trade volumes recovering this year and next, though forecasts of 2.9% and 3.7 % were reduced from previous estimates. 
Heading sideways | The tailwinds pushing up the Chinese currency recently are starting to face.
Turning the corner | German business expectations surged in January, adding to signs of a turnaround.
Jan. 23: Japan exports
Jan. 24: Monthly release of the CPB World Trade Monitor
Jan. 21-24: Business and government leaders meet at the World Economic Forum's annual meeting. Stay on top of all of the action via Bloomberg's Davos Diary newsletter. Click here to subscribe.