Davos Predicted the Stock Market Selloff of 2018
(Bloomberg) -- They may not be happy about it, but the masters of the universe proved accurate in predicting the stock market selloff of 2018.
Long ridiculed as a reverse indicator, especially for failing to predict the financial crisis, the consensus of delegates at the World Economic Forum's annual meeting last January looks pretty smart one year on.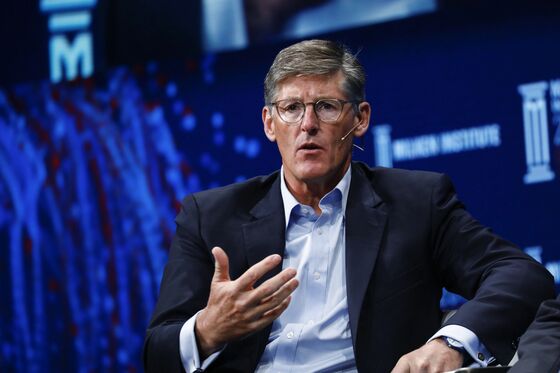 "There is a numbness out there, there is an ambivalence out there that's concerning," Citigroup Inc. Chief Executive Officer Michael Corbat said a year ago.
While the bearish bet didn't pay off immediately, it turned out to be the right call by the end of the year. A bullishness in commodities proved misplaced, although delegates were right to be upbeat about dealmaking.
As bankers, corporate executives, academics, policy makers and economists prepare to head up the Swiss Alps again next week, here are the forecasts of a year ago and how they fared.
WHAT HAPPENED? The MSCI All Country World Index posted its highest-ever close on the final day of Davos last year, but is now about 14 percent below that level. In the U.S., the S&P 500 Index had a colorful 2018 -- it slumped immediately after Davos, then recovered to a record in September before ending the year 6.2 percent down.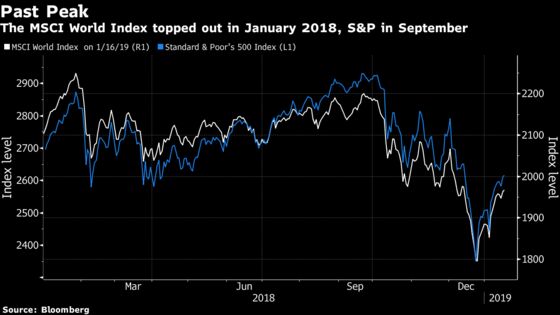 Kudos to those who warned of complacency, including Nobel laureate Robert Shiller, Anne Richards, now the chief executive officer of Fidelity International, and Tim Adams, president of the Institute of International Finance.
Most fretted about the Fed. Billionaire hedge-fund manager Ray Dalio was correct to predict the Fed would tighten at a faster rate than the three interest-rate hikes it was then signalling. It ultimately increased its benchmark four times in 2018.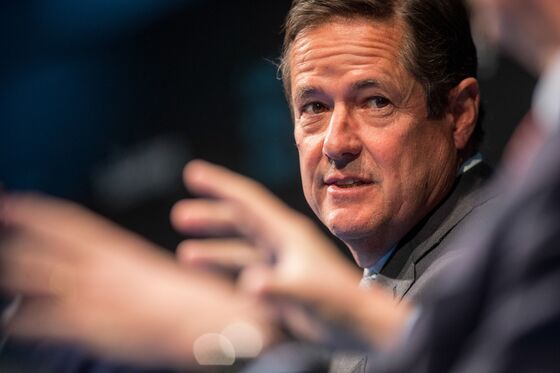 "We've got very little capacity in the capital markets to deal with a real move in interest rates," Jes Staley, CEO of Barclays Plc, told last year's Davos gathering.
His counterpart at Morgan Stanley, James Gorman, said he was particularly worried given technology stocks were trading at very high multiples.
"You've got markets at record highs and, as we know, these things don't go in a straight line," Gorman said.
WHAT HAPPENED? The yield on 10-year Treasury notes rose from 2.41 percent at the start of 2018 to touch a seven-year peak of 3.26 percent in October. Haven-related buying and a tempering of Fed tightening expectations helped drive the yield down in the final two months of the year, and it finished at 2.68 percent.
Davos delegates were perhaps too pessimistic, but got the trend right.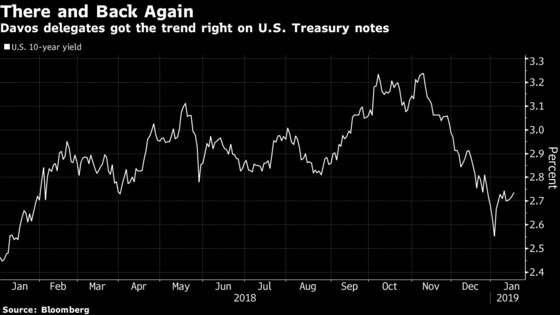 Joshua Friedman, co-founder of Canyon Partners, likened the environment to 1994, when bonds sunk as the Fed raised rates.
"In 1994 it was a very strong economy. Earnings were up 20 percent, and it looks like we have a strong economy today," Friedman said. "But that also liberates the Fed to sell securities, quantitative easing can be unwound, rates can be elevated. And a lot of people that I talk to believe there will be four rate hikes instead of two."
Dalio also declared that the bond market had fallen into a "bear market," while Jean Raby, the head of Natixis SA's $1 trillion asset-management arm, said higher interest rates would have a "meaningful impact on the bond market, so I want to be cautious there."
WHAT HAPPENED? The Bloomberg Commodity Spot Index is down 8.9 percent since the last day of Davos 2018. Blame oil for much of that -- the price of a barrel of West Texas crude has slumped by more than 20 percent in the same period.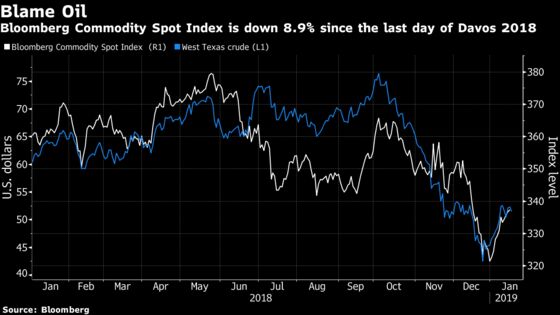 Oil industry chieftains and commodities tycoons were actually upbeat about the year ahead, betting the economic upswing would continue to fan demand for raw materials.
"We have not seen this kind of growth since before the global financial crisis," OPEC Secretary-General Mohammad Barkindo said. Daniel Yergin, the oil historian and vice chairman at IHS Markit, said the combination of strong economic growth and cheap money is lifting commodities."
WHAT HAPPENED? The price of the crypto currency slumped 74 percent last year. Around $715 billion has now been wiped off the value of digital coins from a peak in January 2018, according to CoinMarketCap.com data.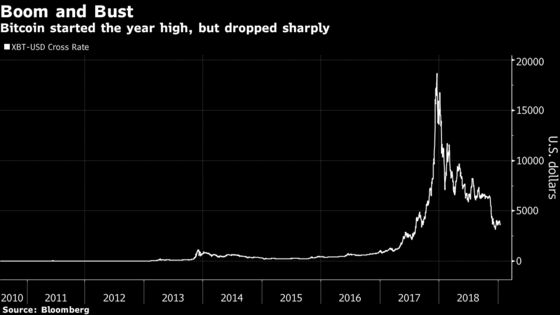 Societe Generale SA CEO Frederic Oudea called Bitcoin a "very risky bet," while BBVA's Carlos Torres warned of the risks of losing money from using the digital currency.
UBS Chairman Axel Weber said the Swiss bank wouldn't trade Bitcoin or offer it to retail clients, as increased regulation could lead to a "massive" drop in value. "This is something where the price is really unclear," Weber said.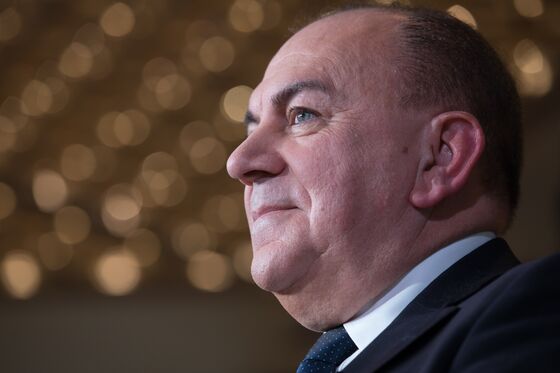 WHAT HAPPENED? Companies struck $3.1 trillion of transactions through Dec. 31, making it the third-biggest year on record, behind 2007 and 2015. Initial public offerings had a more muted year, with companies raising $181 billion compared with $213 billion the previous year, according to data compiled by Bloomberg.
"There is an inclination for chief executive officers to want to do more acquisitions since capital is available at a very attractive rate," JPMorgan's investment-bank head Daniel Pinto said. "It's very possible we will see more deals than we did last year."