Bitcoin Fluctuates Around $50,000 in Year-End Tug-of-War
Bitcoin swung between gains and losses around the $50,000 price level as traders sought direction in the wake of one of the biggest one-day selloffs this year. 
The largest cryptocurrency by market value turned positive after earlier declining as much as 3.7% to $48,685. Ethereum, Solana, Cardano and Shiba Inu tokens also fluctuated. The Bloomberg Galaxy Crypto Index edged higher after slumping as much as 2.2%.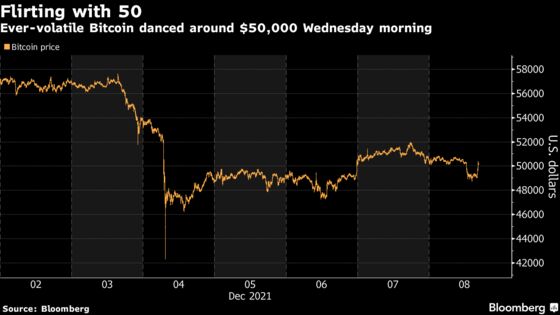 Bitcoin and other cryptocurrencies dove this weekend amid a greater risk-off sentiment that also encompassed selloffs in many areas of the U.S. stock market. It happened as spiking inflation is forcing central banks to tighten monetary policy, threatening to reduce the liquidity tailwind that lifted a wide range of assets. Bitcoin tumbled as much as 21% on Saturday.
After a record-breaking run this year, digital assets are the "top contender" for a "major correction" in 2022, with nearly three-quarters of institutions polled saying they're not an appropriate investment for most retail investors, according to a survey done for Natixis Investment Managers. The combined total of assets managed by respondents clocks in at $12.3 trillion. 
Dire predictions for its demise have been a constant for Bitcoin since its debut a little more than a decade ago. Most have been to little avail. Since breaking into the mainstream consciousness, Bitcoin has jumped more than 5,000% over the past five years.
The fall in Bitcoin prices for three straight weeks hints at a rally in the offing, according to an analysis of data compiled by Bloomberg.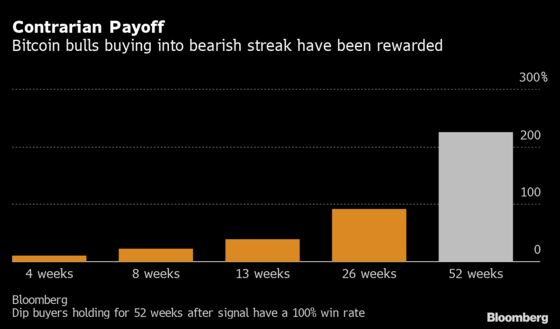 The signal occurred 15 times in the last five years and rewarded dip buyers with returns of 39% in the ensuing three months and 225% in the next 12 months, the analysis shows.