U.S. Cases Up 1.3%; Trump Criticizes Governors: Virus Update
(Bloomberg) -- Infections slowed in California, Arizona and Florida, three U.S. states battling outbreaks of the coronavirus. Health officials around the world are also trying to tackle a renewed increase in cases, with surges from China to Spain and Germany underscoring the difficulty of curbing the pandemic.
Senate Republicans presented a $1 trillion plan to bolster the U.S. economy. National Security Adviser Robert O'Brien tested positive for Covid-19, but the White House said his infection posed no risk to the president or vice president. Two Major League Baseball games were canceled after several players were infected.
Moderna Inc. received a second round of U.S. funding for an experimental vaccine for Covid-19 and kicked off its late-stage trial, while Pfizer Inc. and BioNTech SE said they will begin a later-stage study for their lead candidate. A British researcher said the effectiveness of vaccines will probably depend on annual doses.
Subscribe to a daily update on the virus from Bloomberg's Prognosis team here. Click CVID on the terminal for global data on coronavirus cases and deaths.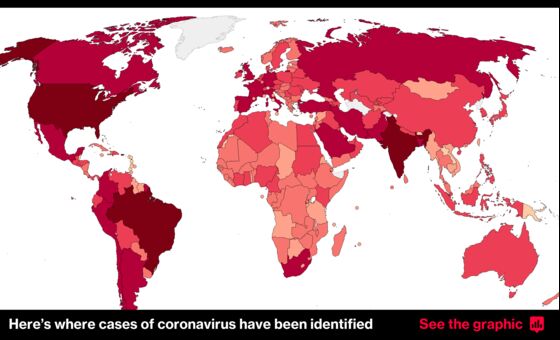 Pfizer, BioNTech Start Late-Stage Study of Vaccine (5:28 p.m. NY)
Pfizer Inc. and BioNTech SE said they would begin a later-stage trial for their top coronavirus vaccine candidate, with a goal of submitting it for regulatory review as soon as October.
The drugmakers said Monday that they had selected a lead vaccine candidate from within a broader development program and will proceed with a late-stage safety and efficacy trial of the experimental shot in a two-dose regimen.
Trump Back to Criticizing Governors on Reopening (4:57 p.m. NY)
President Donald Trump said a number of governors are moving too slowly to open their states' economies amid the coronavirus pandemic -- a shift from last week when he praised social distancing measures and state executives.
"I really do believe a lot of the governors should be opening up states that they are not opening," Trump told reporters Monday at an event in North Carolina. "And we'll see what happens with them."
The comments are similar to those the president made earlier in the pandemic when he frequently lashed out at governors. Trump didn't single out any states or governors for criticism Monday.
California to Send $52 Million to Hard-Hit Area (4:30 p.m. NY)
California plans to spend $52 million to ramp up testing, treatment and infected-person isolation in eight counties of the Central Valley, one of nation's most important agricultural regions. Virus cases there are growing rapidly, with testing positivity rates as high as 17.7% in Tulare and Stanislaus counties, Governor Gavin Newsom said at a press briefing. The money comes from a $499 million grant from the Centers for Disease Control and Prevention.
U.S. Cases Rise 1.3% (4 p.m. NY)
Coronavirus cases in the U.S. increased 1.3% as compared with the same time Sunday to 4.27 million, according to data collected by Johns Hopkins University and Bloomberg News. The increase was below the average 1.7% daily gain over the past week. Deaths rose 0.3% to 147,209.
Florida reported 432,747 cases, up 2.1% from a day earlier, compared with an average increase of 2.8% in the previous seven days. Deaths reached 5,931, an increase of 77, or 2.3%.
Arizona cases rose 1.1% to 163,827, trailing the seven-day average of 1.7%, and the state reported no new deaths.
Missouri reported a 4.5% increase in the number of cases from the same time yesterday, bringing the total to 43,445, according to data collected by Johns Hopkins and Bloomberg.
California's New Cases, Deaths Slow (2:30 p.m. NY)
California added 6,891 confirmed infections, less than the two-week daily average of 9,316, according to state health data. There were 29 new deaths, well below the 14-day average of 95, for a total of 8,445. New cases and deaths have tended to be lower on Mondays because of delayed reporting over the weekend.
Hospitalizations rose 0.3% to 6,935, while still down from a record of more than 7,100 last week. The state's rate of positive tests over the past 14 days was stable at 7.5%.
N.J. Transmission Rate Jumps (1:55 p.m. NY)
New Jersey's transmission rate rose to 1.09, highest since hitting 1.11 on July 18, an indicator that the virus is spreading. In Governor Phil Murphy's hometown of Middletown alone, at least 52 people ages 15-19 have tested positive after a house party.
Police on Sunday broke up a party attended by 700 guests at a Jackson mansion rented via an online booking service and charged three hosts with exceeding an indoor-gathering limit. State Police Superintendent Patrick Callahan and the governor said they increasingly worry about oversize private gatherings as bars and restaurants are forbidden from serving indoors.
EU May Backtrack on Loosening Visitor Curbs (1:50 p.m. NY)
The European Union appears set to keep its external borders shut to travelers from most countries -- including the U.S. -- for at least two more weeks amid spikes in coronavirus cases, according to two officials familiar with the matter.
The EU is leaning toward shortening a list of 13 states -- Canada, China, Japan and South Korea among them -- whose residents have the green light to visit the bloc, the officials said. They spoke on the condition of anonymity because deliberations on Monday among experts were confidential.
Warner to Open 'Tenet' Overseas (1:15 p.m. NY)
Warner Bros. is aiming to open its big summer blockbuster "Tenet" internationally on Aug. 26 and a week later in the U.S. for the Labor Day holiday, following numerous delays for the $200 million film.
AT&T Inc.'s film division initially planned to release the sci-fi thriller from director Christopher Nolan widely on July 17, but has delayed the opening repeatedly as coronavirus cases surge and force U.S. movie theaters to stay shut. Under the new plan announced Monday, "Tenet" will debut in 70 countries, including the U.K., Canada, France and Japan. It's expected to open in the U.S. over the Labor Day weekend, and remain in theaters longer than a normal, giving more people a chance to see it.
N.Y. Calls on Companies for Medical Supplies (12:45 p.m. NY)
New York state is calling on companies to manufacture medical supplies and personal protective equipment in preparation for future emergencies.
Governor Andrew Cuomo at a daily press briefing on Monday announced plans to renew requests for proposals from businesses around the state to avoid inflated costs and competition, which the state had to contend with at the height of the coronavirus pandemic in March and April. The price of N-95 masks, for example went from 70 cents per mask to $7 per mask at the height of the pandemic, Cuomo said.
"We can't go through what we went through last time," Cuomo said. "We can't be scouring the globe and paying exorbitant prices for medical equipment."
The state is working with about 20 companies to make everything from ventilators to Covid-19 test kits, he said. One Manhattan clothing manufacturer is now being used to make medical gowns, Cuomo said.
Coronavirus cases in the state remained low, and there were 642 hospitalizations and 11 virus-related deaths on July 26, the most recent state data. Of the approximately 57,000 tests conducted on July 26, about 608 were positive.
Germany Warns of Rising Infection Rates (12:30 p.m. NY)
German officials are stepping up calls for people to stick to containment efforts after an outbreak among migrant workers at a farm in Bavaria provided the latest warning that the coronavirus pandemic is far from over.
Germany plans to make testing, rather than self-isolation, mandatory for travelers returning from high-risk areas as Europe's biggest economy seeks to limit the number of infections being brought back from vacation.
"Rising infection numbers are reason for concern," Helge Braun, Chancellor Angela Merkel's chief of staff, told reporters in Berlin.
Google Extends Work From Home to 2021 (11:30 a.m. NY)
Google will let employees work from home until July 2021, once again pushing back the reopening of its offices. The company had previously said workers could stay home until the end of this year. The change was made to help them plan ahead and applies worldwide, Chief Executive Officer Sundar Pichai wrote in an email sent to employees on Monday.
Arizona Cases Slow; No Deaths Reported (11:55 a.m. NY)
Arizona on Monday said virus cases rose 1.1% to a total of 163,827, trailing the seven-day average of 1.7%, and the state reported no new deaths, with fatalities holding at 3,304.
The positivity rate statewide was 16.1%, below the 20.8% reported on Sunday. In Maricopa County, Arizona's most populous county, the Department of Health Services reported 18.6% positive tests.
Yankees-Phillies Game Canceled, Athletic Says (11 a.m. NY)
Monday night's Major League Baseball game between the New York Yankees and the Philadelphia Phillies has been canceled, The Athletic reported, citing a source it didn't identify.
Earlier, the sports news website reported that the game between the Miami Marlins and the Baltimore Orioles has also been canceled. As many as 12 Marlins players and coaches have tested positive for Covid-19 in recent days, Bob Nightengale of USA Today reported. The league began a truncated 60-game season last week.
Florida Cases Rise by Least Since July 7 (10:40 a.m. NY)
Florida reported 432,747 Covid-19 cases on Monday, up 2.1% from a day earlier, compared with an average increase of 2.8% in the previous seven days. The increase of 8,892 was the smallest in nearly three weeks, though reported numbers tend to be lower on Mondays due to weekend staffing at labs.
Deaths among Florida residents reached 5,931, an increase of 77, or 2.3%, according to the report, which includes data through Sunday. Cumulative hospitalizations of Florida residents rose by 268, or 1.1%, to 24,332.
The new rate of people testing positive for the first time climbed to 11.4% for Sunday, from 11.1% on Saturday.
LabCorp Cuts Test Turnaround Times (10 a.m. NY)
U.S. laboratory giant Laboratory Corp of America Holdings said it has been able to reduce turnaround times for Covid-19 test results to two to three days on average from about three to five days the week prior, thanks to additional screening capacity. The company said it's working to keep reducing how long patients wait for results, and that it expects that to happen "as additional equipment and supplies become available."
The shift represents the first sign of improvement as people with and without symptoms flocked to get Covid-19 tests as states reopened, straining infrastructure and leading to weeks of complaints about long delays. Last week, rival Quest Diagnostics Inc. reported that turnaround times had increased to two days on average for even high-priority cases, while other patients faced average waits of seven or more days.
Marlins Game Against Orioles Canceled: The Athletic (9:24 a.m. NY)
The Miami Marlins game Monday night against the Baltimore Orioles in Florida has been canceled with the team still in Philadelphia, Ken Rosenthal of The Athletic reported, citing a source. As many as 12 Marlins players and coaches have tested positive for Covid-19 in recent days, Bob Nightengale of USA Today reported.
First Cat in U.K. Tests Positive (9:08 a.m. NY)
The U.K. confirmed its first case of a pet cat testing positive for coronavirus, after the animal apparently caught the disease from its owners. There is no evidence pets can pass the virus on to humans, and the case should not be cause for alarm, officials said. No details of the location of the cat were given, but both the animal and its owners have fully recovered.
Trump Security Adviser Robert O'Brien Has Virus (8:48 a.m. NY)
President Donald Trump's National Security Adviser Robert O'Brien has tested positive for Covid-19, according to people familiar with his situation.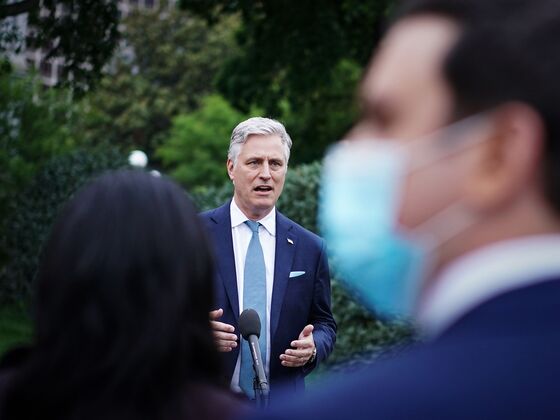 O'Brien has been out of the office since late last week, one of the people said. He came down with the coronavirus after a family event and has been isolating at home while still running the National Security Council, doing most of his work by phone, according to one of the people.
Moderna U.S. Funding Nears $1 Billion; Study Starts (7:54 a.m. NY)
With an additional $472 million award from the Biomedical Advanced Research and Development Authority (BARDA), Moderna's shot is now backed by $955 million of funds from the U.S. The first participants in the 30,000 person study have been dosed, the company said.
Moderna said it remains on track to be able to deliver approximately 500 million doses per year, and possibly as many as 1 billion, beginning in 2021.
WHO's Emergency Committee to Reconvene (7:12 a.m. NY)
World Health Organization Director-General Tedros Adhanom Ghebreyesus said he will reconvene the body's emergency committee later this week to re-evaluate the pandemic, as required under international health regulations.