DC Cases Rise, N.Y. Curbs Show Depth of Crisis: Virus Update
(Bloomberg) -- California ordered a one-month curfew and New York added restrictions as states try to curb record Covid-19 cases and limit pressure on hospitals with the Thanksgiving holiday season looming.
New Hampshire's governor imposed a mask-wearing mandate, telling opponents it'll keep the state economy open and avoid health-care overload. Rhode Island ordered a two-week "pause." New York Mayor Bill de Blasio said it's "just a matter of time" before indoor dining in the city is halted.
Washington, DC-area cases saw a daily record. Utah Governor Gary Herbert said that while he advises against more than one household getting together for festivities, what people do in their own homes "is going to be up to you."
Subscribe to a daily update on the virus from Bloomberg's Prognosis team here. Click CVID on the terminal for global data on coronavirus cases and deaths.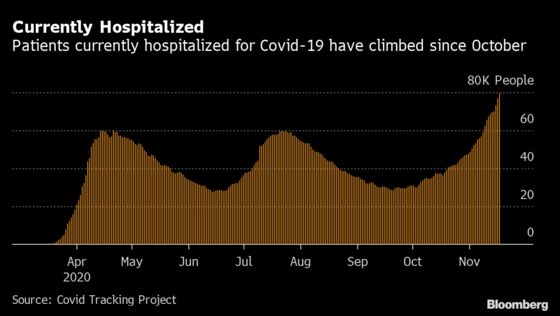 DC-Area Cases At Record (7:15 a.m. HK)
Coronavirus infections continue to rise in the greater Washington region, with more than 5,000 new cases reported on Thursday, a daily record.
The Capital itself had 213 new cases and an two additional deaths, according to figures from the mayor's office, pushing the seven-day average to 167. Maryland reported 2,910 new cases on Thursday, a daily high, and Virginia had 1,954 new cases, for a regional total of 5,077. Daily Covid cases in the region have averaged 4,109 over the past week and doubled since late October.
U.S. INSIGHT: Virus, Vaccine, Fiscal Aid -- 2021 Growth Path
The Smithsonian Institution said Thursday on Twitter that it would temporarily close its eight facilities in the Washington region that had recently reopened, including the National Zoo, starting on Monday. No planned reopening date was offered.
This week has also seen a jump in cases among members of Congress, though not necessarily when the lawmakers were in Washington. Senator Chuck Grassley, an Iowa Republican and the second oldest current U.S. Senator at 87, announced on Tuesday he'd tested positive. Six House members have reported positive tests in the past week.
California Orders Late-Night Curfew (5:30 p.m. NY)
California imposed a curfew across the vast majority of the state, ordering residents to stay home late at night as cases soar.
People in counties designated as having a widespread outbreak -- areas that encompass 94% of the population -- will have to stop nonessential work and gatherings between 10 p.m. and 5 a.m., according to a statement from Newsom's office.
The order remains takes effect Saturday and will be in force at least until Dec. 21, the state health department said in a statement.
With the recent surge, state officials have urged Californians to avoid travel and scale back or cancel Thanksgiving gatherings.
Utah to Relax Rules on Home Gatherings (5:26 p.m. NY)
Utah Governor Gary Herbert said the state would permit more than one household to gather over Thanksgiving and other holidays, even while advising against it. He also said he'll extend the state's mask-wearing mandate.
"What you do in the confines of your own home is going to be up to you," Herbert told reporters on Thursday as the state broke daily records for infections and deaths.
L.A. County Reports Record Cases (4:55 p.m. NY)
Los Angeles County more than 5,000 new cases on Thursday, more than the previous daily record in July.
County health director Barbara Ferrer said this week she would implement tougher protocols, including closing restaurants for all but take-out food, if cases remain at more than 4,000 for five days in a row. Wednesday's number was just shy of that.
Texas Governor Rules Out Return to Lockdown (4:15 p.m. NY)
Texas Governor Greg Abbott ruled out a return to lockdown status to combat surging virus hospitalizations across the second most-populous U.S. state, saying proponents overestimate what would be achieved.
"Statewide, we're not going to have another shutdown," Abbott said during a media briefing in Lubbock, one of the state's worst hot spots.
"One of the most common ways that Covid is spread today is not by someone going to work, but by people gathering together in home settings or casual settings after bars close," said Abbott, a Republican. "Shutdowns will not result in the positive results some people think."
Covid-19 hospitalizations in Texas swelled for an 11th straight day to 7,958, the most since the first week of August, state health department figures showed. The statewide patient tally has jumped 40% since the start of November. Hard-hit regions such as El Paso, Lubbock and Amarillo are transporting patients to facilities with available space hundreds of miles away.
New Hampshire Imposes Mask Mandate (4:13 p.m. NY)
New Hampshire Governor Chris Sununu imposed a statewide mask mandate Thursday, saying it'll help keep the economy open as infections rise to records.
"We have always said that we cannot let our health care system get overrun, and instituting this mandate will help" the Republican governor said in a tweet. "This is not a decision that came lightly."
Boise Strengthens Mask Mandate (3:54 p.m. NY)
Boise, Idaho's state capital, will step up enforcement of its mask mandate, allowing business owners to call the city for help with people who refuse to comply, Mayor Lauren McLean said Thursday. Businesses that do not comply will face a license suspension.
Idaho, which has one of the nation's highest positive-test rates, doesn't have a statewide mask mandate. Governor Brad Little, a Republican, has encouraged localities to pass and enforce facial coverings.
Ohio Issues First Purple Alert for County (2:20 p.m. NY)
The Buckeye state had its first purple alert, the highest on a four-tier warning system.
Ohio Governor Mike DeWine said the alert for Franklin County -- the state's most populous that encompasses the Greater Columbus area -- was raised after six or more indicators have been flagged for two weeks.
"This is a sign that we are starting to see sustained impacts on healthcare services due to this disease," he said.
Rhode Island to Impose Two-Week 'Pause' (2:01 p.m. NY)
Governor Gina Raimondo said Rhode Island will be put on a two-week "pause" starting Nov. 30 to tamp surging infections and near-capacity hospitalizations.
The pause would limit in-person high school, close higher education, limit social gatherings to one household, halt group sports and shutter gyms and bars. "It's gonna suck," she said, but she said the restrictions were the only way to avoid a full shutdown. "I'll be out of options."
Johnson & Johnson Sees Covid Vaccine Efficacy Data Early 2021 (1:44 p.m. NY)
Johnson & Johnson expects to know the efficacy of its Covid-19 vaccine candidate come January or February, Chief Scientific Officer Paul Stoffels said at a Reuters health conference.
Johnson & Johnson anticipates it will have all 60,000 participants enrolled in the final-stage study by the year's end. On Wednesday, a J&J spokesperson told Bloomberg it had already enrolled more than 10,000 participants.
New York Widens Restrictions (1:07 p.m. NY)
New York Governor Andrew Cuomo on Thursday increased restrictions for several areas, including the New York City suburb of New Rochelle, as coronavirus cases continue to rise.
Of more than 195,000 tests conducted Wednesday, 5,310 were positive, or 2.72%, Cuomo said in a conference call with reporters. There were 2,276 hospitalizations and 31 virus-related deaths Wednesday.
While the statewide positive-test rate declined from 3.4% on Tuesday, cases are climbing in areas such as Western New York, the Finger Lakes, and Rockland, Orange and Westchester counties, Cuomo said. Western New York had one of the highest positivity rates at 4.8%, he said.
The state is increasing restrictions in Rockland, Orange and Westchester as a "warning sign," he said. This includes New Rochelle, which was one of the first U.S. hot spots in March.
France's Hospitalizations Drop for Third Day (12:41 p.m. NY)
France reported fewer Covid-19 patients in hospitals and in intensive care for a third consecutive day as an Oct. 30 lockdown starts to stem infections.
The weekly pace of new cases fell to the lowest in almost a month, Director General for Health Jerome Salomon said at a briefing.
CDC Urges Against Thanksgiving Travel (12:30 p.m. NY)
The Centers for Disease Control and Prevention urged Americans against traveling for Thanksgiving and to limit gatherings to people in the same household as Covid-19 rages in the U.S.
"Celebrating virtually or with the people you live with is the safest choice this Thanksgiving," the CDC said on its website on Thursday. "Travel may increase your chance of getting and spreading COVID-19."
For people considering traveling for the holiday, the agency offered a checklist of risks and standard advice such as wearing a face covering and staying 6 feet away from people "who don't live with you." People hosting Thanksgiving guests at home should observe precautions that could include having an outdoor meal with family and friends, have people bring their own food and drink, and opening windows if the gathering is indoors.
U.S. Setting Hospitalization Records Every Day (12:26 p.m NY)
American hospitals are reeling as another spike in cases threatens to overwhelm capacity and drive up deaths.
Almost 80,000 patients are hospitalized with Covid-19 in the U.S. -- another high in a week that has pushed up the record every day since Nov. 10. California, Texas and Illinois made up almost a quarter of all hospital stays.
U.K. Deaths Rise (11:28 a.m. NY)
The U.K. reported 22,915 new coronavirus cases, compared with a seven-day average of 24,802. Deaths rose by 501.
NYC Mayor Says 'Matter of Time' Until Indoor Dining Halts (10:50 a.m. NY)
New York City Mayor Bill de Blasio said it's "just a matter of time" until the state orders a halt to indoor dining.
A shutdown likely will come "in the next week or two," de Blasio said Thursday at a news briefing.