U.S. Covid Vaccinations Slide Again Ahead of Biden Mandates
(Bloomberg) -- The number of people getting a first dose of Covid-19 vaccine is declining again in the U.S. after a fleeting uptick in August.
The drop is being led by the South and Central regions of the U.S. It's a reversal of what just a month ago seemed like a hopeful trend for public health officials, when those places — hit hard by a wave of delta variant-driven cases — briefly led the nation in the number of people starting vaccinations.
Bloomberg's analysis looked at the rate of vaccinations per 1,000 people over a two-week period in early August, compared with a second two-week period during the start of September. For counties with sufficient data available, 78 of the 100 counties with the biggest per capita declines were concentrated in Texas, Louisiana, Arkansas and Florida. Data are unavailable or insufficient for some counties, which aren't included in the analysis.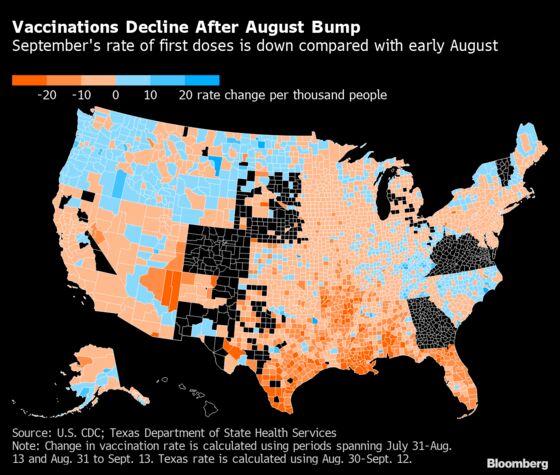 The fall-off in new vaccinations means that those counties and states remain well behind the rest of the country's vaccination levels. They also reveal the scale of the challenge President Joe Biden's administration's faces in getting more Americans to get a shot. The White House last week announced new mandates covering federal employees and contractors, health-care workers and many employees of private companies. 
Biden, announcing the mandates, said, "We've been patient, but our patience is wearing thin. And your refusal has cost all of us, so please, do the right thing." About three-quarters of the eligible U.S. population has received one or more doses of a Covid-19 vaccine. 
In Arkansas in early August, an average of 8,778 people a day were getting a first dose of vaccine, the highest level in the state since April. That summer peak was driven in part by the surge of delta variant cases that the state and other parts of the region were experiencing. Hospitalizations rose to record levels.
"They were scared, and that increased the demand," said Rob Ator, who leads the state's vaccine effort. In addition, many children went for shots ahead of the school year. But since then, cases have declined — and so have vaccinations. As of Sept. 13, 55% of all state residents had at least one dose of vaccine, compared with the U.S. average of 63%.
Ator said Arkansas is focused on persuading what he calls the "moveable middle." Part of that message includes telling people that the vast majority — over 90% — of people in the hospital with Covid-19 in the state were not vaccinated. 
He said he's also concerned that in many parts of Arkansas, federal vaccine mandates will make people more hesitant, not less.
"When you talk to a rural state, they are used to operating without the federal government telling them what to do," he said in a telephone interview. "When you force somebody, that's when you're going to get the biggest resistance."
Out of the 100 counties with the biggest per capita declines in vaccinations between August and September, 27 of them were in Texas. Governor Greg Abbott, a Republican, signed an executive order in August extending the state's opposition to vaccine mandates after regulators granted full approval for the shot. On Sept. 9, he said in a tweet that the Biden administration's vaccine mandates were an "assault on private businesses."
First doses in the state hit a recent peak on Aug. 14, with an average of about 60,000 people getting vaccinated for the first time. That number has been cut roughly in half, according to Centers for Disease Control and Prevention data. Chris Van Deusen, a spokesman for the Texas Department of State Health Services, said in an email that the drop-off coincided with the start of school.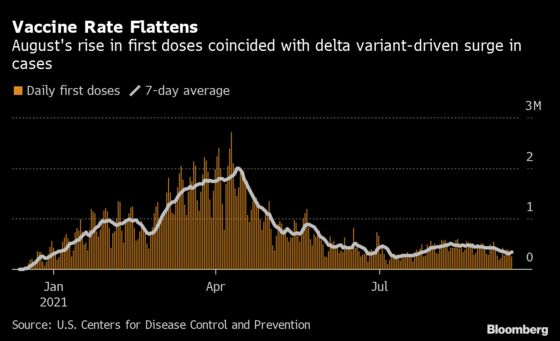 Much of the rise in cases and hospitalizations over the past few months has been concentrated in the American South, while other regions with higher vaccination rates have been hit less hard. 
In Louisiana, the state's most recent wave of Covid-19 was its worst, with hospitalizations almost 50% higher than a prior peak over the winter. State Health Officer Joseph Kanter watched as vaccination rates there rose last month, and told Bloomberg in July that fear of the virus had changed the minds of many people who had been reluctant to get the shots. Now vaccinations are on the decline again, even though the state ranks sixth from last in the number of people with at least one dose.
On Twitter last week, Kanter issued a plea to fellow health officials: "For other states: Do all you can now to vaccinate ahead of Delta."