Gilead Opens Treatment to Generics; Jilin Cases: Virus Update
(Bloomberg) -- Gilead Sciences Inc. is licensing its potential treatment, remdesivir, to five generic drugmakers, including Mylan, in India and Pakistan to speed supply-chain development and help meet anticipated demand.
Brazil recorded another record day in daily deaths. Over 1,000 Twitter accounts linked to an alleged Chinese government-backed propaganda campaign are sowing disinformation about the virus. Russian President Vladimir Putin's spokesman is the latest top official to fall ill. Anthony Fauci, the U.S. government's top infectious-disease expert, told a Senate hearing that "consequences could be really serious" if states ease restrictions too soon.
Virus Tracker: Cases top 4.2 million; deaths exceed 291,000
Health officials in China's northeastern province of Jilin say all six new cases are local infections
Infections near U.S. meat plants rise at twice the national rate
China will exempt some foreign executives from travel ban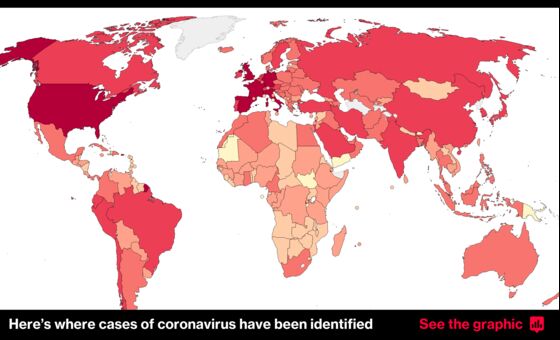 Social Stigma, Harassment Undermine Testing in Asia(8:00 a.m. HKT)
For many people in Asia, coming forward to get tested -- let alone revealing the personal information of friends, family and close associates -- is more terrifying than getting Covid-19.
Nasdaq Staff Return to Be Voluntary (6:30 a.m. NY)
Nasdaq Inc. staff's return to the office will probably be voluntary for the foreseeable future, Chief Executive Officer Adena Friedman said. The exchange operator surveyed employees about how comfortable they'd be with coming back, under certain conditions, and the vast majority said they'd prefer to keep working from home and wait to see how the recovery from the coronavirus pandemic progresses.
"We have the luxury of patience -- we have the ability to work from home very effectively," Friedman said in a Bloomberg Television interview with David Rubenstein, co-founder of Carlyle Group Inc. "We will ask people if they want to come back voluntarily, and if they feel they can do it in a safe way, then we would like to start to reopen offices to give them that flexibility. But we then will put a whole lot of protocols in place inside the offices to make sure they stay safe."
Brazil Reports
New Record

Day of Deaths (6:15 a.m. HK)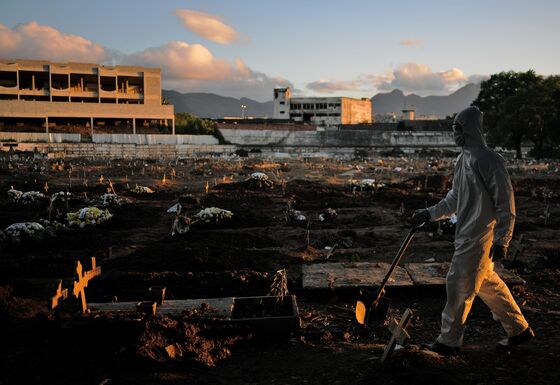 Brazil reported a new record for coronavirus deaths as Latin America's largest economy becomes the new global hotspot for the coronavirus pandemic.
The country reported 881 deaths on Tuesday, pushing the total to 12,400. Last week, the country surpassed the U.K.'s daily death toll, trailing only the U.S. in terms of recorded daily deaths. The number of infections has more than doubled in the past two weeks to 177,589 -- numbers health officials say likely don't fully reflect the situation amid a widespread lack of testing in the nation home to 210 million people.
L.A. County Seen Extending Orders Until July (5:30 p.m. NY)
Los Angeles County Public Health Director Barbara Ferrer told county supervisors at their meeting Tuesday that the area's stay-at-home order "with all certainty" would last until July.
Los Angeles had only recently begun loosening up. The nation's second-biggest city last weekend let residents hike on trails and play golf. Toy stores, flower shops and other retailers were allowed to reopen for curbside pickup. Beaches in the city were scheduled to reopen Wednesday.
California Governor Gavin Newsom said Tuesday that he would loosen statewide orders further, including allowing some malls and offices to open with limitations. Still, counties have the discretion to enact tighter rules. Beyond Los Angeles, the San Francisco Bay area has extended stay-at-home measures until the end of May.
Gilead Licenses Remdesivir to Generic Drugmakers (5:20 p.m. NY)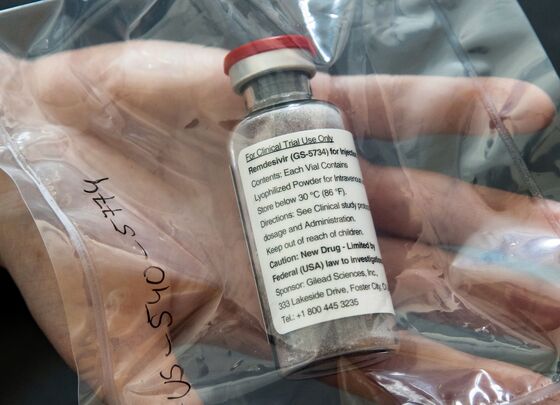 Gilead Sciences Inc. is licensing its potential Covid-19 treatment, remdesivir, to five generic drug manufacturers in India and Pakistan to speed supply chain development and help meet anticipated demand.
The companies are Cipla Ltd., Ferozsons Laboratories, Hetero Labs Ltd., Jubilant Lifesciences, and Mylan. They will be able to produce the drug without paying Gilead royalties until the World Health Organization declares the end of the pandemic or until another drug or vaccine is approved to treat or prevent Covid-19, whichever comes first.
Fauci Can Attend White House Meetings, HHS Says (4:40 p.m. NY)
Anthony Fauci, the top infectious disease official in the U.S., Centers for Disease Control and Prevention Director Robert Redfield, and Food and Drug Administration Commissioner Stephen Hahn will rejoin White House meetings under certain conditions after all three said Sunday that they were quarantining themselves after being exposed to a staff member who tested positive.
They'll attend White House meetings providing they are asymptomatic, screened, monitored for fever and other symptoms, wear face coverings and maintain social distancing, according to a joint statement from the CDC and Department of Homeland Security.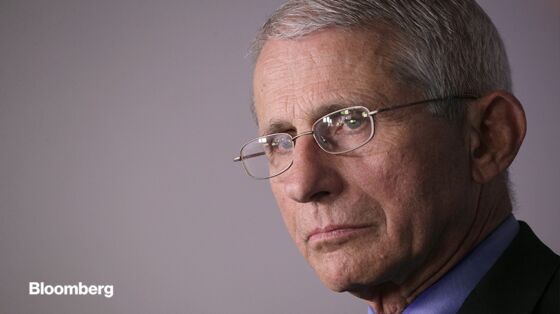 U.S. Cases Rise 1.4%, Below Week Average (4 p.m. NY)
U.S. cases rose 1.4% from the day before to 1.36 million, according to data compiled by Johns Hopkins University and Bloomberg News. That was higher than Monday's growth rate of 1.3% but below the average daily increase of 1.9% over the past week. Deaths rose 2.3% to 81,805.
Cases in New York rose 0.4% to 338,485 while deaths increased to 27,215, according to data from Johns Hopkins and Bloomberg News.
Florida reported 41,923 cases on Tuesday, up 2.3% from a day earlier, according to the state's health department. Deaths reached 1,779, an increase of 2.5%.
Cases in California rose 2.1% to 69,382 while deaths increased 2.8% to 2,847, according to the state's website.
Illinois cases rose by 4,014 to 83,021 while deaths increased by 144 to 3,601, according to the state's health department.
Cuomo: N.Y. Needs $61 Billion From Feds (2:04 p.m. NY)
Governor Andrew Cuomo said New York needs $61 billion in federal support to replenish the state budget, which has been ravaged by the coronavirus pandemic. If the state doesn't get cash assistance from Congress, it will be forced to cut spending, he said.
Cuomo, a Democrat, joined Republican Governor Larry Hogan of Maryland in calling for federal funding to show that the need for financial assistance has bipartisan support.
"When you don't fund a state, who does the state fund?" Cuomo said at his daily briefing. "The state funds schools, local governments and hospitals."
Murphy: N.J. 'Not Out of the Woods' (2:04 p.m. NY)
New Jersey leads the largest U.S. states in the number of Covid-19 cases per 100,000 people, evidence of the public-health challenges that remain even as it looks to reopen, Governor Phil Murphy said.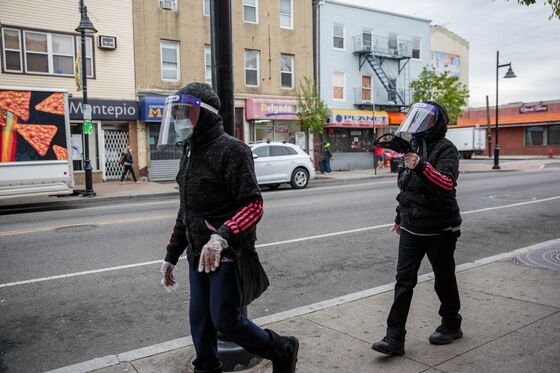 With 17 cases for every 100,000 residents, the state has a higher rate of infections than New York, California or Texas, Murphy said. New Jersey is the "most impacted state in America," he said. "We are not out of the woods yet."
He said it's likely that New Jersey will open businesses and workplaces statewide, rather than in regional blocs. But he declined to give target dates on reopening, saying those plans are being developed. "There's not going to be one magic date when everything opens," Murphy said.
House Democrats Propose $3 Trillion Relief Plan (1 p.m. NY)
Democrats in the U.S. House of Representatives proposed a $3 trillion virus relief bill Tuesday, combining aid to state and local governments with direct cash payments, expanded unemployment insurance and food stamp spending as well as a list of progressive priorities like funds for voting by mail and the troubled U.S. Postal Service.
Iceland to Test Visitors at Airport (11:52 a.m. NY)
Iceland will test all airline passengers arriving at Keflavik Airport for coronavirus by June 15, with those resulting negative spared a mandatory two-week quarantine, the government said Tuesday.
Testing will take place inside the terminal of the international airport. Visitors will be allowed to head to their accommodation while they wait for the result of their test, which is expected to be delivered on the same day.
Iceland has carried out extensive testing for Covid-19 and has been able to contain the pandemic, with no new cases registered over the last five days.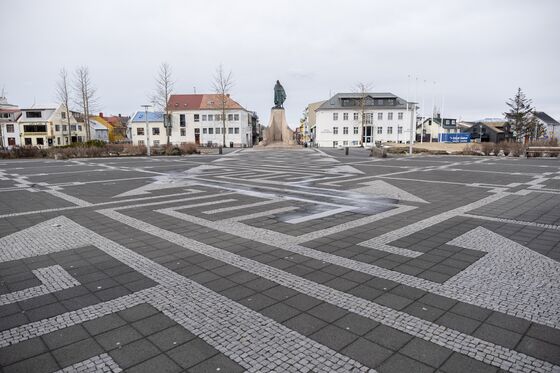 Florida Cases Increase More Than Average (11:10 a.m. NY)
Florida reported 41,923 Covid-19 cases on Tuesday, up 2.3% from a day earlier and higher than the average increase of 1.5% in the previous seven days. Deaths reached 1,779, an increase of 2.5%.
Florida is in its second week of reopening its economy, but the populous counties of Miami-Dade and Broward remain shut until at least Monday.
Qatar, U.A.E. Report Highest Jump in Cases (9:38 a.m. NY)
Qatar and the United Arab Emirates reported their biggest daily jump in cases on Tuesday after the World Health Organization attributed the increased numbers in the Gulf to "active outreach and increased testing."
New infections in Qatar remained above 1,000 for the fifth day, while total cases in Saudi Arabia, the biggest Arab economy, rose to about 43,000.
Fed's Bullard Sees Shutdown Risks (9:32 a.m. NY)
Federal Reserve Bank of St. Louis President James Bullard said keeping the economy in lockdown for longer than 90 or 120 days risks triggering bankruptcies and a Great Depression-scale recession.
Choking off business revenue "can't go on indefinitely. You will get too many business failures and have lasting damage," he said during a virtual discussion hosted by the OMFIF Tuesday. A lockdown is too much of a blanket approach, and authorities have to "get better at this and more risk-based."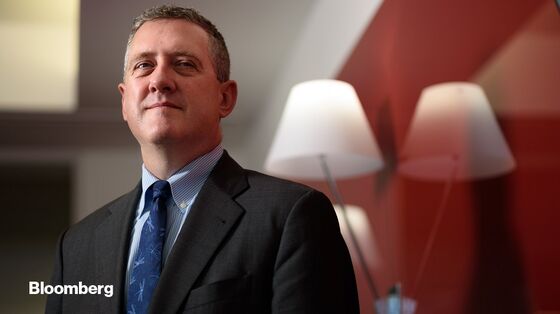 U.S. Core CPI Falls by Most on Record (9:11 a.m. NY)
A key measure of U.S. consumer prices declined in April by the most on record as travel and apparel spending collapsed during the pandemic. The core consumer-price index, which excludes volatile food and fuel costs, fell 0.4% from the prior month after a 0.1% decrease in March, Labor Department figures showed Tuesday. That's the biggest drop in data back to 1957.
Lufthansa Nearing Deal With Berlin (9:10 a.m. NY)
The German government and Deutsche Lufthansa AG are inching closer to a bailout deal as opposition to the terms from within Chancellor Angela Merkel's coalition recedes.
While discussions about the details of the government stake continue, officials expect to agree with Lufthansa as early as the end of this week, according to people familiar with the deliberations. Germany has also entered into informal talks with the European Commission to move along the planned 9 billion-euro bailout package aimed at keeping the airline aloft, according to some of the people.
Portugal Reports Rise in New Cases (9:05 a.m. NY)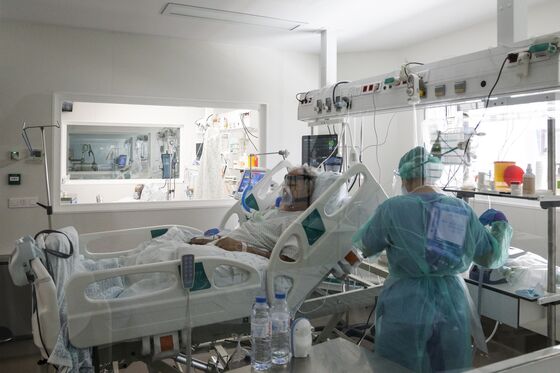 Portugal reported 234 new confirmed cases, up from 98 on Monday, taking the total to 27,913, the government said. The total number of deaths rose by 19 to 1,163.
The government started easing confinement measures on May 4 by allowing small stores to reopen, and the next stage of easing is scheduled for May 18, when restaurants will be allowed to open with capacity limited to 50%.
Scientists: U.K. Must Do More to Suppress Virus (9 a.m. NY)
The U.K. government must do more to suppress the coronavirus rather than just managing its spread if it wants to prevent a resurgence of outbreaks as the country eases its lockdown, according to a group of top scientists.
The recommendation is one of 18 published Tuesday by the group, known as Independent SAGE, set up as an alternative to the U.K. government's official Scientific Advisory Group for Emergencies Covid-19 advisory panel. Other recommendations: doubling quarantines for symptomatic people to 14 days and more accurate data presented by statisticians, rather than government, at daily briefings.
"We detect ambivalence in the government's strategic response, with some advisers promoting the idea of simply 'flattening the curve' or ensuring the National Health Service is not overwhelmed," the group, led by former government Chief Scientific Adviser David King, said in the report. "We find this attitude counter-productive and potentially dangerous."
Putin's Spokesman Gets Virus as Russia Rises to No. 2 (8:56 a.m. NY)
With Russia overtaking Spain to record the world's second-highest number of coronavirus infections, President Vladimir Putin's spokesman became the latest top official to fall ill with the deadly disease.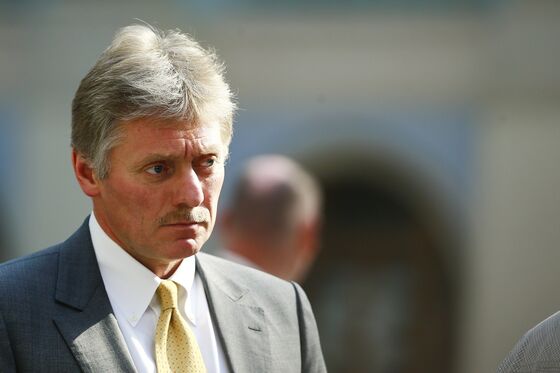 Dmitry Peskov told Interfax on Tuesday he is receiving treatment for the virus. He joins Prime Minister Mikhail Mishustin and the country's construction and culture ministers, who have also been diagnosed with Covid-19. Peskov, traditionally the official with the closest day-to-day access to Putin, said in a text message he last met the president in person over a month ago. Putin has been conducting government business mostly via video-conferences from his residence outside Moscow.
U.K. Wage Subsidy Program Extended (7:45 a.m. NY)
Chancellor of the Exchequer Rishi Sunak extended the U.K.'s furlough program through the end of October as the government sought to ensure as many jobs as possible survive the coronavirus lockdown.
Sunak said there will be no changes to the program until the end of July, when more flexibility will be injected to allow employees to work part-time, with their wages split between the state and employers. He promised more details on how the program will be modified by the end of May.
"This scheme has been a world leading economic intervention, supporting livelihoods and protecting futures," Sunak told the House of Commons on Tuesday. He said 7.5 million jobs have been protected, benefiting almost a million employers.
Separately, data showed the number of Britons seeking Universal Credit welfare payments is still running at more than double its pre-virus average. The Department for Work and Pensions said it received almost 25,000 new declarations a day on average in the week through May 5, taking the total since restrictions on activity were first imposed on March 16 to almost 2.5 million.
LabCorp Expands Availability of At-Home Test Kit (7:36 a.m. NY)
LabCorp said its at-home collection test kit is now being offered nationwide to people who have symptoms consistent with Covid-19 infection and to those without symptoms who may have been exposed to the virus. The test is available through the company's online platform.
The kits were initially made available in April to frontline healthcare workers and first responders and this latest move expands access in line with U.S. CDC guidelines.
Biden Would Review Stimulus to Big Companies (7 a.m. NY)
"My Administration will review every single stimulus loan given to big companies and political insiders," presumptive Democratic nominee Joe Biden said.