U.S. Cases Up 3.1%, Below Past Week's 4.4% Average: Virus Update
(Bloomberg) -- New York Governor Andrew Cuomo reported 474 fatalities, the lowest daily rate since early April, pushing the total deaths for the state past 15,000. The state is planning to coordinate contact tracing regionally with New Jersey and Connecticut.
Italy posted the most new cases in four days, and Irish infections rose again after three days of declining numbers. Singapore reported more than 1,000 new cases for the third day, pushing total infections past 10,000.
House Speaker Nancy Pelosi said Congress should turn to funding aid for state and local governments next, while Senate Majority Leader Mitch McConnell said allowing them to declare bankruptcy was a better option. The coronavirus struck the U.S. weeks earlier than health officials thought as two California deaths in early and mid-February have been connected to the outbreak.
Subscribe to a daily update on the virus from Bloomberg's Prognosis team here. Click VRUS on the terminal for news and data on the coronavirus.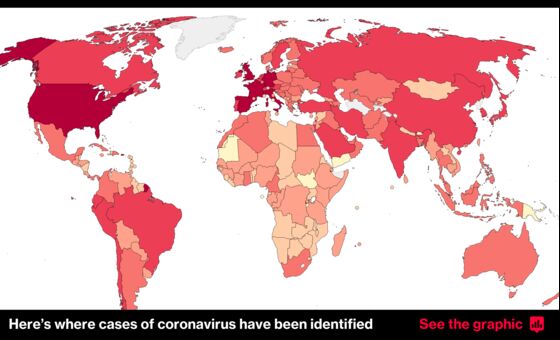 California to Expand Testing, Bring Back Surgeries (4:50 p.m. NY)
California Governor Gavin Newsom said he had a "very good" phone call Wednesday with President Donald Trump, who agreed to send the state a minimum of 100,000 swabs needed to expand testing for the virus. Another 250,000 are expected next week, the governor said.
Newsom is aiming to sharply increase testing for the virus as a step toward reopening the world's fifth-largest economy. California currently has capacity to test 16,000 people a day and expects to reach 25,000 by the end of the month, with an ultimate goal of 60,000 to 80,000, he said at a press briefing.
The state plans to add 86 new testing sites, with a focus on rural and low-income communities. Abbott Laboratories has agreed to provide about 1.5 million serological tests, Newsom said. California also wants to expand contact tracing, and is seeking "an army" of 10,000 volunteers to help in that effort, including retrained state workers.
The state, working with its regional partners in Washington and Oregon, plans to resume some scheduled surgeries, Newsom said. He has no date yet for a reopening of business.
Harvard Won't Take Stimulus Money (4:45 p.m. NY)
Harvard University, the richest U.S. college, said it won't accept federal stimulus funds after a barrage of criticism, including from President Donald Trump.
The U.S. government's $2 trillion stimulus to combat the effects of coronavirus lockdowns across the country provided about $12.5 billion in direct aid for all colleges. Distribution of the funds was determined by a formula that meant some of the wealthiest schools were eligible for millions of dollars in aid.
Harvard said Wednesday it didn't apply for the support, nor has it requested, received or accessed the funds.
Official Ousted for Questioning Trump-Touted Drug: NYT (4:30 p.m. NY)
Rick Bright, who left his role as director of the Biomedical Advanced Research and Development Authority, was removed from the job after he pressed for more rigorous scientific scrutiny of hydroxychloroquine, a drug that has been touted as a potential Covid-19 treatment by President Donald Trump, the New York Times reported.
"I believe this transfer was in response to my insistence that the government invest the billions of dollars allocated by Congress to address the Covid-19 pandemic into safe and scientifically vetted solutions, and not in drugs, vaccines and other technologies that lack scientific merit," he told the Times.
BARDA is an integral part of the federal government's efforts to contain the pandemic and find ways to prevent future outbreaks. The agency has been working to support clinical trials of vaccines under development by a number of pharmaceutical companies.
Bright was moved into a smaller role at the National Institutes of Health where he will work on developing diagnostic tests for the coronavirus.
U.S. Confirmed Cases Rise 3.1% (4 p.m. NY)
U.S. cases rose 3.1% from the day before to 835,316, according to data compiled by Johns Hopkins University and Bloomberg News. That was lower than Tuesday's growth rate of 5.7% and below the average daily increase of 4.4% over the past week.
Arkansas had the largest daily increase, rising 14%, to 2,262, according to data from Bloomberg and Johns Hopkins.
New York, the center of the U.S. outbreak, reported an additional 5,526 cases, for a total of 257,216, according to Governor Andrew Cuomo. Downstate New York is now on the descent of the curve.
Florida reported 28,309 cases, up 2.96% from a day earlier, Governor Ron DeSantis said. Deaths among Florida residents reached 893, an increase of 6.44%.
Texas reported 873 new cases, up from 738 yesterday, according to state health department data. Deaths rose at the same pace, bringing the fatality total to 543 statewide.
California's deaths increased 6.8% from Tuesday to 86, Governor Gavin Newsom said at his daily press briefing. But other trends showed signs of improving, with hospitalizations falling 0.2% and intensive-care patients declining 1.8%.
Almost 90% of Patients on Ventilators Died (3:13 p.m. NY)
A study that examined outcomes for more than 2,600 patients found an extraordinarily high 88% death rate among Covid-19 patients in the New York City area who had to be placed on mechanical devices to help them breathe.
The study, published in the Journal of the American Medical Association, is one of the largest reviews published to date of Covid-19 patients hospitalized in the U.S. Overall, the researchers reported that 553 patients died, or 21%. bout 12% of the patients were sick enough to need ventilators.
Spain Extends State of Emergency (2:52 p.m. NY)
Spain's parliament backed Prime Minister Pedro Sanchez's request to extend a state of emergency to May 9, as the country tries to rein in the world's second-most extensive coronavirus outbreak.
The conservative People's Party, the main opposition group, voted in favor of prolonging the measure for a third time, giving Sanchez's Socialists enough support. The prime minister needs emergency powers to keep a lockdown in place and to exert full control over the country's health system.
Spain reported a small increase in the number of new cases and deaths Wednesday, and overall the latest numbers are steady. More than 20,000 people have died from the disease, while some 86,000 have recovered.
EU's Borrell Says U.S. Wrong to Deny Iran IMF Aid (2:18 p.m. NY)
European Union foreign-policy chief Josep Borrell criticized the U.S. for blocking International Monetary Fund aid for Iran to fight the coronavirus, saying Tehran's request for a $5 billion emergency IMF loan is justified on humanitarian grounds.
"I really regret that the Americans -- that the United States -- are opposing the International Monetary Fund to take this decision," Borrell told reporters in Brussels after chairing a video conference of foreign ministers from the 27-nation EU.
Protests Could Fuel Outbreak, WHO Warns (1:30 p.m. NY)
The head of the World Health Organization said protests could exacerbate the coronavirus crisis.
"Protests and gatherings in the middle of the pandemic will not help," Tedros Adhanom Ghebreyesus said at a briefing in Geneva. "It will only fuel the outbreak."
Government leaders need to win the trust of citizens and engage with them in a two-way dialogue to manage social pressures, he said. His comments follow protests against government-mandated lockdowns in several U.S. states.
Tedros also said he hopes the U.S. will reconsider the freeze on its financing, which also supports polio eradication and immunization of children. He said he has no extra energy to focus on anything but saving lives.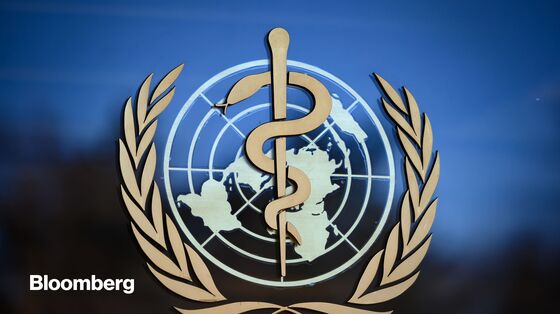 Reported cases are trending upward in Africa, Latin America and Eastern Europe, even though the numbers are low, Tedros said. Covid-19 appears to be stable or declining in most countries in Western Europe, Tedros said.
Lockdowns can be less severe if countries have strong testing programs and quarantine everyone who is infected, said Mike Ryan, head of the WHO's health emergencies program. However, the risk of a resurgence is real because most people haven't been infected, WHO epidemiologist Maria Van Kerkhove said.
Irish Cases on Rise (12:50 p.m. NY)
Ireland reported 631 new coronavirus cases, the highest since April 15, with 49 more deaths. The spike in cases comes after declining for three days straight. The country now has 16,671 confirmed cases, with 769 deaths.
Pelosi Urges State Aid (12:40 p.m. NY)
House Speaker Nancy Pelosi said a "major package" of aid for state and local governments will be in the next stimulus legislation considered by Congress, setting up a conflict with Senate Majority Leader Mitch McConnell, who is urging a slowdown in doling out federal help.
The $484 billion aid plan set for passage by the House on Thursday is an "interim" step to mitigate some of the economic damage wrought by the pandemic, Pelosi said Wednesday on Bloomberg Television.
"Now we have to go further to help state and local" governments, she said, without putting a price tag on the aid.
Although Trump said Tuesday he favored aid for states, McConnell has said any aid to states and municipalities should be reviewed carefully and that states should be allowed to declare bankruptcy.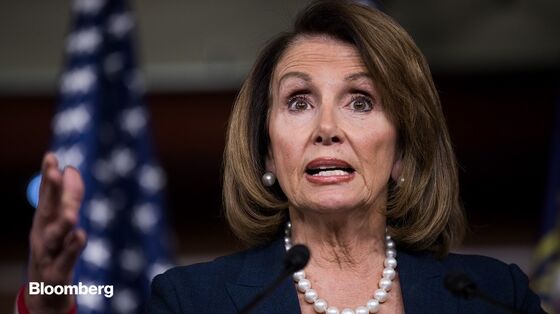 Italy Cases On Rise Again (12:15 p.m. NY)
Italy registered its highest number of new coronavirus cases in four days on Wednesday as Prime Minister Giuseppe Conte prepares a stimulus package for an economy paralyzed by a nationwide lockdown.
The country also posted a record figure for recoveries from the disease, with 2,943 over the past 24 hours.
Figures from civil protection authorities show there were 3,370 new cases for the 24-hour period, compared with 2,729 a day earlier. Confirmed cases now total 187,327. Italy, the original European epicenter of the outbreak, registered 437 deaths linked to the virus on Wednesday, compared with 534 the day before. That brings total fatalities to 25,085.
Florida Cases Rise Almost 3% (12:06 p.m. NY)
Florida reported 28,309 Covid-19 cases Wednesday morning, up 2.96% from a day earlier. Deaths among Florida residents reached 893, an increase of 6.44%.
As cases in Florida show some signs of slowing in recent days, Governor Ron DeSantis said Tuesday that the state has flattened the curve and the predictions that Florida's hospital system would be overwhelmed were incorrect.
NYC Mayor to Isolate Anyone With Virus (12:01 p.m. NY)
New York City officials intend to enlist thousands of health-care workers next month to conduct hundreds of thousands of diagnostic tests a day, and isolating anyone found to be carrying the disease.
The plan, which hinges on the city's still-unmet capacity to test residents, will require training thousands of "disease detectives" to interview each individual found positive for the virus, Mayor Bill de Blasio said in a news briefing Wednesday. The city would then trace his or her social contacts to test and isolate them if necessary.
De Blasio's goal is far more ambitious than what New York Governor Andrew Cuomo announced on Tuesday of 40,000 a day for the entire state.
The city will rent thousands of hotel rooms for virus carriers with no or mild symptoms who live in crowded households that make isolation impossible, de Blasio said.
Large IPOs May Be Held Until July (11:38 a.m. NY)
It may be three more months before the stock market is ready for large initial public offerings again, according to Nasdaq Inc. Chief Executive Officer Adena Friedman.
CEOs who were considering IPOs "are now waiting to see what the effects of the virus are later in the year," Friedman said Wednesday in a Bloomberg Television interview. "I would say that companies that are not particularly impacted by the virus will look to try to get out in early Q3."
Those more affected will probably have to wait longer before attempting an IPO, Friedman said. Only three companies have gone public in the U.S. since Covid-19 was declared a pandemic, and two of them were in the biotechnology industry: Zentalis Pharmaceuticals Inc. and Keros Therapeutics Inc.
Prisoners Could Add 100,000 to Death Toll: ACLU (10:55 a.m. NY)
The Trump administration's projection for U.S. deaths from the coronavirus pandemic may be short by about 100,000 because it isn't fully accounting for the nation's high prison population, the American Civil Liberties Union said.
Models that properly account for the roughly 740,000 people in jail in the U.S. on any given day suggest the country will experience "much higher death rates" than currently projected if inmate populations aren't reduced rapidly, the organization said in a statement about its findings on Wednesday.
Mnuchin Sees Economy Reopened by Late Summer (10:15 a.m. NY)
Treasury Secretary Steven Mnuchin said he anticipates most of the U.S. economy will restart by the end of August after the coronavirus has led to social distancing measures that have shuttered many businesses.
"We're operating under the environment that we are going to open up parts of the economy and we're looking forward to -- by the time we get later in the summer -- having most of the economy, if not all of the economy, open," he said on Fox Business Network.
Analysis Suggests 5.5% of Geneva Exposed (10:03 a.m. NY)
An antibody analysis by the Geneva University Hospitals suggests that 5.5% of Geneva's population -- some 27,000 people -- were exposed to Covid-19 as of April 17. The estimate was based on blood tests from a representative sample of 760 individuals. The result was preliminary and the prevalence of the virus among the population was likely to increase in coming weeks, the Geneva University Hospitals said in a statement.
U.K. Deaths Lower Than Day Before (9:49 a.m. NY)
A further 759 people have died from coronavirus in U.K. hospitals, the latest figures show, as the country prepares to start human trials of a vaccine for the disease. Some 4,451 more people have tested positive, up from 4,301 yesterday, according to data released by the Department of Health and Social Care on Wednesday.
Amazon Accused of Price-Gouging During Pandemic (9:47 a.m. NY)
Amazon.com Inc. unlawfully increased prices on numerous consumer goods in the wake of the Covid-19 pandemic, in some cases by more than 500%, a new proposed class suit in California federal court alleges.
World Bank Sees Record 20% Drop in Remittances (9 a.m. NY)
Transfers to low- and middle-income countries from workers abroad probably will plunge by a fifth to $445 billion, the Washington-based development institution said in a report on Wednesday. This would mark the sharpest decline in records going back to 1980 and compares with a 5% drop during the 2009 financial crisis.
Apps Must Keep Big Brother at Bay: Watchdogs (8:52 a.m. NY)
Europe's data privacy watchdogs warned that virus-tracking technologies must not be allowed to morph into dystopian snooping on citizens.
Technologies should be used to "empower, rather than to control, stigmatize, or repress individuals," the EU group of data protection authorities said in guidelines, published on Wednesday, which generally support the use of apps to contain the spread of the new coronavirus.
British Airways Owner Said to Seek Deal Price Cut (8:48 a.m. NY)
British Airways owner IAG SA is seeking to slash the agreed 1 billion-euro ($1.1 billion) purchase price for Spain's Air Europa as the value of both airlines is hit by the coronavirus, people familiar with the situation said.
IAG plans to discuss adjustments to the terms of the deal with Globalia Corp., Air Europa's parent, to reflect the deteriorating market environment, according to the people, who asked not to be named as the matter is confidential.
EU Eyes $2.2 Trillion Plan for Recovery (8:20 a.m. NY)
The European Union's 27 leaders will be asked to consider a 2 trillion-euro plan for the region's post-pandemic recovery on Thursday, according to a document seen by Bloomberg News.
The compromise proposal has emerged from a north-south squabble over how to pay for the effects of lockdowns that is set to play out on a video conference. The plan would partially use the EU's seven-year multi-annual budget and also establish a new financing mechanism, the document said.
Dutch New Cases Fall for Fifth Consecutive Day (8:14 a.m. NY)
The Netherlands reported 708 new cases, marking a fifth consecutive day of declines and the lowest daily increase since March 23. It was the third day that infections grew by 2%, the smallest gain since the first case was reported in late February.
Fatalities rose 4% to 4,054. The Netherlands on Tuesday announced it would extend lockdown measures until May 19.
AT&T Pulls Outlook, Delta to Cut Cash Burn (7:40 a.m. NY)
AT&T withdrew its forecast of 2% revenue growth for the year and said the outbreak had knocked $600 million off of revenue. Kimberly-Clark also pulled its outlook for the year and suspended share buybacks, while Delta Air Lines Inc. vowed to cut its daily cash burn in half by the end of June amid a collapse in travel demand.
In Europe, Heineken NV canceled its interim dividend and said its board will take a pay cut to mitigate the impact. Kering said it doesn't see a recovery in the U.S. or Europe before at least June or July after sales at its flagship brand Gucci tumbled. Meanwhile, UniCredit SpA became the first big European bank to try to quantify the impact of the coronavirus, setting aside almost $1 billion to cover potential loan losses stemming from the outbreak. For more on European earnings, click here.
Jakarta Partial Lockdown Extended (7:30 a.m. NY)
Indonesia extended social distancing rules in Jakarta, home to more than 10 million people. The measures, which include a ban on gathering of more than five people, limited public transport services and mandatory work-from-home, were extended to May 22. The restrictions, first imposed on April 10, were to end Thursday.
Jakarta and its satellite cities have emerged as the hub of the pandemic in the world's fourth-largest populous country with infections more than quadrupling to 7,418 since the start of the month. The outbreak has killed 635 people in Indonesia, the most in Asia after China and India, according to Johns Hopkins University data.