U.S. Cases Up 3.3%; Italy to Start Easing Lockdown: Virus Update
U.S. coronavirus cases rose 3.3%, below the one-week average. Italy will ease its lockdown on May 4 after reporting the fewest deaths since mid-March. Fatalities in the U.K. and New York were the lowest in more than three weeks.
Spain and France reported the smallest number of fatalities in more than a month as both nations set plans to reopen their economies. Bill Gates shifted his philanthropy to work on a vaccine.
Maryland and Michigan emergency services were flooded by calls after President Donald Trump discussed disinfectants as a remedy.
Virus Tracker: Total cases 2.9 million; deaths near 206,000
U.K. medics on front line fear for their safety
Tale of two economies will determine post-lockdown growth
Elevator quandary underscores reopening struggle
Australia begins using contact-tracing app
Markets get small comfort as measures are eased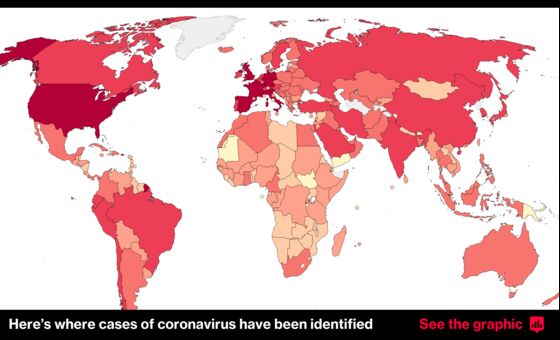 Beef Plant Closing Adds to Worries (4:45 p.m. NY)
JBS SA, the world's top meat company, will shut a beef production facility in Green Bay, Wisconsin, following an outbreak of coronavirus, Shannon Grassl, president of JBS USA Regional Beef, said in a statement, adding to concerns that supplies will tighten for consumers. It's the company's fourth U.S. plant to temporarily close. JBS USA runs more than 60 meat, poultry and prepared-food facilities.
The Brazil-based company's beef production operations in Pennsylvania and Colorado have reopened, and its Minnesota pork facility remains closed.
South Africa Gets Cuba's Help (4:30 p.m. NY)
A group of 217 Cuban medical professionals, including infectious diseases specialists, headed to South Africa after the government requested help from its long-time ally.
Cuba "is known for its disaster preparedness and its consistent deployment of medical brigades for disaster relief wherever required," Health Minister Zwelini Mkhize said.
Some of the professionals fought other outbreaks such as cholera in Haiti in 2010 and Ebola in West Africa in 2013, he said. South Africa reported 185 new infections on Saturday, bringing the total to 34,456. Deaths are at eight.
U.S. Cases Rise 3.3%, Below One-Week Average (4 p.m. NY)
U.S. coronavirus cases increased 3.3% from Saturday to 957,016, according to data collected by Johns Hopkins University and Bloomberg News. The national increase in cases was below the average daily increase of 3.6% over the past week.
New York reported 5,902 new cases, down from 10,553 a day earlier, boosting the total to 288,045, while new deaths fell to 367, for an overall toll to 16,966.
New Jersey had 3,730 cases, pushing the total to 109,038, Governor Phil Murphy said in a tweet. An additional 75 deaths were reported, bringing the statewide toll to 5,938.
Illinois had 2,126 new cases, raising the total to 43,903, with 59 additional deaths, bringing the toll to 1,933, state officials said.
Pennsylvania's health department reported 1,116 cases on Sunday, bringing the total to 41,165, and added 13 deaths -- the fewest since April 13 -- for 1,550 total fatalities.
Michigan had 575 new cases, raising the total to 37,778. The state also reported 41 deaths -- the fewest in a month -- bringing the total to 3,315, the health department reported.
Connecticut reported 687 new cases, for a total of 25,269, with 62 new deaths, pushing the toll to 1,924.
Ohio reported 376 new cases, bringing the total to 15,963, and added 17 deaths, pushing the total to 728.
Singapore Is Third-Most Infected in Asia (3:10 p.m. NY)
Singapore reported 931 new cases of the virus Sunday, making the island-nation the biggest cluster in the region, after the world's two most populous countries.
The country, with 5.7 million inhabitants, surpassed Japan with 13,000 cases. The majority of infections are among migrant workers living in dormitories. Its citizens and permanent residents made up just 15 of the new cases, the government said in a statement.
Italy to Begin Easing Lockdown on May 4 (2:50 p.m. NY)
Prime Minister Giuseppe Conte said Italy will begin lifting a nationwide lockdown on May 4, giving a partial respite to businesses paralyzed by weeks of measures to stop the outbreak.
Construction and manufacturing will be the first sectors allowed to restart, Conte said in a briefing in Rome. Retailers and museums can reopen on May 18, he said. Restaurants and cafes will remain closed until at least June 1.
Jordan to Extend Shutdown (2:45 p.m. NY)
Jordan extended its shutdown for a majority of the public sector until the end of Ramadan, on May 23, Minister of State for Media Affairs Amjad Adaileh said.

Some ministries and public agencies will resume work within days, with few staff, he said. Public transport will resume only for those who have permits as the nation remains under a curfew, he said.
Cuomo Outlines Phased Reopening (2:45 p.m. NY)
Upstate New York could start reopening for business as soon as May 15, Governor Andrew Cuomo said. New York City is more densely populated and connected to Long Island, New Jersey and Connecticut, making it more complicated to reopen soon, he said.
The first phase would include construction and manufacturing activities and be by region. After the initial re-openings, the state would pause for two weeks to assess progress, by monitoring new hospitalizations, cases and testing for antibodies.
Businesses will be allowed to reopen depending on how essential they are and how much risk of transmission they pose, Cuomo said.
Gates Focused on Vaccine (2:30 p.m. NY)
Bill Gates is funding production of the seven most promising ideas for a vaccine as he refocuses his philanthropy on the coronavirus.
"If everything went perfectly, we'd be in scale manufacturing within a year," Gates said on CNN's "Fareed Zakaria GPS." "It could be as long as two years."
The philanthropist and co-founder of Microsoft Corp. said his best-case scenario for a phased reopening of the economy is to "pick the high-value activities like school, manufacturing and construction, and figure out a way to do those with masks and distancing."
Fully Fund U.S. Loans: BofA CEO (2:25 p.m. NY)
Bank of America Corp. Chief Executive Officer Brian Moynihan said the U.S. small business loan program should be fully funded, rather than forcing companies to scramble for cash. Eliminate the "first come, first serve" aspect, Moynihan said on CBS's "Face the Nation."
The $349 billion for small businesses in the stimulus package ran out in less than two weeks. The loans become grants if firms keep their payroll. A second package, including a top-up of $320 billion to the Paycheck Protection Program was signed into law last week.
The U.S. economy will return to growth in the fourth quarter, and will get back to the same size it was prior to the pandemic by late 2021, Moynihan said.
France Has Fewest Deaths Since March (1:10 p.m. NY)
France's reported the smallest rise in deaths since March 25 and the amount of Covid-19 patients in intensive care decreased. Fatalities rose by 242 to 22,856, according to the Health Ministry. New cases increased by 1,129, to 191,743.
The government is preparing to ease its confinement after May 11, with Prime Minister Edouard Philippe set to outline how to begin the return to normal life on Tuesday.
EU Fund Needed Now: Gentiloni (12:30 p.m. NY)
A European Union recovery fund worth about 1.5 trillion euros ($1.62 trillion) needs to be available by mid-September and include loans and grants, EU Economy and Financial Affairs Commissioner Paolo Gentiloni said.
"We cannot wait two years, like it happened between the end of the World War II and the Marshall Plan," Gentiloni said on Italy's Rai 3 television. EU leaders inched toward a deal on rebuilding plans during a video conference on Thursday, but haven't resolved differences over whether states will get grants or loans.
N.Y. Deaths Lowest Since March 31 (12:05 p.m. NY)
New York Governor Andrew Cuomo said new deaths fell to 367, the fewest since March 31, and virus cases continues to decline across the state.
The state reported 5,902 new cases, bringing the total to 288,045 -- about 10% of the world's infections. Hospitalizations declined, extending a trend from last week.
Italy Deaths Slow (12 p.m. NY)
Italy reported its fewest virus fatalities since the early days of its nationwide lockdown as the government plans to gradually restart its economy and allow people limited movement.
Civil defense authorities reported 260 deaths for the 24-hour period -- the fewest since March 14 -- compared with 415 the day before. That brings the total number of fatalities to 26,644. Confirmed cases now total 197,675.
There were 2,324 new cases compared with 2,357 a day earlier.
State Hotlines Called on Disinfectants (11:50 a.m. NY)
New Jersey and Michigan emergency centers were flooded with calls last week after President Trump discussed the use of disinfectants to deal with Covid-19, the states' governors said.
"We had hundreds of calls come into our emergency hotline at our health department asking if it was right to ingest Clorox or alcohol cleaning products, whether that was going to help them fight the virus," Republican Governor Larry Hogan of Maryland said on ABC's "This Week."
"We have seen an increase in numbers of people calling poison control," Democratic Governor Gretchen Whitmer of Michigan said on the same broadcast. "It's really important that everyone with a platform disseminate medically accurate information."
Oklahoma Starts "Measured Reopening" (11:50 a.m.)
Oklahoma Governor Kevin Stitt said it's time for a "measured reopening" as state hospitalizations fell to 300 from 560 on March 30. The state has 4,600 beds for infected patients, Stitt said on "Fox News Sunday."
Barber shops, spas and nail salons were allowed to reopen Friday, and churches may reopen May 1 but must follow social distance rules. It's up to each business and locality to reopen, the governor said. Churches have been a hotspot for outbreaks.
The state has reported 3,194 cases of the virus and 194 deaths.
U.K. Reports Lowest Death Toll Since March (11:14 a.m. NY)
The U.K. reported 413 coronavirus deaths in hospitals, the lowest since March 31. The U.K. became the fifth country to report more than 20,000 virus-related fatalities on Saturday.
New cases rose to 152,840 from 148,377 a day earleir.
Egypt Seeks IMF Aid (11:10 a.m. NY)
Egypt said it is in "advanced talks" with the International Monetary Fund for financial assistance. The discussions involve use of the fund's Rapid Financing Instrument and a stand-by agreement, the cabinet said Sunday in a statement.
Officials didn't provide details on how much is being sought. Last year Egypt wrapped up a $12 billion, three-year IMF program launched to rekindle investor interest after the 2011 uprising that ousted President Hosni Mubarak. Any new program will run for one year, central bank Governor Tarek Amer said at a televised briefing.
Birx Says Trump Understood Light Not a Treatment (9:29 a.m. NY)
Deborah Birx, coordinator of the White House coronavirus task force, told CNN that President Trump "understood" that light and disinfectant aren't treatments for Covid-19. Trump on Friday said he had "sarcastically" suggested Americans be injected with disinfectant at a briefing Thursday. He didn't hold a briefing on Saturday.
"It bothers me that this is still in the news cycle," Birx said on "State of the Union," in one of three interviews on Sunday. "I think I've made it clear that this was a musing" on Trump's part.
The goal is to double the pace of U.S. testing and laboratories are working for a clear picture on antibodies, Birx said.
Israeli Health Minister Resigns: AP (9:24 a.m. NY)
Israel's health minister on Sunday said he would step down following a public uproar over his handling of the coronavirus crisis and his own Covid-19 infection, AP reported.
Health Minister Yaakov Litzman informed Prime Minister Benjamin Netanyahu that he would step aside as the country forms a new government, the Associated Press said. He made no mention of his much-criticized performance at the Health Ministry, which he has led for most of the past decade, and instead said he would instead take over the Construction Ministry.