U.S. Cases Rise 1.8%; U.K. Plans Gradual Reopening: Virus Update
U.S. virus cases rose 1.8% from a day earlier as fatalities approached 80,000. The U.K. outlined plans to restart activity and get people who can't work at home back on the job.
Johnson & Johnson plans to make 1 billion vaccines by next year, and Regeneron Pharmaceuticals Inc. said hundreds of thousands of antibody treatments could be ready by summer's end.
China locked down a city in the northeast after cases rose. Stocks in Asia were set for modest gains, though sentiment remains fragile as investors monitor economies cautiously reopening.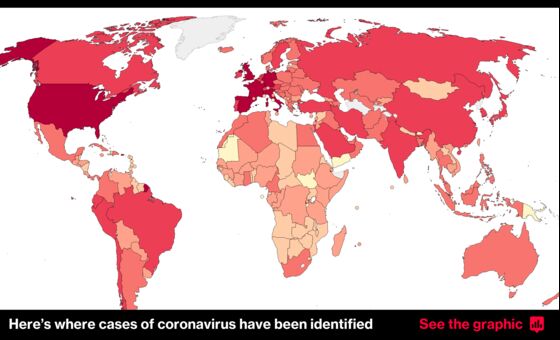 L.A. County Deaths at Two-Week Low (4:35 p.m. NY)
Los Angeles County, which accounts for more than half the fatalities in California, reported its lowest number of new deaths in two weeks.
The county added 18 fatalities, matching the April 26 tally, bringing the toll to 1,530. It also reported 484 new cases, with a total of 31,677. The area, which has 10 million people, is planning to reopen some of its beaches mid-week, local media reported.
Ex-FDA Chief Boosts Quidel Antigen Test (4:30 p.m. NY)
U.S. approval of San Diego-based Quidel Corp.'s new antigen test to rapidly screen people for Covid-19 "is a real game-changer," former Food and Drug Administration head Scott Gottlieb said on CBS's "Face the Nation."
"It's a very rapid test that could be used in a doctor's office," Gottlieb said. Doctors already have about 40,000 machines in their offices that are used to test for strep throat and flu, he said.
Each test may cost about $5, with results ready in minutes, said Gottlieb, a special partner at New Enterprise Associates, a venture capital firm that invests in the health-care and biotech sectors. Deborah Birx of the White House coronavirus task force said in April a "breakthrough innovation" in antigen testing is needed to speed reopening of the U.S. economy.
U.S. Cases 1.8%, Below One-Week Average (4 p.m. NY)
U.S. cases increased 1.8% to 1.32 million from a day earlier, according to data collected by Johns Hopkins University and Bloomberg News. The increase was below the 2.1% daily average of the past week. Total deaths rose 1.1% to 79,180.
New York had 2,273 new cases, raising the total to 335,395 -- about 8% of worldwide infections. New deaths fell to 207, the lowest since March 27, and the 10th straight day of fatalities in the 200s. Total deaths reached 21,478.
New Jersey had 1,503 new cases, pushing the total to 138,532. New deaths were 140, for a total of 9,255, Governor Phil Murphy said.
California reported 67 new deaths, bringing total fatalities to 2,745, and added 2,119 cases, bringing the total to 66,680.
Pennsylvania had 1,295 new cases, bringing the total to 56,611, with 19 new deaths for a total of 3,707, the state health department said.
Florida reported 595 new cases, lifting the total to 40,596, with six deaths -- the fourth day of fewer fatalities -- pushing the toll to 1,721, the health department said.
Texas registered 1,251 new cases, bringing the statewide total to 37,860, and 76 deaths, boosting the toll to 1,049, the health department said.
Connecticut reported 570 new cases, boosting the total to 33,554, with 35 new deaths, raising the total to 2,967, Governor Ned Lamont said.
Ohio registered 384 new cases, bringing the total to 24,081, with 10 new deaths, for a total of 1,341, the health department said.
N.Y. to Release Opening Details Monday (3:10 p.m. NY)
New York reported the fewest new deaths -- 207 -- since the end of March and other indicators began to show the outbreak nearing the level of the starting point for what Governor Andrew Cuomo called "this hellish journey."
He said he would release on Monday more details on how New York would begin to reopen -- and confirmed that some areas upstate may be ready for a slow resumption after the lockdown ends May 15.
Cuomo gave no indication that New York City or the surrounding areas are anywhere near being able to reopen.
J&J Plans for 1 Billion Vaccines in 2021 (2:30 p.m. NY)
Drug maker Johnson & Johnson will begin clinical trials on a Covid-19 vaccine in September and plans to produce about 1 billion doses in 2021, Chief Scientific Officer Paul Stoffels said on ABC's "This Week."
"We are upscaling manufacturing and we start production later in the year," he said. "We will have some vaccine available this year but it all depends on the authorities, the FDA and others, to decide whether it can be used earlier, before clear efficacy data are available."
Regeneron Pharmaceutics President George Yancopoulos said an antibody treatment should go into clinical trials in June, with first data in a month or two. "It might be possible that if all goes well hundreds of thousands of doses of this could be available by the end of the summer," he said on the same broadcast.
U.K. Outlines Plan to Reopen (2:15 p.m. NY)
Boris Johnson set out the "first careful steps" to lift the U.K.'s lockdown and restart the economy, offering a "conditional plan" to get more people back to work while controlling the virus's spread.
With no immediate end to the lockdown, the prime minister announced looser restrictions on movement from Wednesday, starting with unlimited outdoor leisure time for sports such as golf and tennis, and allowing people to drive to parks and beaches in England.
Johnson set a goal for primary schools to begin to reopen for some children on June 1, and to restart the hospitality industry and other public places in July. Pubs are likely to stay closed longer. He encouraged commuters to walk, drive or cycle to work rather than ride public transport, where social distancing rules will apply.
Ireland Deaths Drop, Cases Rise (12:55 p.m. NY)
Ireland reported its fewest deaths since March 30, although the number of new cases rose for a third day. There were 12 more deaths and 226 new cases, the health ministry said in an emailed statement.
The government is due to start easing the national shutdown on May 18. Ireland has seen 1,458 deaths to date, with 22,996 cases.
France Has Fewest Deaths Since mid-March (12:30 P.M. NY)
Deaths in France rose at slowest pace since the nation entered a lockdown on March 16. The number of deaths rose by 70 to 26,380, according to data from France's public health agency.
Italy Deaths, Cases Lowest Since Early March (12:02 p.m. NY)
Italy registered the lowest number of new cases and fatalities since early March -- roughly when the country's lockdown began -- as Prime Minister Giuseppe Conte said he may take the next step in easing a national lockdown earlier than planned.
Conte, under pressure from coalition allies, regional and business leaders as well as public opinion after two months of containment measures, told newspaper Corriere della Sera that bars, restaurants and barbers could be allowed to reopen before June 1, the date previously set by the government. Shops are due to reopen May 18.
Civil protection authorities reported 802 cases for the 24-hour period -- the fewest since March 6 -- compared with 1,083 a day earlier. Confirmed cases now total 219,070. Daily fatalities fell to 165 -- the fewest since March 9 -- from 194 on Saturday, with a total of 30,560.
U.K. Reports Fewest Deaths Since End of March (11:27 a.m. NY)
The U.K. reported the fewest deaths since March 29 at 269. That brings total fatalities to 31,855, according to health department figures on Sunday. Prime Minister Boris Johnson is expected to make only limited changes to the lockdown when he speaks to the nation.
Scottish First Minister Nicola Sturgeon said the new slogan to "stay alert" was "vague and imprecise," and said her administration would be sticking to its guidance for people to stay at home.
DeWine: Public Confidence Key to Reopen Ohio (10:45 a.m. NY)
Ohio Governor Mike DeWine said the public's confidence will determine when the state can return to more normal activities, even as the state is set to reopen almost all businesses by the end of this week.
"The economy's not going to open no matter what we do, whatever we order, unless people have confidence," DeWine said on "Fox News Sunday."
DeWine, a Republican, said he would veto any legislation that would limit a governor's power to issue stay-at-home orders for more than two weeks, a proposal being discussed by lawmakers after numerous street protests demanding the state reopen.
Fed's Kashkari Says 'Worst' to Come (10:45 a.m. NY)
The U.S. must brace for even more gut-wrenching news on unemployment and Congress should consider providing more help, said Federal Reserve Bank of Minneapolis President Neel Kashkari.
"The worst is yet to come on the job front, unfortunately," he said on ABC's "This Week," after unemployment surged to 14.7% in April as employers cut an unprecedented 20.5 million jobs. "It's really around 23, 24% of people who are out of work today, and if this is a gradual recovery the way I think it's going to be, those folks are going to need more help."
White House Economic Adviser Kevin Hassett on CBS's "Face the Nation" said unemployment could peak "north of" 20% and that May or June will likely be the trough for the jobs market, with some recovery in the second half, "God willing."
Iran Quarantines Oil-Rich County (10:12 a.m. NY)
Iran is quarantining part of the oil-rich southwest of the country for the next week, with all main routes into the area closed, the semi-official Tasnim news agency reported.
All banks, offices and businesses in Abadan county, which is home to the Middle East's oldest oil refinery and the traditional heart of Iran's energy industry, will be shut, Tasnim said, citing the public affairs office of the county governor.
The country reported 51 deaths and 1,383 new infections in the past 24 hours, raising the total number of fatalities to 6,640 from 107,603 confirmed cases.