U.S. Infections Rise 1%; California, Arizona Slow: Virus Update
(Bloomberg) -- New infections slowed in two U.S. states grappling with outbreaks, California and Arizona, while Florida reported a record number of deaths. The positive-test rate in Texas fell to the lowest in a month.
The American Federation of Teachers authorized its members to strike if schools reopen without proper safety measures. In Major League Baseball, the Miami Marlins season was paused until at least next week after players and staff were infected with the virus.
Hong Kong's worst outbreak yet is proving difficult for policy makers to wrangle. The U.K. is considering ways to loosen its quarantine rules after backlash over restrictions on trips to Spain.
Subscribe to a daily update on the virus from Bloomberg's Prognosis team here. Click CVID on the terminal for global data on coronavirus cases and deaths.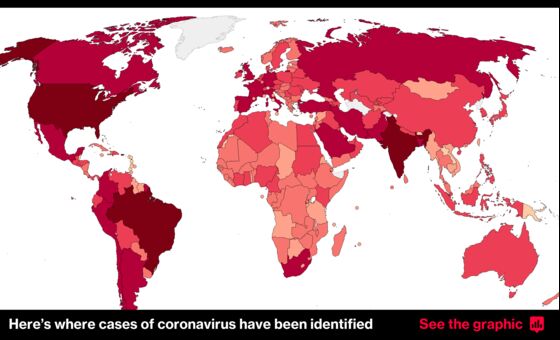 Texas Records 164 New Deaths (5:24 p.m. NY)
Texas said it counted 164 new virus deaths that brought the total to 5,877, according to preliminary data from the state health department.
The figures are difficult to compare to historical trends because Texas revised how it tallies Covid-19 fatalities on Monday, basing them on death certificates rather than numbers collected by local officials. The revamp discovered almost 700 previously uncounted deaths.
The positive-test rate dropped to 12.83%, the lowest since June 25, the data showed. New cases rose by 8,341 to 394,265.
Moderna Vaccine Protected Monkeys From Virus (4:36 p.m. NY)
Moderna Inc.'s vaccine candidate protected against the coronavirus in a trial that inoculated 16 monkeys, the company said in findings published Tuesday in the New England Journal of Medicine. The primates didn't show any sign of creating enhanced disease, a problem that has occasionally been associated with vaccines.
While the data is encouraging, a far bigger test is under way for Moderna, involving 30,000 humans. The phase 3 trial to determine the safety and efficacy of the vaccine will begin producing data in November or December.
Separately, the Financial Times reported that Moderna is pitching its vaccine at $50 to $60 per course in the U.S. and other high-income countries. The company had initially asked certain buyers, including the European Union, for a price of at least high double-digit dollars per course, the FT said.
Marlins Seasons Suspended as Outbreak Roils Baseball (4:15 p.m. NY)
The Miami Marlins season has been paused until at least next week after Covid-19 infected players and staff, escalating troubles for Major League Baseball just days into the new season.
Marlins games against the Baltimore Orioles and Washington Nationals had already been postponed, according to reports. And because the Marlins played the Phillies over the weekend -- potentially exposing them -- a Philadelphia series against the New York Yankees has been pushed back as well.
The Yankees will now play the Baltimore Orioles at Camden Yards on Wednesday and Thursday, according to Major League Baseball.
U.S. Cases Rise 1% (4 p.m. NY)
Coronavirus cases in the U.S. climbed 1% as compared with the same time Monday to 4.31 million, according to data collected by Johns Hopkins University and Bloomberg News. The increase was below the average 1.7% daily gain over the past week. Deaths rose 0.7% to 148,298.
Arizona reported 2,107 new cases Tuesday, an increase of 1.3% that brings the total to 165,934, still below the 1.7% prior seven-day average. The state also reported 104 new fatalities, lifting the toll to 3,408.
Florida reported 441,977 cases, up 2.1% from a day earlier, compared with an average increase of 2.6% in the previous seven days. The state reported a record 186 new deaths, bringing the total to 6,117.
Alaska cases rose 3.9% to 2,623, according to the data from Johns Hopkins and Bloomberg.
California New Cases at Lowest in 3 Weeks (3:20 p.m. NY)
California reported 6,000 new virus cases, fewer than the 14-day average of 9,159 and the lowest daily tally since July 5, according to the state health department and data compiled by Bloomberg. The state had 73 additional deaths, compared with a 14-day average of 99.
Hospitalizations from Covid-19, which reached a record last week, decreased 0.6% to 6,896 people, while the number of intensive-care patients fell 1.8%. The average rate of positive tests over the past two weeks was stable for the fifth straight day at 7.5%.
Mark Ghaly, California's secretary of health and human services, said in a briefing that Tuesday's relatively low figure likely reflects a delay in test reporting from the weekend. He pointed to the state's seven-day average of 9,397 daily cases, a 2.3% increase, as a better measure.
Twitter Suspends Trump Jr.'s Account (2:05 p.m. NY)
Donald Trump Jr.'s Twitter account was temporarily suspended for sharing misinformation about Covid-19. The president's eldest son posted a video of people touting the drug hydroxychloroquine as an effective treatment. The Food and Drug Administration last month revoked emergency-use authorization for the anti-malaria drug as a Covid-19 treatment after determining it may have deadly side effects. The World Health Organization also said it would discontinue its own tests of hydroxychloroquine.
Nike Closing Arizona Plant, Citing Covid (2 p.m. NY)
Nike Inc. is winding down operations at a facility in Goodyear, Arizona, marking an abrupt turnabout for a project meant to become a state-of-the-art plant for its Nike Air shoe line.
The company acquired the property in 2019 and set about turning it into the third so-called Air Manufacturing Innovation facility in the U.S. The $184 million investment was expected to generate more than 500 full-time jobs, the sportswear giant said in July of last year.
"We are experiencing unprecedented times and due to the Covid-19 impact we will no longer be investing in our Goodyear facility," the company said in a statement Tuesday. "We are repositioning our resources to further invest against our biggest opportunities and Air MI will continue to be an important part of Nike's growth strategy."
Burkina Faso to Open Air Borders (1:30 p.m. NY)
Burkina Faso will open its air borders from Aug. 1, requiring all incoming and outgoing passengers to present a negative Covid test result before boarding a plane.
Any traveler without the document will have to pay for a test to be conducted at the airport and remain in self-isolation for two days at a hotel while awaiting results, Health Minister Leonie Claudine Lougue told reporters in the capital, Ouagadougou, Tuesday. The hotel costs will also be borne by the traveler, she said.
The West African nation had recorded 1,105 cases as of July 27, including 53 deaths.
Teachers Union Authorizes Strike (1 p.m. NY)
The American Federation of Teachers is authorizing its 1.7 million members to strike if their schools plan to reopen without proper pandemic safety measures.
"Nothing is off the table when it comes to the safety and health of those we represent and those we serve, including supporting local and/or state affiliate safety strikes on a case-by-case basis as a last resort," the union said in a resolution issued Tuesday.
President Donald Trump has ordered U.S. schools to reopen even as virus cases continue to surge. The union blasted Trump and Education Secretary Betsy DeVos for disregarding science, "willful denial and lack of national planning."
N.J. Transmission Rate Highest in 3 Months (12:01 p.m. NY)
New Jersey's transmission rate rose to 1.14, the highest in at least 13 weeks. The virus is spreading in a state that was hit hard and early and has maintained bans on indoor dining and gym workouts while imposing crowd limits on outdoor gatherings. Governor Phil Murphy said he had fears about flare-ups in the wake of house parties, including one that drew 700 guests to a rented Jackson mansion on July 19.
"We need everybody to remain vigilant," Murphy said at a North Brunswick press conference. "Particularly avoid being inside, close congregation without social distancing, without face coverings."
Phillies-Yankees Postponed Again (11:50 a.m. NY)
The Philadelphia Phillies postponed another game against the New York Yankees on Tuesday, according to ESPN, the second consecutive delay for the teams amid the fallout from a Covid-19 outbreak among Miami Marlins players and staff.
The Phillies, who played their first series of the season against the Marlins over the weekend, had already put off their scheduled Monday game against the Yankees. No one in the Phillies organization is known to have tested positive over the past five days.
Cuomo Adds to N.Y. Quarantine List (11:45 a.m. NY)
New York state added three states plus the District of Columbia and Puerto Rico to its mandatory quarantine list. The state added Illinois, Kentucky, and Minnesota for a total of 34 states as well as the nation's capital and the territory on Tuesday, Governor Andrew Cuomo said Tuesday on a conference call with reporters.
Arizona's New Cases Slow Again (11:30 a.m. NY)
Arizona reported 2,107 new cases Tuesday, an increase of 1.3% that brings the total to 165,934, still below the 1.7% prior seven-day average. New cases have been slowing since July 26. The state also reported 104 new fatalities, lifting the death toll to 3,408.
The state Department of Health Services reported a positivity rate of 16.7%, a slight increase from 16.1% the day before. Maricopa County, which includes Phoenix, had 17.2% positive test results compared with 18.6% on Monday.
Madrid Mandates Masks (11:20 a.m. NY)
Madrid is joining other regions of Spain in ordering the use of face masks in public spaces, including in bars and restaurants. Gatherings in the region that includes the Spanish capital will be limited to 10 people, and capacity in eateries will also be reduced.
With more than 8,400 Covid-19 deaths since beginning of the pandemic, Madrid was perhaps the country's hardest-hit region in sheer numbers, although Catalonia has caught up in infections.
Florida Has Record Deaths, Hospital Use (10:35 a.m. NY)
Florida reported a record 186 new Covid-19 deaths among residents Tuesday, bringing the cumulative total to 6,117. Hospitalizations also rose by a record 585 to a cumulative 24,917, according to the health department report, which includes data through Monday. The state reported 441,977 Covid-19 cases, up 2.1% from a day earlier, compared with an average increase of 2.6% in the previous seven days.
U.K. Weighs Easing of Travel Restrictions After Backlash (8:59 a.m. NY)
The U.K. is considering ways to scale back its quarantine rules after restrictions on trips to Spain provoked a backlash from tourists, airlines and the government in Madrid.
Plans being examined by officials in London include abandoning the blanket rules applying to travel across whole countries in favor of regional restrictions, and reducing the number of days passengers arriving back home in Britain will need to stay in quarantine, according to Transport minister Charlotte Vere.
Prime Minister Pedro Sanchez responded angrily to the U.K. ratcheting up its travel curbs to include popular Spanish holiday islands. He urged the U.K. to find the correct balance based on the data.
Fauci: Baseball Season May Be In Danger (8:38 a.m. NY)
"I don't believe they need to stop, but we just need to follow this and see what happens with other teams on a day-by-day basis," Fauci said in an interview on ABC's Good Morning America. After 12 Miami Marlins players and two coaches tested positive for Covid-19, according to ESPN, the team canceled its home opener.
"You just have to watch this, it could put it in danger," Fauci said of the Miami team outbreak and the baseball season. Asked if the NFL will have to operate in a "bubble," Fauci said that's possible.
Fauci also said he was "cautiously optimistic that when we get into the late fall we will have an answer" about a vaccine. He agreed with the Food and Drug Administration's guidance that hydroxychloroquine isn't effective against the virus.
Netherlands Has Higher Rate of New Cases (8:13 a.m.)
Cases have been rising at a higher rate in the Netherlands. The number increased by 1,329 between July 22 and July 28, according to the RIVM Dutch National Institute for Public Health and the Environment. That's up from 987 added in the previous week.
The reproduction number rose to 1.40 from 1.29 the week before. At the same time, fatalities have risen at a much slower pace - 6,160 as of the latest update on Tuesday, up from 6,124 a month ago, according to data collected by Johns Hopkins University and Bloomberg News.
Philippines Hospitals in 'Warning Zone' (6:20 a.m. NY)
Health authorities in the Philippines warned that hospitals and infirmaries risk getting overwhelmed as coronavirus-related admissions are rising.
Covid and non-Covid beds are close to 50% capacity nationwide, falling into the Health Department's "warning zone," Undersecretary Maria Rosario Vergeire said in a virtual briefing. The Philippines added 1,678 new cases, bringing the total count to 83,673, the second-highest in Southeast Asia.