Czechs Impose Curfew; Warnings in U.S. Midwest: Virus Update
A surge in U.S. coronavirus cases sent the S&P 500 Index to its biggest drop in a month as prospects dimmed for federal fiscal aid before the presidential election. The infection spike that started with younger Americans is now moving to older communities.
The World Health Organization said Europe might still be able to avert a return to full national lockdowns even as a resurgent virus rages across the continent. France reported the biggest jump in hospitalizations since April, while the Czech Republic ordered a nationwide curfew.
AstraZeneca Plc said its vaccine candidate produced a robust immune response in elderly people, while Johnson & Johnson said the first batches of its shot could be available in January. Both companies are resuming trials that had been paused due to safety concerns.
Subscribe to a daily update on the virus from Bloomberg's Prognosis team here. Click CVID on the terminal for global data on coronavirus cases and deaths.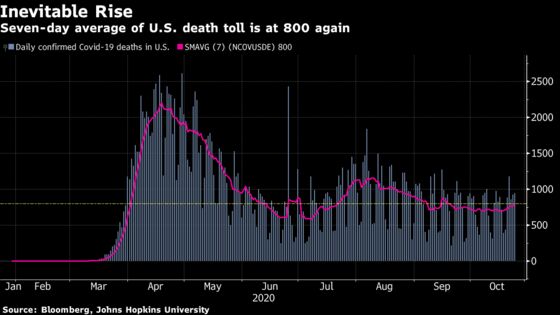 Birx Paints 'Stark Picture' of Midwest: Minnesota Governor (5:15 p.m. NY)
Deborah Birx, the White House coronavirus response coordinator, "painted a pretty stark picture" of the dangers associated with rising cases in the Midwest during a weekend visit to Minnesota, Governor Tim Walz told reporters Monday.
"She couldn't have been clearer," the Democratic governor said. "Her message was this: cases are rising across the upper Midwest and Minnesota is no exception. The infection rates in the upper Midwest, and she specifically stated on our eastern and western borders, are the highest infection rates on the planet right now."
Walz said Birx told him Minnesota and Illinois have the capacity to reverse the disease's spread if they successfully impose mitigation strategies such as face-mask mandates and capacity limits at restaurants. Birx said other states are "going to burn, and it's going to burn hot," Walz said, without naming those areas.
Czechs Impose Curfew (5 p.m. NY)
The Czech Republic imposed a nationwide curfew starting at 9 p.m. as of Wednesday to stem the record spread of the coronavirus.
Retailers, with the exemption of pharmacies and petrol stations, must be closed on Sundays and after 8 p.m. on other days. The government also said that all employees in public and private sectors should work from home when possible.
Illinois Officials Warn of Growing Outbreak (4:47 p.m. NY)
Illinois's Covid-19 cases, hospitalizations and intensive care use continue to increase and without a turnaround the state is on the path toward more than 11,000 virus deaths this year, Ngozi Ezike, the head of the department of public health, said at a press conference Monday. The state has reported 378,985 cases and 9,522 Covid-19 deaths. Its 7-day rolling positivity rate has climbed to 6.3%.
"We have got to reverse the trend and slow the spread," Governor J.B. Pritzker said at a daily press conference focused on Covid-19. He and Ezike have continued to push measures including social distancing, masks and washing hands to curb the statewide resurgence in cases and have expressed concerns about gatherings during the upcoming holiday season.
U.S. 'Surge' Virus Testing Targets Asymptomatic (4:15 p.m. NY)
Missouri, Kentucky, Utah, and South Dakota will be the next states to get "surge" virus testing sites as Covid-19 cases in the U.S. rise and federal officials push for "smart testing" strategies.
Officials set up federal testing sites last week in North Carolina and Wisconsin and are ready to deploy eight more sites once they get states' approvals, Brett Giroir, an assistant health secretary leading the administration's testing efforts, told reporters Monday. He encouraged states to use rapid antigen tests to test those may not yet show symptoms.
"We have to keep on with our testing ecosystem," Giroir said, "particularly testing potentially asymptomatic infected individuals. There is no reason to believe that the viral load is any less" with asymptomatic people, he said.
France Hospital Use Jumps Most Since April (3:10 p.m. NY)
France reported the number of people hospitalized because of Covid-19 jumped by 1,307 to 17,784 on Monday, the biggest increase since April 2. Patients in intensive care also rose by the most since early April.
Confirmed cases increased by 26,771, after France reported a record 52,010 infections on Sunday. Monday typically represents the week's low point for cases due to a lull in test results over the weekend. The seven-day average of cases, which smooths out weekly variations, jumped 5.6% from a day earlier to more than 36,000.
Deaths linked to the coronavirus rose by 257 to 35,018, with the seven-day average rising to the highest since May 18.
President Emmanuel Macron will convene a defense cabinet meeting on Tuesday to discuss the Covid-19 situation. The head of the scientific council that advises the French government on the pandemic said the situation is moving toward that of early March, and the second wave will probably be worse than the first one.
Utah Hospitals May Ration Care (3 p.m. NY)
Utah hospitals are preparing to ration care as new Covid-19 cases in the state are shattering records on a daily basis, Greg Bell, president of the Utah Hospital Association, told Governor Gary Herbert.
The state has the ability to provide more bed space in an alternate care site, the governor's office said. It has implemented a public health order that currently requires masks and limited social gatherings in 21 counties.
"We continue to call upon Utahns to take the pandemic seriously, regardless of the public health order," the office said in a statement. "Unfortunately, we are getting too close to what we have been warning people about since March."
California Tops 900,000 Cases (2:35 p.m. NY)
California, home of the most U.S. coronavirus cases, surpassed 900,000 infections. It added 2,981 cases yesterday for a total of 901,010, according to state health data.
The most populous state has seen its outbreak improve from the summer, when average daily cases exceeded 9,000. Still, it has started to show signs of an uptick, with the 14-day average of new infections reaching 3,642, up 7.5% from the beginning of the month.
Europe Can Still Avoid Lockdowns, WHO Says (2:30 p.m. NY)
European countries may still be able to avoid national lockdowns despite the region being an epicenter of the pandemic now, World Health Organization leaders said on Monday.
"We are still hopeful that countries will not need to go into these so-called national lockdowns, that they will be able to use the tools at hand," said Maria Van Kerkhove, WHO's technical lead officer for Covid-19. Public health leaders are worried about European hospitals and intensive-care units filling up as the virus spreads into older populations, she said.
WHO Director-General Tedros Adhanom Ghebreyesus said he discussed forging a more coordinated European response with German Chancellor Angela Merkel. WHO leaders cited travel between European countries with varying levels of virus transmission as one driver in the resurgence of cases after successful lockdowns earlier this year.
Newark Enacts Rollbacks as Cases Emerge (1:35 p.m. NY)
Newark limited the hours of all but essential businesses and encouraged testing of every municipal employee as Mayor Ras Baraka cited evidence of a second virus wave in New Jersey's largest city.
The changes make Newark, with a population of about 280,000, the state's only municipality with a broad return to restrictions that Governor Phil Murphy set statewide in March, but has since mostly lifted.
Texas Opens Field Hospitals for Overflow (12:30 p.m. NY)
Texas is converting a convention center to a field hospital and erecting tents outside an El Paso medical center in response to the worsening outbreak in the city.
With its hospitals already at full capacity, El Paso County has been under a 10 p.m.-to-5 a.m. curfew since Sunday night, under an order from County Judge Ricardo Samaniego. Covid-19 patients in El Paso hospitals have surged more than fourfold in the past three weeks, prompting state and federal leaders to deploy about 1,000 nurses, respiratory specialists and medics to the region.
El Paso County's second wave has been so swift and severe that it now has more active cases than major metro areas such as Dallas and San Antonio, state health department figures showed.
Cuomo Blasts White House 'Capitulation' (12:05 p.m. NY)
New York Governor Andrew Cuomo criticized White House Chief of Staff Mark Meadows for a second straight day for saying the coronavirus can't be controlled.
"It was, in effect, pre-emptive capitulation," Cuomo said of Meadows's comment Sunday that the U.S. is "not going to control the pandemic."
"If you believe you can't control it, then you don't even try," Cuomo said during a virus briefing in Albany. "The federal government has never tried to control the virus."
They're wrong, he said, speaking to efforts undertaken in New York, which currently has the second-lowest number of cases in the nation. Maine has the lowest.
It's critical that the federal government works to stop the spread of the virus, he said. "You have to control it, otherwise too many people are going to die."
Denmark Tops 1,000 Daily Cases (11:55 a.m. NY)
Denmark's daily tally of coronavirus cases rose above 1,000 for the first time since the outbreak of the pandemic, according to official data.
The record-breaking number of infections (1,056) registered over the past 24 hours comes as new restrictions come into force in the Nordic country. Those include a lower cap of 10 people on public gatherings and an expanded list of venues were face masks are required.
NYC to Begin Opt-In Period for Blended Learning (11:15 a.m. NY)
New York City will allow students to switch from all-remote learning to a blended program for two weeks beginning Nov. 2, Mayor Bill de Blasio said.
In-person education has been rarer than anticipated, as many parents were hesitant to send their children, Schools Chancellor Richard Carranza said. The city has proved that schools are safe, with a positive testing rate of less than 1%, and it is encouraging parents to reconsider, de Blasio said.
Netherlands Surpasses 300,000 Positive Tests (9:53 a.m. NY)
The number of people who have tested positive for the coronavirus in the Netherlands has exceeded 301,000, after 10,353 new infections were confirmed in the past 24 hours, Dutch news agency ANP reported, citing health agency RIVM. The Dutch cabinet, led by Prime Minister Mark Rutte, discussed the pandemic on Sunday with experts and has opted to wait for numbers in the coming days before making final decisions regarding possible new measures, ANP said in an earlier report.
France's New Daily Cases May Be Twice as High (9:20 a.m. NY)
France is in a difficult situation, with new cases estimated to be at the level of 100,000 per day, Jean-Francois Delfraissy, who heads the scientific council advising President Emmanuel Macron's government, told RTL radio on Monday.
French Labor Minister Elisabeth Borne said the situation "is worrying, and we absolutely have to do everything to stop the momentum of this pandemic," according to an interview with LCI TV. "We're not ruling anything out, but as you know we hope to avoid a general lockdown."
France reported a record of 52,010 new cases on Sunday, taking the total to 1.18 million, the fifth-highest in the world. Covid-19 patients have taken up almost 70% of intensive-care beds in the Paris region, according to local health authorities.
Record Flu Shot Demand in First Season With Covid (9:02 a.m. NY)
Americans are rushing to pharmacies in record numbers for seasonal flu shots. Public health officials say that may help avoid a "twindemic." The pandemic has brought new urgency to this year's influenza season, which typically kicks off in October and peaks in the winter months.
CVS Health Corp. has already surpassed the 9 million flu shots it gave during the entire previous season and expects to double that number by the end of this cycle, a spokesman said. Walgreens Boots Alliance Inc. has administered 60% more doses in its U.S. stores than at this point last year, said Rina Shah, group vice president of pharmacy operations.
Diplomats Limit Meetings in Hard-Hit Brussels (7:32 a.m. NY)
With Brussels suffering from some of the highest infection numbers in Europe, diplomats are limiting their physical meetings on EU affairs to the bare minimum. Even virtual discussions will be limited to "priority topics," a spokesperson for the German EU council presidency said.
Negotiations with the European Parliament on the bloc's 750 billion-euro ($886 billion) recovery fund need to continue face to face, as it would be impossible to get an agreement otherwise, the spokesperson said.
Yves van Laethem, spokesman for Belgium's Covid-19 task force, said earlier in an interview with Bloomberg radio that a new lockdown in the country can't be excluded if the infection rate doesn't come down by next week.
AstraZeneca Shot Produces Response in Elderly (7:11 a.m. NY)
AstraZeneca's vaccine candidate has produced a robust immune response in older adults and the elderly, the company said. Findings on immunogenicity blood tests carried out on a subset of older participants echo data released in July that showed the vaccine generated robust immune responses in healthy adults aged 18 to 55, Astra said, calling the results "encouraging." AstraZeneca is producing the vaccine in collaboration with the University of Oxford.