Trust Us, Modi Government Tells Court as Virus Rages in India
(Bloomberg) -- The swift and savage nature of the second coronavirus wave in India calls for discretion on the part of policy makers to tackle the crisis, Prime Minister Narendra Modi's government told the Supreme Court.
"Any overzealous, though well-meaning judicial intervention may lead to unforeseen and unintended consequences, in absence of any expert advice or administrative experience, leaving the doctors, scientists, experts and executive very little room to find innovative solutions on the go," the government said in its affidavit dated May 9.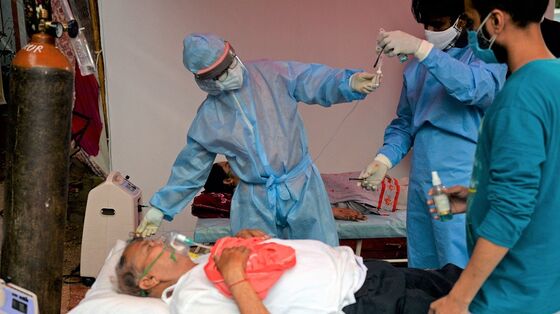 Under fire for failing to control the spread of the virus in what is now the world's epicenter of the pandemic, Modi's government has been sued in various courts for reasons from shortage of oxygen supplies to questions about its vaccination policy. After federal and state governments were criticized by high courts for mismanagement and under-reporting of numbers, the top court earlier this month asked the federal administration to come up with a national policy for oxygen distribution.
India didn't have the luxury to prepare detailed coronavirus vaccination plans, unlike its previous programs for which it has been lauded, the government told the court.
"In view of the unprecedented and peculiar circumstances under which vaccination drive is devised as an executive policy, the wisdom of the executive should be trusted," it said.