England to Limit Gatherings; Vaccine Safety Pledge: Virus Update
(Bloomberg) -- Frontrunners in the race for a Covid-19 vaccine pledged to avoid shortcuts on science as they face pressure to rush a shot to market. AstraZeneca Plc put its Phase 3 study on hold after a suspected adverse reaction, STAT reported.
Europe's fears of a virus resurgence are becoming reality with France's health minister calling the surge in infections "worrisome." Prime Minister Boris Johnson is poised to announce bans on social gatherings of more than six people in England.
New York Governor Andrew Cuomo said colleges that have more than 100 Covid-19 cases may have to switch to remote learning, citing outbreaks at Cornell, Hoftstra and other universities. Arizona, Florida and California reported the fewest new cases in months.
Subscribe to a daily update on the virus from Bloomberg's Prognosis team here. Click CVID on the terminal for global data on coronavirus cases and deaths.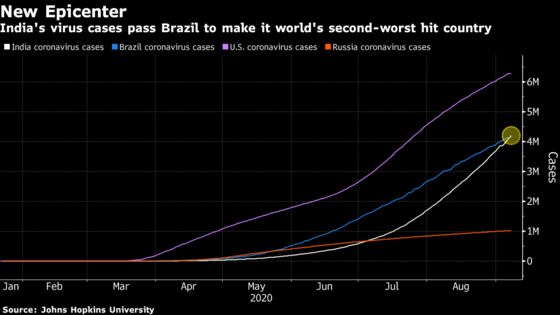 Japan's Suga Says Not in Situation to Call Election Under Virus (8:15 a.m. HK)
Japanese Chief Cabinet Secretary Yoshihide Suga, the front-runner to take over as prime minister next week, said he didn't think an election should be called in the current coronavirus situation. Speculation over a snap election picked up when support rates for Prime Minister Shinzo Abe's cabinet leaped after he said he would resign, and Suga emerged as the favorite to succeed him.
Mexico Reports 5,351 New Covid-19 Cases, 703 More Deaths (8:13 a.m. HK)
Mexico reported 5,351 new Covid-19 cases, bringing the total to 642,860, according to data released by the Health Ministry Tuesday night. Deaths rose 703 to 68,484. Cases rose 0.8% in line with seven-day average. Deaths rose 1% versus the seven-day average of 0.7%, according to Bloomberg calculations.
Singapore Considers Ideas to Reopen Nightlife Sector (7:55 a.m. HK)
Singapore is considering suggestions from nightlife and entertainment operators to help some in the industry resume business amid the Covid-19 pandemic, the Business Times reported, citing a letter from the Singapore Nightlife Business Association sent to members. Ideas being considered include an extension of drinking hours from the current 10:30 p.m. to midnight.
Meanwhile, all planes flying in and out of the island-state will be required to block an area to place crew members or passengers that are unwell with fever or show symptoms of coronavirus during flight, Straits Times says, citing the Civil Aviation Authority of Singapore.
U.K.'s Johnson Bans Gatherings of More Than Six (5:30 p.m. NY)
All social gatherings of more than six people will be banned in England, under new limits to be announced by Prime Minister Boris Johnson on Wednesday, as coronavirus cases grow.
At a press conference, the premier will confirm that police will have new powers to disperse and fine any group larger than six people meeting indoors or outdoors from Sept. 14. That marks a significant tightening of the current rules, under which police can break up gatherings of more than 30.
There will be exceptions for people grouping for work, weddings and funerals, and for organized sports, but parties in pubs and restaurants, and gatherings in public spaces will all be hit by the new limits.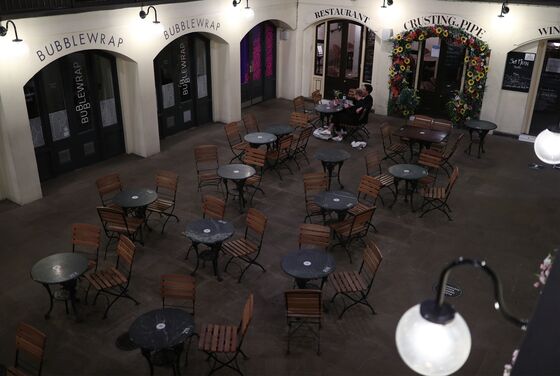 AstraZeneca Vaccine Study on Hold, STAT Reports (5:26 p.m. NY)
AstraZeneca Plc has put a Phase 3 study of its Covid-19 vaccine on hold, STAT reported, citing a company spokesperson. There was a suspected serious adverse reaction in a trial participant in the U.K., STAT said. The nature of the hold wasn't clear and it's possible it could be minor, according to the report.
Shares of the British drugmaker fell more than 8% in late New York trading.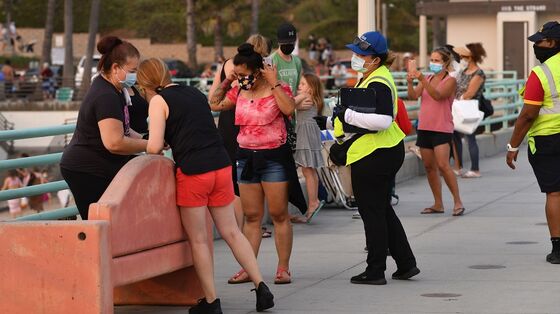 California Has Fewest New Cases Since June (5 p.m. NY)
California reported 2,676 new coronavirus cases, the lowest single-day tally since mid-June, and well below the 14-day average of 4,630. The state recorded 32 new deaths, less than the 14-day average of 107. The data may partly reflect delays in laboratory reporting over the long holiday weekend.
Still, there were other signs of improvement in California, home of the most U.S. cases. The average rate of positive tests over the past 14 days reached 4.3%, a three-month low. There were 3,311 virus hospitalizations as of yesterday, down more than 50% from a July peak.
Governor Gavin Newsom said "a lot of progress" has been made in the outbreak, while warning that gatherings on Labor Day weekend may cause a setback.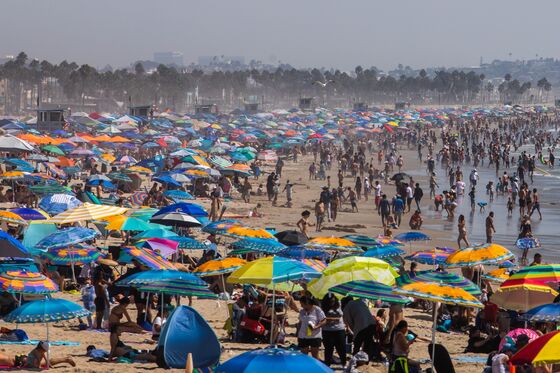 U.S. Cases Rise 0.4% (4 p.m. NY)
Coronavirus cases in the U.S. increased 0.4% as compared with the same time Monday to 6.32 million, according to data collected by Johns Hopkins University and Bloomberg News. The increase was lower than the average daily gain of 0.6% over the past week. Deaths rose by 0.2% to 189,456.
Florida reported 650,092 cases, up 0.3% from a day earlier, compared with an average 0.6% increase in the previous seven days. Deaths reached 11,915, an increase of 44, or 0.4%.
Arizona reported 81 new virus cases, the smallest single-day tally since March. The state reported just two new Covid-19 deaths, bringing the death toll to 5,221.
Rhode Island experienced a 1.6% increase in the number of cases from the same time yesterday, bringing the total to 22,592, according to the Johns Hopkins and Bloomberg News data.
French Cases 'Worrisome,' Health Minister Says (2:10 p.m. NY)
France reported more than 6,000 new coronavirus infections on Tuesday as the pace of laboratory-confirmed cases picked up again after a post-weekend lull.
Laboratory-confirmed cases rose by 6,544 to 335,524, compared with an increase of 4,203 on Monday. The seven-day rolling average of cases has been steadily climbing for more than three weeks and recently rose above 7,000 for the first time since the start of the outbreak. The figure currently stands at 7,074.
The situation in France is "worrisome," and hospitalizations and intensive-care admissions will increase in coming days as a result of the pandemic, Health Minister Olivier Veran said on France Inter radio on Tuesday. Infections are also rising in Germany and the U.K. following a summer of lax containment.
Madrid Fuels Spike in Spain as Schools Reopen (1:20 p.m. NY)
Spain's daily infections rose from Monday but were still below the four-month high seen at the end of last week. There were 3,168 new cases in the past 24 hours, the Health Ministry said on Tuesday.
Madrid continued to account for the greatest share of cases, recording 980 new infections in the past day as authorities struggle to control new outbreaks. The government of Madrid on Monday imposed an order to limit social gatherings -- in public and private spaces -- to no more than 10 people.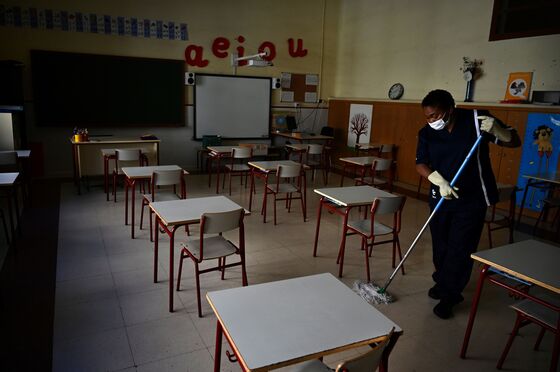 While still below levels from the height of the crisis, when 8,000 people a day caught the disease, children are returning to schools across Spain, fueling concern that numbers could again approach peak levels. Despite the latest trends, the situation is very different compared with March and April, when hundreds died a day, intensive care units operated at full capacity and as many as 16 makeshift hospitals were built to deal with the pandemic.
Ireland Cases Rise (12:45 p.m. NY)
Ireland reported the most new coronavirus cases since May 14, amid warnings about the virus spreading in Dublin. The capital accounted for 182 of the 307 new cases on Tuesday, a day after health authorities said they were especially concerned about the city. Ireland also reported one more death.
Arizona Reports Fewest Cases Since March (12:45 p.m. NY)
Arizona on Tuesday reported 81 new virus cases, the smallest single-day tally since March. The increase of 0.04% to 206,045 was well below the 0.3% average increase for the prior seven-day period. The Arizona Department of Health Services also reported just two new Covid-19 deaths, bringing the death toll to 5,221.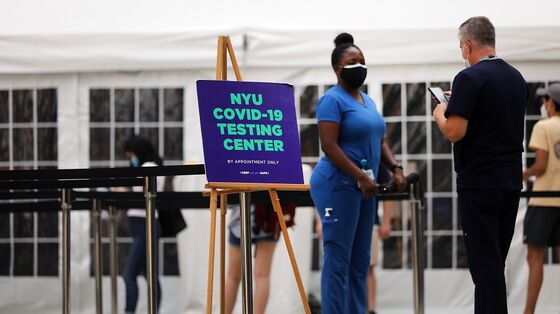 N.Y. Colleges With Outbreaks May Go Remote (12:15 p.m. NY)
New York Governor Andrew Cuomo said colleges in the state that have more than 100 Covid-19 cases may have to switch to remote learning.
The state health department is issuing regulations to require colleges to notify the state when they have 100 cases. Seven universities, including Cornell and Hofstra, have seen outbreaks, Cuomo said at a virus press briefing.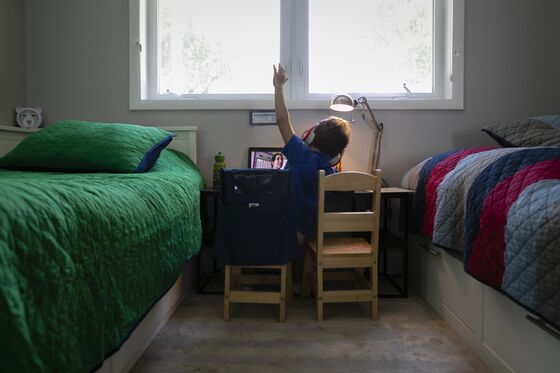 Deaths among Florida residents reached 11,915, an increase of 44, or 0.4%, and the seven-day rolling total was 541, the fewest since July 13. Deaths often trail infections by weeks, and generally take even longer to be reflected in the data.
Moderna Tumbles After Pledge (11:05 a.m. NY)
Moderna Inc. fell as much as 13% on Tuesday after regulators and top drugmakers promised the Covid-19 vaccine approval process would be immune from political pressure and the biotech company drew its first sell rating since going public in 2018.
With Moderna's shot one of three leading candidates for an emergency use authorization near-term, the combination of pledges from the Food and Drug Administration and industry leaders has cast a pall over the prospects of a vaccine being approved before the U.S. election.
Ireland's 'Wet' Pubs to Reopen After Protests (10:10 a.m. NY)
Ireland is set to allow so-called wet pubs -- bars that don't serve food -- reopen on Sept. 21. Currently, drinkers have to spend at least 9 euros ($10.60) on food to be allowed order alcohol. Roughly half of the nation's bars have remained shut since the pandemic hit in March, prompting protests by pub owners, particularly in rural areas, where they don't tend to serve food. The move comes despite signs the virus is regaining a foothold in Ireland, with cases reaching a three-month high over the weekend.
India to Start Third-Phase Trial on Vaccine (9:10 a.m. NY)
India will begin a third phase trial of a Covid-19 vaccine from the University of Oxford next week. The vaccine is already in early-stage human trials in Australia.
The South Asian nation -- which now has the world's second-highest virus tally -- will conduct the trial on 1,600 Indian candidates, the Ministry of Health said at a briefing Tuesday. The Oxford vaccine will be manufactured by Serum Institute of India, the world's largest vaccine manufacturer, which has the capacity to produce up to 100 million doses monthly.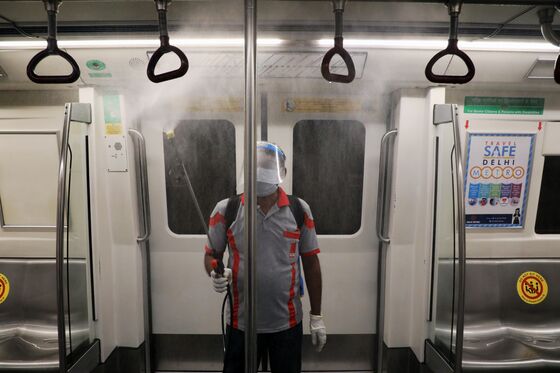 Drugmakers Join to Pledge No Safety Shortcuts (6:30 a.m. NY)
Drugmakers racing to produce Covid-19 vaccines pledged to avoid shortcuts on science as they face pressure to rush a shot to market.
In an unusual public letter, the companies agreed to submit the vaccines for clearance only when they're shown to be safe and effective in large clinical studies. The chief executive officers of nine frontrunners in the push for a coronavirus inoculation signed the pledge: AstraZeneca Plc, BioNTech SE, GlaxoSmithKline Plc, Johnson & Johnson, Merck & Co., Moderna Inc., Novavax Inc., Pfizer Inc. and Sanofi.
Salmon May Harbor Coronavirus for a Week: Study (6:02 a.m. NY)
Coronavirus lingering on chilled salmon may be infectious for more than a week, according to researchers in China, where imported fish have been investigated as a potential source of infections.
Malaysia Bans U.S., U.K. Citizens as Its Cases Rise (6 a.m. NY)
Malaysia banned the citizens of more countries from entering the country as the number of its cases rose by the most since June. The ban, effective Monday, applies to citizens of countries that have more than 150,000 cases, including the U.S., the U.K. and Russia.