Texas Eases Rules; California Forms Task Force: Virus Update
(Bloomberg) -- President Donald Trump posted a series of tweets calling to "liberate" states after some protests against lockdowns meant to slow the spread of the coronavirus. Texas and Minnesota took steps to ease restrictions.
China pledged stronger policies, including rate cuts, after the pandemic pushed its economy into its first contraction in decades. Earlier, Beijing revised its death toll by 39%, adding more than 1,000 fatalities in Wuhan, where the epidemic first emerged.
The U.K. said it can see early signs of the lockdown working. Spain had the most new cases in a week, and Russia reported another record daily increase in new infections. Cases in Singapore soared as authorities detected more infections among foreign workers.
Virus Tracker: Cases top 2.1 million; deaths exceed 151,000
U.S. expected to lead contraction in global GDP
West Coast seeks volunteer armies, millions of tests to reopen
California names task force including Yellen, Iger, Steyer
Gilead shares soar on report saying coronavirus drug working
The drugs and vaccines that might end the pandemic
Subscribe to a daily update on the virus from Bloomberg's Prognosis team here. Click VRUS on the terminal for news and data on the coronavirus.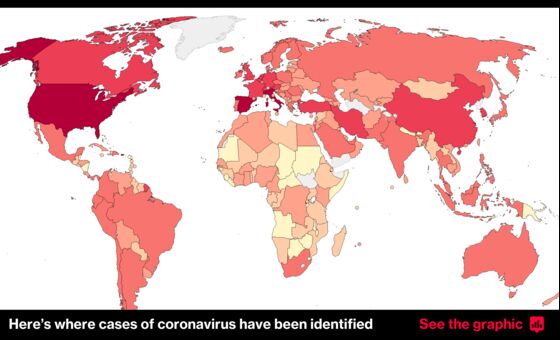 Minnesota Governor Warns Against Reopening Too Soon (5:30 p.m. NY)
Governor Tim Walz of Minnesota, a state that President Donald Trump tweeted should "liberate," said he agrees with the president's desire to reopen business but won't endanger residents by acting recklessly.
Reopening too soon would be a costly mistake not only for state residents but the nation's food supply, Walz said. Several Midwest meat packers and processors reported some of their workers have tested positive for Covid-19, but the facilities are still open and operating in part because providing food for the nation is considered essential.
"We have to help feed the world. Because I'm telling you this thing gets really ugly if we have to send people back" to work sick, Walz said. "We'll see the shortages in the grocery stores."
Earlier Friday, Walz issued an executive order allowing golf courses, parks, marinas, trails and other outdoor facilities to reopen. Minnesotans who engage in those activities must maintain 6-foot social distancing, avoid crowded areas and stay close to home. The provisions go into effect on Saturday.
San Francisco Requires Face Masks (5:06 p.m. NY)
Counties across the San Francisco Bay area mandated face coverings for the public when leaving their households. The masks must be worn shopping, in public transportation or while working at essential jobs. The rule in San Francisco takes effect Saturday but won't be enforced until April 22 to give residents time to obtain coverings.
Nearly 40% of N.J. Deaths Were at Nursing Homes (4:40 p.m. NY)
Nearly 40% of coronavirus-related fatalities in New Jersey have taken place at nursing homes, according to data newly disclosed by state officials.
Outbreaks have been reported at 394 of the state's 503 long-term care facilities, which include nursing, assisted-living and dementia-care homes. Those facilities have recorded 9,094 cases and 1,530 deaths, the data show. New Jersey, the hardest-hit U.S. state after New York, has reported a total of 3,840 deaths statewide.
California Taps Steyer, Yellen, Iger for Task Force (4 p.m. NY)
California Governor Gavin Newsom assembled an economic recovery task force that includes top executives from some of the state's largest companies -- including Walt Disney Co.'s Bob Iger and Apple Inc.'s Tim Cook -- as well as labor leaders, social justice advocates and all four living former governors of the Golden State, both Republican and Democrat.
Former Democratic presidential candidate Tom Steyer will co-chair the 80-member group, along with Newsom's chief of staff, Ann O'Leary. Former governors Jerry Brown, Arnold Schwarzenegger, Gray Davis and Pete Wilson have joined, as has Janet Yellen, former chairwoman of the Federal Reserve.
Newsom and Steyer said the group would try not just to restart the economy in the wake of the coronavirus pandemic but to address the inequality that had been widening within the state before the virus struck. Steyer called it a "fair, green and prosperous future."
"We want in real time to demonstrate meaningful reforms, meaningful changes," Newsom said.
U.S. Confirmed Cases Rise 5.4% (4 p.m. NY)
U.S. cases rose 5.4% from the day before on Friday, according to data compiled by Johns Hopkins University and Bloomberg News. That was higher than Thursday's growth rate of 4.7% but on par with the than the average daily increase of 5.4% over the past week. Deaths increased 9.4% to 34,575.
U.S. coronavirus deaths for the first time passed the 34,157 people estimated to die this season from the seasonal flu, according to data released Friday by the Centers for Disease Control and Prevention.
New York cases rose 0.2%, as the hardest-hit state shows signs of stabilizing in the past week. New York's cases climbed 9.8% during the same time period on Thursday. New Jersey's cases rose 10.5%
Texas Relaxes Stay-at-Home Restrictions (3:07 p..m NY)
A day after President Donald Trump told governors they could call their own shots on reopening their economies, Texas Governor Greg Abbott called his.
Abbott, a Republican who was slow to set stay-home orders even as the state's cities charged ahead, said Friday that retailers can open with to-go service starting April 24. Establishments may deliver items to customer's cars, homes or other locations. He also eased restrictions on nonessential medical procedures.
State parks will reopen Monday with strict guidelines to reduce transmission of the virus -- including requiring visitors to wear face coverings and maintain a 6-foot distance from people outside their party.
Abbottt's move came in response to a booklet of guidelines Trump issued to governors Thursday. Abbott, in a Capitol news conference, didn't specify how testing patients would be increased.
No Country Has Herd Immunity, WHO Says (2:16 p.m. NY)
Evidence suggests herd immunity hasn't yet been achieved anywhere and that only a low proportion of people have antibodies to Covid-19, Mike Ryan, head of the World Health Organization's health emergencies program, said at a press briefing in Geneva. Countries should be careful not to assume that people who show antibodies to Covid-19 in blood tests have immunity, said Maria Van Kerkhove, a WHO epidemiologist.
Countries must impose stringent food safety and hygiene standards on wet markets that sell animals and fish for food when they reopen, WHO Director-General Tedros Adhanom Ghebreyesus said. While such markets are necessary as millions of people depend on them as a source of food, the sale of wildlife for food should be banned, according to the WHO. The novel coronavirus outbreak has been linked to a wet market in Wuhan, China.
Reported cases in Africa rose 51% in one week, though Asia and some European countries demonstrate that it's possible for that continent to try to contain the virus, Van Kerkhove said. "We're constantly fearful of disease exploding in places like Yemen, Syria and Iraq, or in many fragile states where people are displaced and living in overcrowded conditions," Ryan said.
NYC Tests to Focus On Poor (1:45 p.m. NY)
New York City will set up testing sites aimed at three groups: essential workers, the at-risk elderly and residents of low-income neighborhoods, Mayor Bill de Blasio said.
The programs will start with about 6,000 tests a week and increase capacity rapidly, de Blasio said.
Tests for essential workers are necessary because they are in frequent close contact with others who could spread the coronavirus, which has killed more than 11,477 city residents since March 13. Tests targeted at low-income neighborhoods are intended to reduce the disproportionate share of cases among ethnic minorities and the poor, the mayor said.
N.J. Shows Slowing Virus-Case Rate (1:40 p.m. NY)
New Jersey is showing signs of slowing the outbreak, even as fatalities have doubled in a week.
The state reported 3,250 new positive results, for a total of 78,467 since the beginning of March. Daily increases have been less than 10% for 11 straight days. Between March 15 and 30, increases were between 20% and 82% each day, Governor Phil Murphy said Friday.
Murphy also reported an additional 322 fatalities, the fourth day of more than 300 deaths. Fatalities now total 3,840, up from 1,932 on April 10.
Trump Tweets 'Liberate' States (12:24 p.m. NY)
President Donald Trump urged Minnesota, Michigan and Virginia to "liberate" themselves on Friday in an apparent criticism of stay-at-home orders in the three Democrat-led states.
Trump made the comments in a series of tweets on Friday, less than 24 hours after unveiling a plan that deferred heavily to governors to determine when they could safely reopen their states amid the coronavirus outbreak.
The tweets signaled support for protests demanding an easing of the stay-at-home measures aimed at curbing the pandemic that have crippled the U.S. economy. All three states have Democratic governors.
Austria Stable as Lockdown Eases (11:10 a.m. NY)
After the first four days of easing some restrictions of public life, Austria isn't showing signs of coronavirus infections picking up.
New positive tests this week were in a range of 100 to 150 cases per day, less than 1% growth, according to the Federal Ministry of the Interior. Use of intensive-care units and hospitalizations overall are declining. Fatalaties -- on pace to reach 431 Friday -- are on a downward trajectory too.
The government is planning to lift more restrictions in early May if the developments don't deteriorate.
U.K. Extends Virus Job Program (11:10 a.m. NY)
U.K. Chancellor of the Exchequer Rishi Sunak extended a government program that pays most of the wages of employees furloughed because of the coronavirus, averting potentially thousands of job losses.
The three-month Coronavirus Job Retention Scheme will now run until June 30, Sunak said in an e-mailed statement on Friday. The extra month could add an extra 14 billion pounds ($17 billion) to the program's expected cost of 42 billion pounds.
Moderna, Gilead Surge on Drug Promise (10:53 a.m. NY)
Moderna Inc. and Gilead Sciences Inc. rose Friday as investors bet on the promise of the drugmakers' still-developing coronavirus treatments.
Moderna soared 21% after saying the U.S. government agreed to pay up to $483 million for the company to develop and test its Covid-19 vaccine now in an initial clinical trial.
Gilead gained as much as 12% after a report that patients being treated with its experimental therapy in Chicago were seeing rapid recoveries in fever and respiratory symptoms. The report, from the medical news publication Stat, cited a video made by a researcher at the University of Chicago who is helping conduct a trial of Gilead's drug remdesivir. Most patients had been discharged from the hospital and only two had died, according to Stat.
U.K. Hospital Deaths Fall (9:20 a.m. NY)
The U.K. said it can see early signs of the lockdown working as it reported 847 deaths in hospitals, down from 861 reported on Thursday. It cautioned that restrictions must continue to avoid a second peak.
Some 5,599 new cases of coronavirus were reported on Friday by the Department of Health and Social Care, up from 4,617 the day before. Ahead of today's data, the rate of increase in U.K. cases had been broadly decelerating, while the rate of increase in deaths had continued to accelerate, according to calculations by Bloomberg.
Reopening Poses Legal Risk (9:05 a.m. NY)
Whenever U.S. stores, restaurants and theaters reopen from coronavirus shutdowns, they may face an unexpected problem: lawsuits from sick patrons and workers.
Business owners are eager to get back to work as the outbreak shows signs of slowing and the Trump administration pushes for a quick restart of the nation's economy. But with no vaccine, companies opening too soon could be blamed if more people get sick. Walmart Inc. and Carnival Corp. are already defending lawsuits by employees or customers.
A wave of personal-injury cases could bankrupt businesses, according to the U.S. Chamber of Commerce, which is recommending government protections. And though it may be difficult to prove that any one company was responsible for spreading Covid-19, legal experts say a surge in such claims could strain the court system.
Portugal's New Cases Slow (8:20 a.m. NY)
Portugal reported the smallest daily increase in new confirmed cases since March 19, while the number of patients in intensive care units also fell.
There were 181 new cases, taking the total to 19,022, the government said. The total number of deaths rose to 657 from 629.
U.K. Seeks Faulty-Test Refunds (7:54 a.m. NY)
The U.K. government will attempt to recoup the money it spent on millions of tests for the coronavirus that didn't work. "Where tests are shown not have any prospect of working, then we will seek to recover as much of the costs that we can," Prime Minister Boris Johnson's spokesman, James Slack, told reporters on Friday.
Britain bought 3.5 million antibody tests at the start of April with the aim of finding which people had been exposed to the virus. Officials had said that they hoped the tests could be made available on Amazon.com Inc. and at pharmacies.
The government spent $20 million on the tests, according to the New York Times, before finding that they couldn't be used. Slack said he hadn't seen a number for the amount paid, but that one would "be made available in due course."
Italy Reached 'Artificial' Peak in Cases (7:34 a.m. NY)
Italy's coronavirus cases have reached an "artificial" peak as a result of lockdown measures, Giovanni Rezza, head of the infectious diseases department at Rome's National Health Institute, said. "We see that there is a decreasing trend in the number of new cases, but the virus is not disappearing," Rezza said.
Japan Calls for Support WHO (7:27 a.m. NY)
Japanese Prime Minister Shinzo Abe urged the international community to rally around the World Health Organization and said the body's problems should be addressed once the outbreak is contained. His comments came after Trump said he would halt payments to the WHO, accusing the organization of failing to control the spread and taking China's claims "at face value."
IPhone Sales to Fall: Goldman (7:22 a.m. NY)
Unit sales for iPhones are set to drop by 36% year-on-year in the second quarter, before recovering to just a 2% decline by the fourth quarter, analysts including Goldman's Rod Hall wrote. Weakness for average selling prices is also likely to linger, he said. Hall cut his price target on Apple to $233 from $250, the second-lowest among analysts tracked by Bloomberg.
China Vows Stronger Steps (7:15 a.m. NY)
China's politburo vowed to adopt stronger macroeconomic policies, including rate cuts, to offset the impact of the coronavirus outbreak, according to a meeting chaired by President Xi Jinping, China Central Television reported. Earlier, data showed the pandemic pushed the country's economy into its first contraction in decades in the first quarter.
Thai Premier to Ask Richest for Help (7:12 a.m. NY)
Thailand's Prime Minister Prayuth Chan-Ocha said he'll write an open letter asking the country's 20 richest people for assistance. "I know that some of you have already helped, but I want every one of you to do more," he said. "I know that all of you will be willing to assist, especially during this time when the country needs it the most. Thai people's pain is your pain."
Thailand faces its worst economic contraction this year since the late 1990s as tourism and exports slump. The nation is partially locked down to curb the pathogen, and new infections have eased in recent days.