U.S. Cases Rise 1.1%; Indoor Upstate N.Y. Dining: Virus Update
(Bloomberg) -- Indoor dining returns in five upstate New York regions while in New York City, fewer workers than expected returned to work as businesses began reopening. Florida said new coronavirus cases rose faster than the weekly average.
A never-used Covid-19 hospital at a Houston stadium could be reopened as cases in the city expand. New Jersey will move to the second of four reopening stages June 15.
Treasury Secretary Steven Mnuchin dismissed a need for a second U.S. shutdown even if new cases accelerate. Regeneron Pharmaceuticals started human tests of a new antibody cocktail.
Subscribe to a daily update on the virus from Bloomberg's Prognosis team here. Click VRUS on the terminal for news and data on the coronavirus. For a look back at this week's top stories from QuickTake, click here.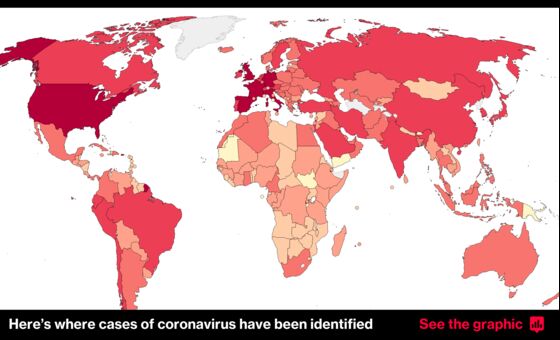 Houston Ready to Use Stadium Hospital (4:40 p.m. NY)
Houston-area officials said they are prepared to reopen a Covid-19 hospital set up but never used at a professional football stadium as virus cases expand in the fourth-largest U.S. city.
Harris County Judge Lina Hidalgo and Houston Mayor Sylvester Turner made the announcement on Thursday, a day after the Texas recorded its highest one-day tally of new cases.
The ad hoc medical facility opened at NRG Stadium, home to the NFL's Houston Texans, on the city's south side will be re-established if demand on local hospitals become "severe," Hidalgo told reporters.
U.S. Cases Rise 1.1%, Matching 7-Day Average (4 p.m. NY)
Coronavirus cases in the U.S. increased by 22,317 from the same time Wednesday to 2.01 million, according to data collected by Johns Hopkins University and Bloomberg News. The 1.1% increase matched the daily average over the past seven days. Deaths rose 0.9% to 113,407.
Florida reported 69,069 cases, up 2.5% from a day earlier, compared with an average increase of 2% in the previous seven days. Deaths reached 2,848, an increase of 1.7%.
New York cases rose by 736, or 0.2%, to 380,892, according to the state's health department.
California cases rose 2.3% to 139,281, compared with the average 2.1% increase in the past seven days, according to the state's website. Deaths rose 2.2% to 4,881.
NYC Says 200,000 Back at Work (3:30 p.m. NY)
New York Mayor Bill de Blasio said perhaps less than half the workers expected to be back at their jobs returned this week as the city started to reopen, a signal people remain concerned about their level of comfort.
"I'm pretty certain based on the information we have that at least a 100,000 to 200,000 people are back," the mayor said on WINS Radio. "I think that number grows as people watch and see things that are safe." Officials estimated as many as 400,000 people would be back as retail shops offered curbside pickup and nonessential construction and manufacturing restarted this week.
De Blasio said the second stage of the city's reopening could be "two weeks away, three weeks away."
Ohio Health Director Vilified by GOP Steps Aside (3:30 p.m. NY)
Ohio Department of Health Director Amy Acton is resigning her post, ending her run as one of the nation's most prominent and vocal supporters of Covid-19 social-distancing orders.
Acton received broad public approval unheard of for an Ohio state health official. The fame that came from near-daily press conferences led fans to emblazon T-shirts with her catch-phrases and the National Bobblehead Museum to sell her wobbly likeness. But with that notoriety came ire from state Republican lawmakers who criticized her orders that shut large swaths of the state economy in attempts to combat the spread of coronavirus.
"Certainly as a person, and I'm only a person, I didn't run for election, and this is a new world for me," Acton said during a Thursday press conference in Columbus. She said she was leaving the post to focus on a new health adviser role in Governor Mike DeWine's administration, and she said the hours-on-the-job she kept as health director weren't sustainable.
N.J. to Expand Reopening (1:30 p.m. NY)
New Jersey will begin the second of four reopening stages starting June 15, Governor Phil Murphy said, 100 days since the state reported its first case of coronavirus.
The state has one of the slowest Covid-19 transmission rates in the U.S., he said. Deaths rose by 70 to 12,443, while new cases increased 539 to 165,816. More than 1 in 9 residents have tested negative.
Ireland Cases at 3-Month Low (1:20 p.m. NY)
Ireland reported eight deaths and eight new cases, the fewest since March 11, Chief Medical Officer Tony Holohan said in Dublin. About 1 in 150 tests produce positive results and the rate continues to fall, while the reproduction number is estimated to be 0.4 to 0.8. There have been 1,703 deaths and 25,238 cases.
Air Canada CEO Urges Relaxed Rules (1:15 p.m. NY)
Air Canada Chief Executive Officer Calin Rovinescu said the government restrictions on travelers are now "disproportionate" as the pandemic eases and he urged looser rules to "enable us to do some reasonable amounts of business."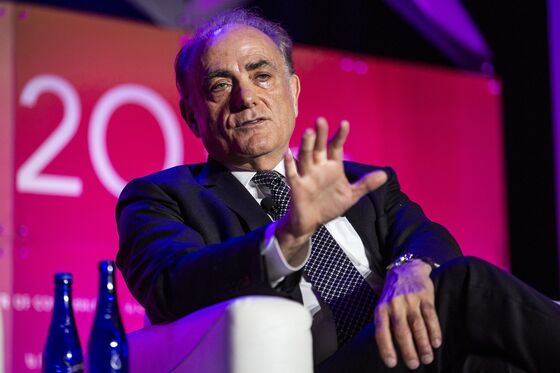 Prime Minister Justin Trudeau's government has enacted a mandatory 14-day quarantine on anyone returning to Canada, even if they have no symptoms. Some provinces have even barred entry by Canadians living in other provinces.
"These emergency measures need to be introduced with a certain sense of proportionality," Rovinescu said on an Aviation Week webcast. Air Canada cut 20,000 jobs and said it doesn't see a return to 2019 levels of revenue and capacity for at least three years.
Florida Cases, Positivity, Hospitalizations Jump (12:25 p.m. NY)
Florida reported 69,069 cases, up 2.5% from Wednesday, higher than the 2% average increase in the previous seven days. Deaths reached 2,848, an increase of 1.7%. Hospitalizations jumped by 226, the biggest single-day increase since May 21.
The new positivity rate -- people testing positive for the first time among overall tests in a day -- climbed to 5.6% for Wednesday, the second straight day above 5% and the third highest single-day reading in the past month. The range has stretched from about 1% to 7%.
Florida Governor Ron DeSantis has consistently blamed higher Covid-19 numbers on expanded testing. But a sustained rise in the positivity rate would undercut his case.
Consumer Complaints Soar: FTC (12:15 p.m. NY)
The Federal Trade Commission reported more than 91,000 complaints related to Covid-19 since the beginning of the year, with consumer losses due to fraud estimated at $59.2 million. Fraud accounted for almost 48,000 complaints. More than $20 million in losses was attributed to travel and vacation fraud, the FTC said. Complaints peaked in early April.
N.Y. Regions to Resume Indoor Dining (11:45 a.m. NY)
Governor Andrew Cuomo said five of 10 regions of New York on Friday will begin the third phase of reopening, meaning restaurants can resume indoor dining with some restrictions. Personal-care service can also resume.
New York reported 36 deaths, down from 53 on Wednesday, Cuomo said, the fewest in almost three months. New cases rose 0.2%, or 736, in line with the weekly average.
South Africa Passes 1 Million Tests (11:35 a.m. NY)
South Africa has conducted more 1 million coronavirus tests so far and it is making steady headway in addressing a results backlog, the government said. Cases rose by 2,430, to a total of 58,568 -- the most in Africa. More than 2,000 cases have been diagnosed for eight straight days.
Denmark Eases Wedding Limits (11:30 a.m. NY)
Denmark will allow weddings and private parties at restaurants and hotels to continue after midnight, reversing its earlier stance, TV2 reported. The government had set an end time out of concern that no restrictions would create confusion and loopholes. Bars and night clubs must close at 12 a.m.
Outbreak Accelerates in Africa: WHO (11:15 a.m. NY)
The spread of the coronavirus in Africa is accelerating, the World Health Organization said, with total cases reaching 200,000 less than three weeks after the first 100,000, a milestone reached in 98 days. The continent accounts for less than 5% of global cases.
Deaths exceed 5,600, the WHO said. More than 70% are in five countries: Algeria, Egypt, Nigeria, South Africa and Sudan. South Africa has a quarter of all fatalities, the WHO said.
Mnuchin Rejects Second Lockdown (10 a.m. NY)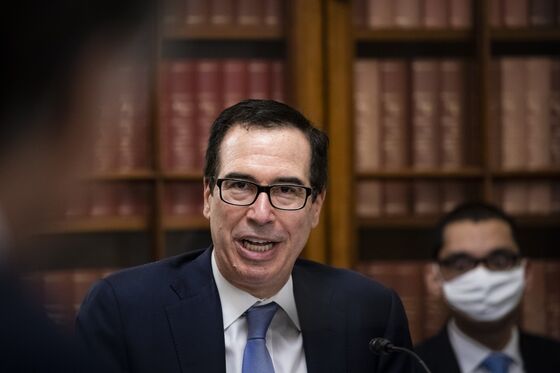 Treasury Secretary Steven Mnuchin said the U.S. "can't shut down the economy again" even if there is another surge in coronavirus cases. "You create more damage, not just economic damage -- medical problems that get put on hold," Mnuchin said on CNBC.
A shutdown can be avoided if cases surge, he said, because Covid testing and contact tracing are improving and officials understand more about how to contain outbreaks.
Ford Foundation to Aid Nonprofits (9:45 a.m. NY)
Nonprofit groups unable to raise funds during the pandemic may get help from the Ford Foundation, which plans to sell $1 billion of bonds this month to provide grants for struggling organizations, President Darren Walker said. Charitable giving has slowed as donors fear an economic recession.
Even the largest organizations aren't immune. The Museum of Fine Arts Boston furloughed more than 300 staff members and New York's American Museum of Natural History cut 200 full-time employees and put 250 on furlough. On Wednesday, Federal Reserve Chair Jerome Powell said the Main Street Lending Program may expand to include nonprofits.
Swedish Central Bank Says Soft Lockdown Helps Economy (9:17 a.m. NY)
The Riksbank is still analyzing the true economic cost of the virus, but the latest data suggest that Sweden is "coming out relatively well compared to other countries," Deputy Governor Per Jansson told reporters in Stockholm.
"It's reasonable to believe that the immediate GDP blow may turn out a little bit milder than in many other countries," he said. "It might have to do with the fact that we've had a less brutal approach when it comes to restrictions. It can't be proved but it's a reasonable hypothesis."
Tokyo to Cancel Virus Alert Today: Governor (8:56 a.m. NY)
Tokyo will continue to take measures against the coronavirus because it will take time until a vaccine is developed, Governor Yuriko Koike said at a briefing. The city will enter "Step 3" of its reopening roadmap from midnight local time. It will encourage working remotely and staggered commutes, and will continue with epidemiological investigations to prevent a second wave.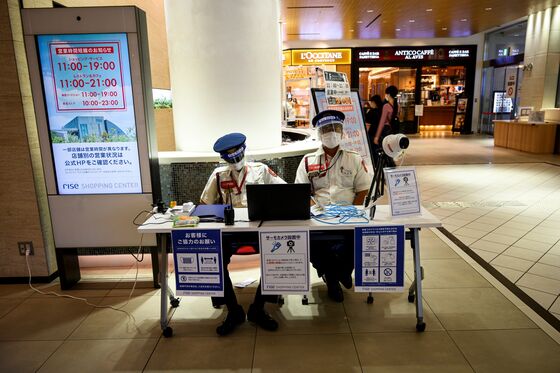 Moderna Vaccine Trials Moving Fast (8:00 a.m. NY)
Moderna Inc. said it had selected a dose for a final-stage clinical trial of its coronavirus vaccine that should begin in July. The final study, which will include 30,000 people, will be conducted in collaboration with the National Institute of Allergy and Infectious Diseases in the U.S. Its primary goal will be to show the vaccine prevents people from developing symptoms of Covid-19.