Israel Gives Fourth Doses as EU Warns Against Them: Virus Update
(Bloomberg) -- About 400,000 Israelis have gotten a fourth dose of Covid-19 vaccine, Prime Minister Naftali Bennett said Tuesday. At the same time, European Union regulators warned that frequent boosters could adversely affect the immune system and may not be feasible.  
JPMorgan Chase & Co. Chief Executive Officer Jamie Dimon warned vaccine holdouts among the bank's staff in New York to get vaccinated or lose the right to enter the office and get paid. New York City Covid rates are "plateauing," Governor Kathy Hochul said.
Spanish Prime Minister Pedro Sanchez said Europe should consider the possibility of treating Covid-19 as an endemic illness. The World Health Organization warned of  a "west-to-east tidal wave" that may infect more than half of Europe's population within the next six to eight weeks.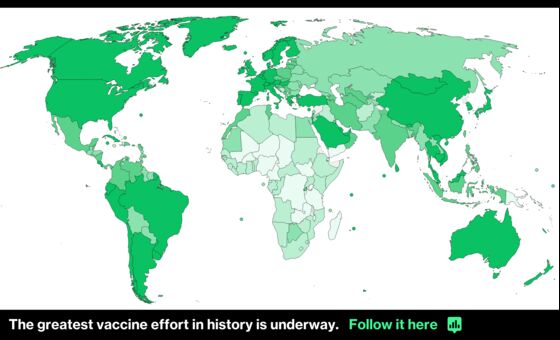 Chicago Mayor Lightfoot Tests Positive (4 p.m. NY)
Chicago Mayor Lori Lightfoot has tested positive for Covid-19, her office said in a statement.
"I am experiencing cold-like symptoms but otherwise feel fine which I credit to being vaccinated and boosted," the mayor said.
Lightfoot said she will keep working from home and follow government guidelines for isolation.
Gates Expects Fewer Cases, Yearly Shots (3:35 p.m. NY)
A decline in the number of coronavirus cases is likely after the current wave of the omicron variant crests and the disease could be "treated more like seasonal flu," billionaire philanthropist Bill Gates says in a Twitter discussion with Professor Devi Sridhar of Edinburgh University Medical School.
Israel Gives Fourth Doses to 400,000 (1 p.m. NY)
About 400,000 Israelis have gotten a fourth dose of the Covid-19 vaccine, Prime Minister Naftali Bennett said in a press conference on Tuesday. Israel was the first to give the extra shot to people age 60 and over, part of his government's strategy to protect those most vulnerable to the virus.
European Union regulators on Tuesday warned that frequent Covid-19 booster shots could adversely affect the immune system and may not be feasible.  
NYC Cases 'Plateauing,' Governor Says (12:05 p.m. NY)
The omicron-fueled Covid surge in New York appears to be "cresting over that peak" as the rate of increase slows, New York Governor Kathy Hochul said on Tuesday.
She said the percentage of New Yorkers that tested positive has dropped to 18.6%, from more than 22% in recent days.
In New York City, Covid rates are "plateauing," while upstate figures are tracking behind the city by a couple of weeks, Hochul said in a virus briefing.
Mexico's AMLO Doing Well After 2nd Infection (11:25 a.m. NY)
Mexican President Andres Manuel Lopez Obrador is doing well after testing positive Monday for Covid-19 for the second time in a year, he said during a video appearance at the daily press conference on Tuesday.
"My voice is hoarse -- I'm aphonic -- but I am fine," AMLO, as the president is known, said. "A little bit of body aches at first, I'm taking paracetamol and I feel pretty good."
The president measured his temperature and oxygen levels during the video broadcast: his temperature was a normal 36.1 degrees Celsius and his oxygen level a healthy 96%. Health Minister Jorge Alcocer said that AMLO could return to work next week if he's feeling better. 
Denmark May Ease Some Restrictions (11:25 a.m. NY)
Denmark may end some restrictions next week after the number of new daily virus cases has stabilized, Health Minister Magnus Heunicke told broadcaster TV2. The government may ease restrictions for culture, which could reopen museums, concert venues and cinemas. The parties in Denmark's parliament will hold talks Wednesday, the minister said.
Moscow Braces for 'Significant' Increase (9:50 a.m. NY)
Infections by the omicron variant  are surging in Moscow after the New Year's holidays and health officials in the Russian capital are reopening hospital beds in anticipation of a "significant" increase in sickness in the next seven to 10 days, Mayor Sergei Sobyanin warned Tuesday at a videoconference with Prime Minister Mikhail Mishustin and other officials.
Russia may reach a record of more than 100,000 daily Covid cases soon, public health watchdog chief Anna Popova told the meeting, from fewer than 20,000 recorded cases now.
Omicron Dominant in Brazil, Minister Says (8:24 a.m. NY)
Brazil is currently seeing an increase in Covid-19 cases and the omicron strain is already predominant, Health Minister Marcelo Queiroga told journalists, according to Folha de S.Paulo.
Brazil's strong vaccination campaign is still likely to prevent the variant from overburdening hospitals and pushing up deaths
Dimon Warns Unvaccinated NYC Staff (6:10 a.m. NY)
Jamie Dimon issued a warning to the vaccine holdouts among JPMorgan Chase & Co.'s staff in New York.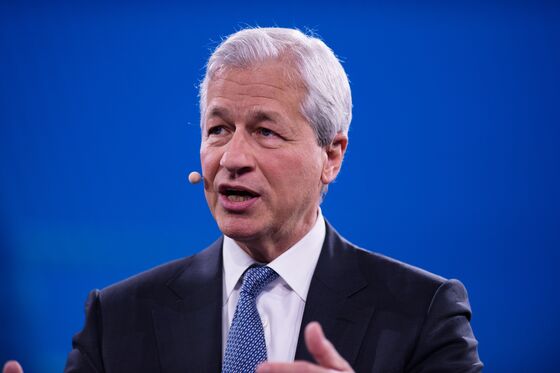 "To go to the office you have to be vaxxed and if you aren't going to get vaxxed you won't be able to work in that office," Dimon said Monday in an interview on CNBC. "And we're not going to pay you not to work in the office."
The warning comes after the lender implemented a vaccine mandate at nine Manhattan office buildings last month. Dimon said that 97% of the firm's employees in New York are already vaccinated.
Omicron May Hit Half of Europeans, WHO Says (6:07 a.m. NY)
More than half of Europe's population may be infected with omicron within weeks at current transmission rates, a World Health Organization official said.
The fast-spreading variant represents a "west-to-east tidal wave sweeping across the region," said Hans Kluge, the regional director of the WHO for Europe at a briefing Tuesday. He cited forecasts by the Institute for Health Metrics and Evaluation that the majority of Europeans could catch it in the next six to eight weeks.