New York Is on a Path Toward a Second Full Shutdown, Cuomo Says
(Bloomberg) -- New York is headed toward a second full shutdown if Covid-19 cases and hospitalizations continue at their current pace, Governor Andrew Cuomo said.
"If we do not change the trajectory, we could very well be headed to shut down" all non-essential businesses, Cuomo said Monday at a virus briefing.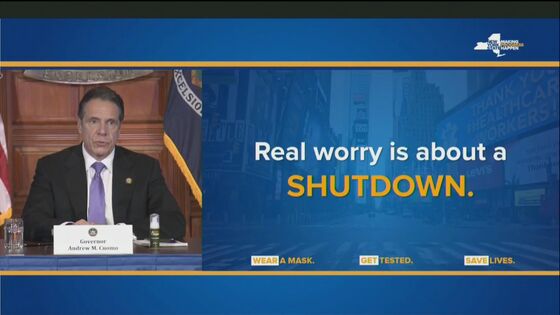 The state reported 5,712 hospitalizations, an increase of more than 1,000 in the past week. If that pace continues, it will be at 11,000 in a month, and some regions may be overwhelmed, Cuomo said.
The increase is of particular concern in dense regions like New York City, the governor said. Cuomo shut down the city's indoor dining on Monday, even as he cited statistics showing that three-fourths of new cases come from private gatherings.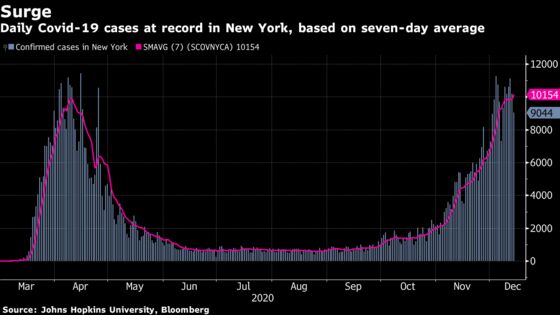 Mayor Bill De Blasio warned residents to be prepared for a shutdown, and urged employees who don't need to be going into a workplace to work remotely "as much as they could."
"The likelihood of more restrictions soon is high, so folks should begin making adjustments soon and work remotely if they can," he said. He couched a potential shutdown as shorter than the one New York experienced in the spring. "Hopefully we're talking about restrictions only for a matter of weeks, but we have to be preparing ourselves mentally and practically for that possibility."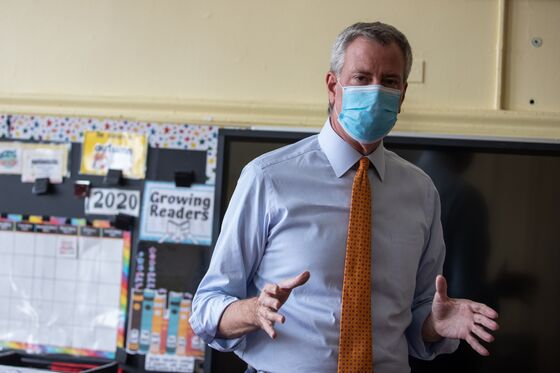 De Blasio urged city residents not to get complacent just because a vaccine had arrived. He said watching the New York nurse who received the first Covid-19 vaccine in the U.S. on Monday felt like a historic moment, giving him a sense "that we are actually turning the corner, that we are actually here," de Blasio said.
But he warned that until the vaccine could be fully deployed, tightening restrictions would be necessary to address the Covid-19 indicators that are exceeding city-set thresholds. As of Dec. 12, 5.5% of tests were positive, up from below 5% at the end of November, based on a seven-day average.
Halting indoor dining was the latest setback to a struggling restaurant industry that has been crippled by pandemic restrictions since the virus took hold in New York in March. In June, outdoor dining was allowed again in New York City, with indoor dining resuming in late September at 25% capacity. With the arrival of winter weather -- and a possible snowstorm later this week -- closing indoor dining will render restaurants mostly inoperable besides delivery and takeout.
The move comes as the city's hospitalization rate has been climbing, to 2.73 per 100,000 residents a day as of Dec. 12 from less than 2 per 100,000 at the beginning of December. At the height of the outbreak, the city had an average of 13 new admissions per 100,000 residents per day.
Even with the climbing numbers, schools remain safe, the mayor said. New York City plans to move as many schools as possible to five days a week of in-person lessons, he said.
The city has opened 878 schools in the past week. Of those, 250 will be going to five days this week. That number will grow week by week, de Blasio said Monday at a virus briefing.
"You're going to be seeing a lot more," he said.