New York City's New Mayor Tells the City It's Time to Stop Wallowing in Covid
(Bloomberg) -- Ten days into the job, New York City Mayor Eric Adams is trying to coax a Covid-battered city back to life with sheer will.
Nearly a third of Covid tests are positive, prompting closings that include Broadway theaters and Wall Street offices. Schools had as few as half their students in attendance Friday. Several subway lines aren't running, because a fifth of the Metropolitan Transit Agency workforce isn't showing up.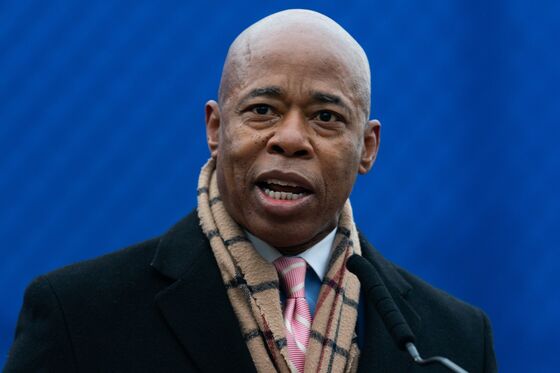 But in a whirlwind tour of the five boroughs whose days often start before dawn, the new mayor has been hammering the message that the most populous U.S city must return to some semblance of its vibrant prepandemic life.
"When a mayor has swagger, the city has swagger," Adams said on his third day in office, standing outside a Bronx school as students streamed back from winter break. "We've allowed people to beat us down so much that all we did was wallow in Covid," Adams said. "We no longer believed this is a city of swagger. This is a city of resiliency."
Since taking office Jan. 1, Adams has confronted the omicron surge, New York's deadliest fire in three decades, his first snowstorm and a testy battle over schools that has reverberated throughout the U.S. His mantra has been that thinking positively about the troubles will push the city to overcome them. 
Adams has done away with the daily virus briefing his predecessor, Bill de Blasio, held: a steady stream of solemn data on Covid cases, hospitalizations and deaths. Instead, the mayor simply tweets out the information most afternoons.
Not everyone has embraced the message. Teachers, parents and students have complained about not having a remote education option. They say schools lack virus tests, teachers and information about increased student Covid rates. 
"What happened in the past before the pandemic was not working, this is not working, there are ways and options that can work," said Candra McKenzie, a teacher at the City Polytechnic High School of Engineering, Architecture, and Technology in Brooklyn, who advocates remote options.
Adams has refused to follow other large cities that delayed the reopening of schools amid the omicron wave. 
He's chastised banks and companies, citing the toll remote work has taken on the economy. Bank of America Corp., Citigroup Inc. and Goldman Sachs Group Inc. asked employees to work from home in recent weeks. Meanwhile, the city's 9.4% unemployment rate remains more than double the U.S. average. 
"You can't run New York City from home," Adams said on Bloomberg Television last week.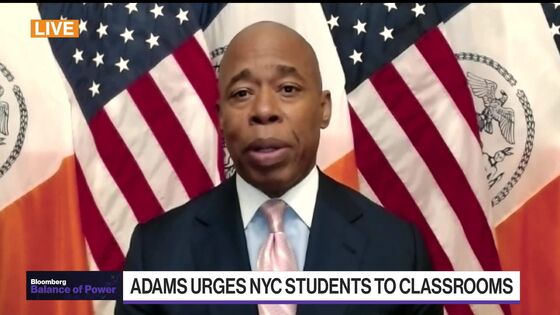 But among Adams's detractors are some of the roughly 80,000 city workers required to work in their offices full time. 
"They're desperate for a remote option," said Queens City Council Member Tiffany Caban. "City workers are going into poorly ventilated offices, only to have their meetings on Zoom."  
Asked about the mayor's "swagger" campaign, Caban said: "It is good practice to pair optimism and good vibes and support with good strong policy that is going to benefit the people the policy affects."
Adams has attacked critics as nonbelievers. "We have to open up," the mayor said at a recent briefing. He promoted vaccinations, booster shots and testing but said "we have to reshape our thinking of how do we live with Covid."
As if to prove his point, the mayor himself has been ubiquitous, making at least 47 appearances in less than two weeks, in all boroughs and across multiple media outlets. He's made a show of taking the subway, and bicycled to work in a suit. Staffers have chronicled him shoveling snow, taking at-home Covid tests -- and eating vegan meals and drinking healthy smoothies.
Last week, Adams turned up to a press conference wearing a splint, explaining he'd injured his finger while vigorously shaking a police officer's hand. Later that day, he slid down a fire station pole to greet firefighters.
When a fatal fire broke out on his second Sunday in office, killing 17 people, Adams quickly showed up at the scene, appearing at the burned-out Bronx building three times in roughly 24 hours. 
It was a stark difference from de Blasio, who regularly showed up late to his 10 a.m. daily briefings, and said before he even took office that "I am not a morning person." Adams has made a point of getting up with the sun, if not before it. 
"The swagger campaign, it's kind of parallel to this energy that he's trying to bring," Fordham political science professor Christina Greer said.
Adams may be enjoying a honeymoon period before he has to propose a new budget, negotiate expired union contracts, tussle with a newly elected City Council and trek to Albany for what's known as "Tin Cup Day," a yearly ritual to plead for funds before state lawmakers.
But Greer said she's encouraged by the change of tone. Adams's personal public relations campaign, she said, is trying to signal to the world that, "'we're back. Your leader is excited to show people that New York is the best.'"