Moscow Starts Vaccinations; Record U.S. Infections: Virus Update
Moscow started vaccinating frontline workers and other high-risk people on Saturday, as Russia reported a record daily number of new cases.
The U.S. also posted unprecedented infections, with 228,419 new confirmed cases. U.S. hospitals are ready to deploy the vaccine once they receive approval from the Food and Drug Administration, Anthony Fauci, head of the National Institute of Allergy and Infectious Diseases, told CNN. President-elect Joe Biden will take a vaccine to demonstrate its safety.
Tokyo and Hungary reported record infection numbers. Singapore Airlines is readying freighter flights for vaccine shipments. South Africa will start to receive vaccines in the second quarter. BioNTech SE said it's on track to produce 50 million doses of Covid-19 vaccine with partner Pfizer Inc. this year, easing concerns that they might miss production targets.
Global Tracker: Cases exceed 65.9 million; deaths top 1.52 million; U.S. daily cases hit

new record

Tracking the coronavirus vaccines that will end the pandemic
Vaccine confusion leaves U.S. states asking how many doses they get
Sweden faces challenge in vaccination doubters
New airline readies for takeoff in South Africa amid virus travel upheavals
U.S. jobs recovery slows as virus rages, boosting aid chances
Covid fighters run out of weapons with virus spreading in homes
Operation Warp Speed and U.K. vaccine drive leave Europe behind
Subscribe to a daily update on the virus from Bloomberg's Prognosis team here. Click CVID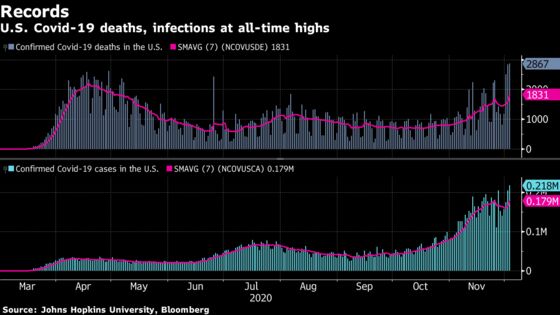 Hungary Reports Record Deaths (4:40 p.m. HK)
Hungary set another daily record for Covid-19 related deaths, as Prime Minister Viktor Orban prepares to announce whether virus curbs will be relaxed for the holiday period.
The nation had 193 daily deaths and 5,525 new infections, its virus task force said in a statement on Saturday. Orban is scheduled to announce on Monday whether some restrictions will be eased for the upcoming holidays, including a curfew and a ban on public gatherings. The prime minister has said that his virus advisers oppose any loosening of curbs put in place almost a month ago.
Russia Starts Vaccinations as Cases Hit Record (4:23 p.m. HK)
Moscow started widespread vaccination of frontline workers and other high-risk people on Saturday, following an order from Russian President Vladimir Putin on Wednesday. More than 5,000 people signed up in the first five hours of registration on Friday, Moscow's mayor said on his blog. The Kremlin has resisted a broad lockdown, putting the responsibility for imposing restrictions on regional governments.
Russia reported a record 28,782 cases in the past day, the government's virus response center said Saturday. That raises the total to 2,431,731, the fourth-most in the world.
Elsewhere, the U.K. Health Secretary confirmed the nation will start rolling out vaccines next week.
German Cases Slow; Intensive-Care Bed Use Rises (4 p.m. HK)
Days after Germany extended its partial lockdown into next year, authorities reported a rise of 15,403 cases in the last 24 hours, down from 24,158 the previous day. Deaths stood at 480 over the last 24 hours, below the record of 510 in mid-April. The number of occupied intensive-care beds ticked higher, with 82% in use, up from 81% the previous day. Germany has a further contingent of reserve beds.
South Africa Vaccines to Arrive by Mid-2021 (3:45 p.m. HK)
South Africa may get its first batch of vaccines in the second quarter, the health ministry said in a statement. The government will initially pay about 327 million rand ($22 million) to take delivery of vaccines under the Covax initiative, which will cover about 10% of the population. The total cost of the vaccines may surpass 2 billion rand.
Singapore Airlines Readies Vaccination Flights (2:40 p.m. HK)
Singapore Airlines will prioritize freight capacity for shipping Covid-19 vaccines and it will soon conduct test flights to trial procedures, the Straits Times reported. The carrier has seven Boeing Co. 747-400 freighters ready to carry vaccines. Its passenger fleet can also be used to ramp up capacity.
Tokyo Cases Rise by a Record 584 as of Dec. 5 (2:12 p.m. HK)
Tokyo reported a daily record of 584 new Covid-19 infections Saturday, bringing an accumulative total of reported cases to 43,377 in the capital, with 55 serious cases.
U.S Cases Rise by a Record 228,419 as of Dec. 4 (1:42 p.m. HK)
The number of confirmed U.S. Covid-19 cases rose by a record 228,419 on Friday, according to data compiled by Johns Hopkins University and Bloomberg.
Indian Covid-19 Deaths Rise to 139,700 (12:02 p.m. HK)
There were 36,652 new confirmed Covid-19 cases in India, taking the official case tally to 9,608,211, the Press Trust of India reports.
Pakistan reported 3,119 new Covid-19 cases in the past 24 hours, taking the total to 413,191 . There were 44 new deaths, according to Radio Pakistan.
Japan Decides How to Split Extra Olympic Costs (10:54 a.m. HK)
Japan announced how it will split the additional costs for the Tokyo Summer Olympics caused by the postponement due to the pandemic. Of the extra 294 billion yen ($2.8 billion) in costs, the national government will pay 71 billion yen, the Tokyo government will pay 120 billion yen and the organizing committee will pay the rest. The event was delayed by a year due to the pandemic and there will be some restrictions in place if it is held next summer.
Some Hospitals Ready to Deploy Vaccines Once Approved, Fauci Says (10:10 a.m. HK)
Some U.S. hospitals already have the vaccine and are waiting for an Emergency Use Authorization to deploy it, Fauci told CNN.
Los Angeles Covid-19 Deaths Could Surpass 11,000 by Year End (9:37 a.m. HK)
Los Angeles is on track to record 500,000 cases of Covid-19 by the end of the year and deaths could surpass 11,000 at the current pace of infection, Mayor Eric Garcetti said. One in 20 people in the greater Los Angeles area will be infected, he said.
That was after California reported 22,018 new coronavirus cases Friday, topping the previous record of about 20,000 hit just two days ago. Five of the biggest counties in the San Francisco Bay area are imposing shelter-in-place rules from Dec. 6 through Jan. 4 as they seek to prevent hospitals from becoming overwhelmed as the coronavirus surges. The counties include San Francisco, Oakland and much of Silicon Valley.
S. Korea Confirms 583 More Coronavirus Cases, Total 36,915 (8:31 a.m. HK)
South Korea reports 583 new coronavirus cases in 24 hours, a drop from 629 a day earlier, according to the Korea Disease Control and Prevention Agency. There were 559 locally-infected cases, with 231 new cases in Seoul and 150 in Gyeonggi province, while total deaths rose by four to 540.
N.Y. Records Highest Positive Rate Since Mid-May (4:43 p.m. NY)
New York state registered the highest rate of positive virus tests since mid-May, according to data released Friday. Of the 208,297 tests reported the prior day, 11,271, or 5.41%, were positive.
Total hospitalizations on Thursday rose by 159 to 4,222, and there were 60 new Covid-19 fatalities, Governor Andrew Cuomo said at a news briefing.
Biden Says He'll Take Vaccine, Wants It to Be Free (4:34 p.m. NY)
President-elect Joe Biden says he'll take a coronavirus vaccine to demonstrate its safety to Americans and will work to ensure the vaccine and treatment of any side effects are provided free.
Speaking at a news conference in Delaware on Friday, Biden was asked about wariness among Americans, and particularly among African Americans, over taking a vaccine developed quickly and under a cloud of pressure from President Donald Trump's administration.
"I think that my taking the vaccine and people seeing me take that vaccine is going to give some confidence," Biden said. "In the meantime I need to make sure that the vaccine is both free and available. And that any follow-up to the vaccine is free and available -- that relates to any health complications from it. So there's ways we can deal with some of these issues."
Ohio Governor Hints at More Restrictions (4:08 p.m. NY)
Ohio reported 10,114 new cases, the fourth highest in the outbreak, and 129 deaths, the third highest. With cases, deaths and hospitalizations all near records, Ohio Governor Mike DeWine suggested he may enact tougher restrictions to reign in the virus.
Oregon Breaks Record for Cases and Deaths (3:25 p.m. NY)
Oregon reported a record 2,176 new infections, taking the state's cases over 80,000. It reported 30 more fatalities, also a record, the Oregon Health Authority said Friday.
The state just ended a two-week "freeze" that increased restrictions, but Governor Kate Brown said in a press briefing that modeling shows daily cases may still double by Christmas.
In a First, the CDC
Says to

Use Masks Indoors When Not Home (2:59 p.m. NY)
Americans should be wearing a mask indoors whenever they're outside their own home, the U.S. Centers for Disease Control and Prevention is recommending for the first time as Covid-19 surges across the country.
"Consistent and correct use of face masks is a public health strategy critical to reducing respiratory transmission" of Covid-19, the report stated, adding that this was particularly important "in light of estimates that approximately one half of new infections are transmitted by persons who have no symptoms."
France's Pace of Covid Deaths Slows to Lowest in a Month (1:47 p.m. NY)
France added 627 deaths, bringing the total to 54,767. That brought the the seven-day average for fatalities to 408, the lowest in a month.
New confirmed cases rose by 11,221 to 2.27 million, with the weekly pace dropping to the lowest since Sept. 21. Hospitalizations and patients in intensive care continued their decline from a mid-November peak.
The French are increasingly unwilling to get vaccinated, with 53% of those in a November survey planning to get the shot, down from 64% in July, health authorities said.
Sweden Plans Vaccine Strategy After 26% Reject Immunization (1:32 p.m. NY)
Swedish health authorities say they need to convert vaccine doubters if they're to reach enough people to achieve herd immunity.
Only 46% of Swedes say they want to be vaccinated, while 26% say they don't, according to a recent Novus poll. Sweden expects to get enough vaccines to immunize a fifth of the population in the first quarter, Prime Minister Stefan Lofven said.