U.S. Cases Rise 0.8%; Texas Deaths Exceed 10,000: Virus Update
Arizona, California and Florida showed signs that their outbreaks are easing after a summer surge. A rapid spread in cases led the University of North Carolina at Chapel Hill to scrap in-person classes after a week, highlighting the challenges for colleges bringing students back to campus.
Germany is looking at maintaining subsidies to protect jobs for longer as a spike in cases raises the specter of renewed restrictions on economic activity. Elsewhere in Europe, Spain and Italy ordered the shuttering of discos and Greece restricted hours for bars and restaurants.
Singapore announced an additional $5.8 billion in fiscal stimulus to cushion the economic fallout from the pandemic. New Zealand delayed its national election by four weeks because of concerns over its coronavirus outbreak. Hong Kong extended its social distancing measures for a week.
Subscribe to a daily update on the virus from Bloomberg's Prognosis team here. Click CVID on the terminal for global data on coronavirus cases and deaths.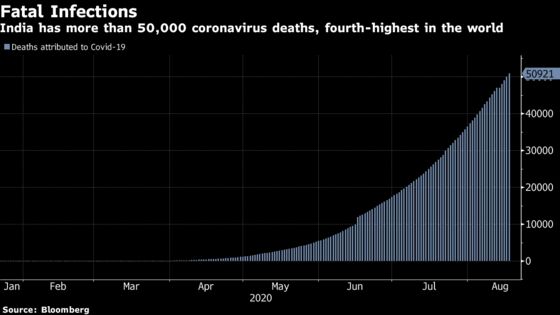 Texas Tops 10,000 Deaths (5:30 p.m. NY)
Texas became the fourth state to have more than 10,000 people die of the coronavirus, following California earlier this month. Texas reported 51 new virus deaths Monday, for a total of 10,034 total fatalities. New York has had more than 32,000 people die, and New Jersey almost 16,000.
While deaths continue to mount, the pace has been slowing in recent days, along with daily numbers of new cases and total hospitalizations. Texas has confirmed 542,950 total cases of the virus after adding another 7,368 Monday, which included 5,195 infections the state labeled as "backlog." The state said 6,200 people are hospitalized with Covid-19 in the state, continuing three weeks of declines from more than 10,000 in late July.
Mississippi to Expand Free Testing for Teachers (5:17 p.m. NY)
Mississippi is expanding free coronavirus testing for teachers, whether they have symptoms or not, as well as expanding telehealth services in schools, Governor Tate Reeves, a Republican, said at a briefing Monday in Jackson.
The state has 245 Covid-19 cases among teachers and 199 among students, State Health Officer Thomas Dobbs said, noting that they didn't necessarily contract coronavirus at school. There also are 589 teachers and 2,035 students in quarantine, Dobbs said.
UNC Scraps In-Person Classes After a Week (4:20 p.m. NY)
The University of North Carolina at Chapel Hill will switch to remote teaching for its undergraduates on Aug. 19 after coronavirus spread among students during the first week of class.
The Covid-19 test positivity rate has risen to 13.6% at the campus health center from 2.8% in the past week, with 177 students in isolation and 349 in quarantine, Chancellor Kevin Guskiewicz wrote in a note to students.
Students will have the option to leave campus housing without financial penalty, while those with hardships can remain on campus, according to a statement on the school's website.
U.S. Cases Rise 0.8% (4 p.m. NY)
Coronavirus cases in the U.S. increased 0.8% as compared with the same time Sunday to 5.42 million, according to data collected by Johns Hopkins University and Bloomberg News. The increase was lower than the average daily gain of 1% over the past week. Deaths rose by 0.3% to 170,277.
Arizona reported no Covid-19 deaths, as virus cases continued to decline. The state recorded 468 new cases, bringing the total to 194,005. The 0.2% daily increase was the smallest in more than two months and below the prior seven-day average of 0.5%.
California reported 6,469 new virus cases, a 1% increase and less than the 14-day average of 8,081, according to state data. There were 18 additional deaths, the lowest daily tally in four weeks.
Hawaii experienced a 4.5% increase in the number of cases, bringing the total to 5,042, according to the data from Johns Hopkins and Bloomberg News.
N.J. Transmission Rate Suggests Spreading (4 p.m. NY)
The Covid-19 transmission rate for New Jersey has again risen above 1, the state reported Monday, just days after Governor Phil Murphy said he would order the November general election to be conducted mostly through mail-in voting because of virus concerns.
The rate is now at 1.03, the state reported. Any number above 1 suggests the virus is spreading. The rate has been unstable since the state began reviving its economy.
Loose Lockdowns Let Virus Flourish, Fauci Says (3:10 pm. NY)
Looser lockdowns were a factor in allowing the coronavirus to flourish in the U.S. compared with some European countries, said Anthony Fauci, the top U.S. infectious disease specialist. Data from Spain and Italy show that their control over the virus was preceded by long periods when people's trips to parks, public spaces, grocery stores and pharmacies were far rarer than in the U.S., he told a meeting of the American Society of Microbiology in an online address Monday.
U.S. workplaces also shut down "somewhat," but not as fully as Italy and Spain, said Fauci, director of the National Institute of Allergy and Infectious Diseases. "They shut down dramatically; we did not." The approach is one of the reasons why U.S. cases shot up as high as 70,000 a day after the lockdowns, while the European countries fell to low levels, he said.
California's New Cases, Deaths Slow (2:53 p.m. NY)
California reported 6,469 new virus cases, a 1% increase and less than the 14-day average of 8,081, according to state data. There were 18 additional deaths, the lowest daily tally in four weeks, though numbers on Mondays tend to be lower because of weekend delays in reporting.
The rate of positive test inched up to 6.5%, the highest in almost two weeks. Still, hospitalizations from the virus continued to decline, falling 1% to the lowest since late June.
Walgreens Readies for Record Flu Season (2:10 p.m. NY)
Walgreens Boots Alliance Inc. is bracing for a surge in demand for flu shots this season as pharmacies and health officials urge people to get vaccinated amid the Covid-19 pandemic.
The chain expects to administer up to 50% more flu shots than usual, Rina Shah, group vice president of Walgreens pharmacy operations, said in an interview. While Walgreens didn't say how many total it anticipates, CVS Health Corp. said this month that it expects to vaccinate up to 18 million people. All of Walgreens' nearly 9,100 U.S. pharmacies are now offering the shots, the company said Monday.
Europe Clamps Down on Nightlife (1:15 p.m. NY)
Europe is tightening some restrictions on public life again as summer partying risks reigniting the spread of the coronavirus.
Wary of returning vacationers spreading Covid-19 at workplaces and schools, European officials are caught between fostering an economic recovery and the threat of a widespread outbreak.
The concerns prompted Spain and Italy to shut discos and Greece to restrict hours for bars and restaurants in hopes of avoiding more stringent measures after the holiday season winds down.
Florida's DeSantis Reports Fewest Cases Since June (1 p.m. NY)
Florida Governor Ron DeSantis said the state had its fewest new Covid-19 cases since June 21.
In a tweet Monday, DeSantis said the state had 2,760 new daily cases, the least since June. As of the time of the tweet, the health department had not released official data for Sunday.
France New Infections Drop (12:45 p.m. NY)
France reported 493 new infections from coronavirus over the past 24 hours, a sharp drop from a day earlier, according to data posted on the website of the country's public health agency. Total deaths rose by 19 to 30,429.
Cuomo Says U.S. Should Learn From New York (12:30 p.m. NY)
New York Governor Andrew Cuomo said he would devote his Democratic convention speech on Monday to lessons the U.S. should learn from his state's struggles with the pandemic.
New York now has one of the country's lowest infection rates after enduring the worst in the spring.
"The virus will reshape the way people think about government for a long time," Cuomo said during a Monday news briefing. "Government matters. Leadership matters. Performance matters."
He thanked the more than 30,000 volunteer doctors and nurses who traveled to New York to help out in overwhelmed hospital emergency rooms.
The crisis revealed how unprepared and divided the nation is, Cuomo said.
"Covid in many ways was the symptom and not the illness," Cuomo said. "America's body politic is weak."
N.Y. Issues Protocols for Gyms (11:45 a.m. NY)
New York Governor Andrew Cuomo said gyms and health clubs can reopen Aug. 24 with capacity to limited to 33%. The state on Monday issued strict guidelines for the facilities to reopen, including inspections by local officials and adjustments to ventilation.
Arizona Records No Covid-19 Deaths (11:40 a.m. NY)
Arizona on Monday reported no Covid-19 deaths, as virus cases continued to decline. The state Department of Health Services recorded 468 new infections, bringing the total to 194,005. The 0.2% daily increase was the smallest in more than two months and below the prior seven-day average of 0.5%. The death toll remained at 4,506.
The state reported a 7.3% positivity rate, a drop from last week's numbers, which peaked at 13.5% on Tuesday.
Nursing Home Cases Surge in Sun Belt (11:30 a.m. NY)
Covid-19 cases in U.S. nursing homes surged last month, surpassing the previous peak in May, according to a new report from the American Health Care Association and the National Center for Assisted Living. There were 9,715 confirmed cases of Covid-19 in nursing homes the week ending July 27, with the virus spreading rapidly in the Sun Belt. That is higher than the 9,421 confirmed cases the week of May 31, according to data from the Centers for Medicare and Medicaid Services.
Ryanair Reduces Capacity After Bookings Drop (7:42 a.m. NY)
Ryanair Holdings Plc, Europe's largest discount airline, said it would cut its flight capacity by 20% during the months of September and October. "Forward bookings have notably weakened over the last 10 days," given continuing uncertainty over recent Covid case rates in some countries, the company said.