Cases Surge Globally; Fauci Warns of Complacency: Virus Update
Coronavirus cases surged across the globe, darkening the holiday weekend. Anthony Fauci said Americans should stay vigilant against the omicron variant despite evidence its symptoms may be less severe because the volume of cases can still overwhelm hospitals.
China reported the highest number of local infections since January, as an outbreak in Shaanxi province presents one of the government's biggest challenges yet to its Zero Covid policy.
New daily omicron infections in the U.S. have surpassed those in the delta wave, CNN reported. U.S. airlines scrapped almost 2,400 flights for the holiday weekend because of personnel shortages linked to a spike in cases. 
The coronavirus can spread within days from the airways to the heart, brain and almost every organ system in the body, where it may persist for months, a study found.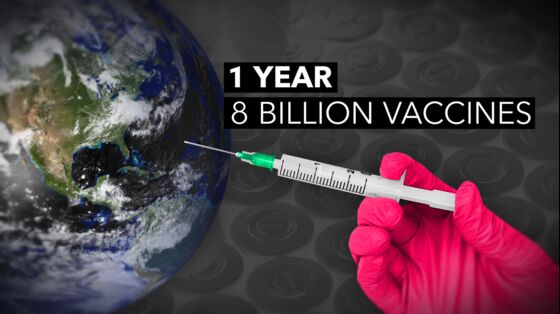 Colleges Cancel Fenway Bowl, Military Bowl as Covid Rages (1:30 p.m. NY)
The University of Virginia and Boston College called off their post-season football plans due to coronavirus outbreaks, the Associated Press reported. 
The game scheduled for Wednesday at Fenway Park was to pit the Cavaliers against SMU, while the Military Bowl scheduled for Monday at Navy-Marine Corps Memorial Stadium between Boston and East Carolina was scuttled because of positive Covid tests at BC, AP said.
South Africa Covid Rates Climb (1:15 p.m. NY)
The number of people hospitalized for Covid in South Africa rose to 9,114 on Sunday, according to data from the National Institute for Communicable Diseases. The daily positive rate also increased to 27.2% from 25.7% a day earlier.
The biggest share of new cases was recorded in coastal Western Cape province, at 28%, followed by KwaZulu Natal at 26%, both popular destinations for domestic tourists during the current summer holiday period. 
Ontario Cases Hit Pandemic High (11:39 a.m. NY)
Ontario reported a pandemic-high of 10,412 new cases on Christmas, Health Minister Christine Elliott said in a tweet Dec. 26. The new figure marks the first time that Canada's most populous province recorded more than 10,000 infections in one day. The count is probably an underestimate, public health officials warn, due to the increased demand for testing.
More Cases Detected in China After Large-Scale Tests (11:10 a.m. NY)
Xi'an reported 155 locally transmitted Covid-19 cases on Saturday, bringing the total number of locally transmitted confirmed cases to 485 in the latest resurgence since Dec. 9, Xinhua reported. Many infections previously not found in communities in the capital of northwest China's Shaanxi Province were detected during three rounds of large-scale testing. Infections may further emerge in the coming days.
Fauci Warns Covid Complacency Will Fill Hospitals (10 a.m. NY)
Americans should stay vigilant against the omicron variant despite evidence its symptoms may be less severe because the volume of cases can still overwhelm hospitals, President Biden's top medical adviser said Sunday.
"When you have such a high volume of new infections it might override a real diminution in severity," Anthony Fauci told ABC's Chief Washington Correspondent Jonathan Karl on "This Week."
Germany Hits Interim Vaccination Target (9:55 a.m. NY)
Germany has reached a target of administering 30 million Covid-19 vaccines between mid November and the end of the year as it tries to ward off the fast-spreading omicron strain, said Health Minister Karl Lauterbach.
"We're now going into the second round," Lauterbach, who wants 30 million booster shots to be given in January, told news agency DPA. "It's our goal to continue the booster campaign over the next few weeks at such a high speed that we can significantly reduce the number of hospital admissions due to the omicron variant."
German Exporters Fear Omicron Impact (9:15 a.m. NY)
The head of Germany's BGA exporters' lobby warned the omicron strain of Covid-19 will probably crimp economic growth in coming months and exacerbate supply-chain disruption.
"If omicron spreads at breakneck speed, as the health experts predict, it cannot remain without noticeable consequences for the economy," BGA President Dirk Jandura was quoted as saying by the Rheinische Post newspaper. "I'm afraid that we will have to cope with considerable delivery problems for a few more months," Jandura added. "For example with semiconductors, building materials such as wood, metal parts or magnesium."
Indonesia's New Infections at 21-Month Low (6:22 a.m. NY)
Southeast Asia's biggest economy added 92 new Covid cases Sunday, the fewest since March 23, 2020, taking the total to more than 4.26 million, according to the Health Ministry. As many as 110.6 million people, or 53% of the targeted population, have received two doses of vaccines.
The country has tightened its borders, especially land and sea, due to rise in positive rate triggered by the emergence of the omicron variant.
Pandemic Causes Sharp Rise in U.K. Poverty (6 a.m. NY)
Almost a million Britons were forced into poverty by the economic disruption caused by lockdowns, according to a report published in the Telegraph. The Legatum Institute said the figure was due to decline by three-quarters by the spring of 2022 but that further restrictions risked this recovery.
The Times reported that Prime Minister Boris Johnson is determined to keep schools open despite rising numbers of Covid cases. Johnson is under pressure from members of his own party, many of whom are opposed to additional measures.
Russia Sees Fewest Cases Since September (4:30 p.m. HK)
Russia registered 23,721 new cases in the past day, the lowest level since the end of September, according to data from the government's National Virus Response Center. Daily deaths were at 968, the lowest since mid-October. 
Russia's daily Covid cases and deaths reached a record early in November, but have declined since then. The country found cases of the new omicron strain in December, but all of them were reported on flights from abroad and people were isolated, the Health Ministry said on Saturday, according to Interfax.
Coronavirus Can Persist for Months: Study (4:27 p.m. HK)
The coronavirus can spread within days from the airways to the heart, brain and almost every organ system in the body, where it may persist for months, a study found.
In what they describe as the most comprehensive analysis to date of the virus's distribution and persistence in the body and brain, scientists at the U.S. National Institutes of Health said they found the pathogen is capable of replicating in human cells well beyond the respiratory tract.
The results, released online Saturday in a manuscript under review for publication in the journal Nature, point to delayed viral clearance as a potential contributor to the persistent symptoms wracking so-called long Covid sufferers. 
Germany to Debate Obligatory Vaccination (3:39 p.m. HK)
Germany's lower house of parliament will hold a first debate on introducing mandatory vaccination against Covid-19 at the start of next month, according to a senior lawmaker from Chancellor Olaf Scholz's Social Democrats.
For a general vaccine mandate to be legally watertight, a number of complex issues need to be resolved, including the length of time before a booster shot is required, Dirk Wiese, a deputy SPD caucus leader, told Bild newspaper. Federal and regional officials agreed at the start of this month that the mandate should be approved by parliament in time for it to take effect from February.
China Sees Most Local Infections Since January (1:44 p.m. HK)
China reported 158 new local transmitted coronavirus cases, the highest daily number of infections since last January, as an outbreak in Shaanxi province presents one of the government's biggest challenges yet to its Zero Covid policy.
Among the cases reported Sunday by the National Health Commission, 157 were found in the northwestern Shaanxi province, and one person without symptoms was found in Guangxi province. The latest number of new daily local infections is close to the peak level from the wave in late January.
Xi'an, the capital city of Shaanxi province known for its terracotta warriors, has become the latest hotspot in China, which has made eradicating the virus central to its Covid approach.
N.Z. Cases More Than Double Over Holiday (10:09 a.m. HK)
Covid cases in New Zealand have more than doubled in the two days since Christmas Eve, with 126 new infections in the community reported Sunday. Forty-five people are hospitalized with the virus, including eight in intensive care.
Cases in Australia also continue to trend upward. In New South Wales -- the most populous state -- new cases exceeded previous daily records with 6,394 new infections reported. Further south in Victoria, numbers declined 27% compared to a day prior with 1,608 new cases. Six more people in Victoria entered the intensive care unit, with 129 people in the ICU across both states.
Ireland Tells People to Avoid Shops, Crowds (8:11 a.m. HK)
Ireland's chief medical officer warned people to avoid shops and not to mix with people from other households indoors, as coronavirus cases soar. People should "avoid crowded places including retail environments" and shop online "where possible," chief medical officer Tony Holohan said in an emailed statement. 
The warning comes the day after Christmas, traditionally the biggest day of the year for household mixing in Ireland. The nation saw its highest number of daily confirmed cases on Dec. 24, with even higher case numbers expected. The government has already curbed opening hours for bars and restaurants and ordered nightclubs closed, but has not imposed official restrictions on shops beyond making masks mandatory.
Singapore Finds New Omicron Cluster (7:25 a.m. HK)
Singapore reported a new cluster linked to the omicron variant, warning that it expects to see further spread in the community.
The primary case in the cluster at The Vinyl Bar near the city's downtown was a passenger who flew in from the U.S. using Singapore's quarantine-free vaccinated travel lane on Dec. 14. He tested negative upon arrival but received a positive result in a further government-mandated test four days later.
The city-state has 448 Omicron cases so far, with 369 coming from those arriving from overseas. "Given its high transmissibility, it is a matter of time before the omicron variant spreads in our community," the Health Ministry said.
Christmas Travel Chaos Deepens (3 p.m. NY)
Airlines' U.S. flight cancellations approached 1,900 for the Christmas weekend, disrupting travel on one of the busiest periods of the year as the omicron-fueled wave of Covid cases triggered air-crew shortages. 
Saturday's pullbacks erased at least 12% of the schedule at Delta Air Lines Inc., United Airlines Holdings Inc. and JetBlue Airways Corp., according to data tracker FlightAware.com. The U.S. cuts on Christmas Day alone totaled more than 900.
U.S. Omicron Daily Cases Surpassing Delta (1:55 p.m.)
New daily U.S. cases from the omicron variant have now surpassed delta's peak, CNN reported.
Hospitalizations remain lower than the peaks earlier this year, it said. More than 69,000 people were hospitalized on Friday, CNN said, citing Department of Health and Human Services data.