Southern States Start Reopenings; N.Y. Deaths Slow: Virus Update
New York Governor Andrew Cuomo said data suggest the state outbreak has begun a descent, with deaths falling for a sixth straight day. Governors in Georgia and South Carolina took steps toward reopening their economies.
Anthony Fauci, the U.S.'s top infectious disease expert, warned those protesting lockdowns that reopening too soon could cause even more harm. A study in Los Angeles showed the virus may be more widespread than previously thought.
Subscribe to a daily update on the virus from Bloomberg's Prognosis team here. Click VRUS on the terminal for news and data on the coronavirus.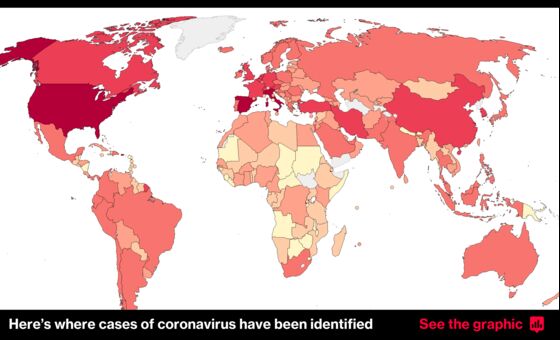 L.A. Study Suggests Virus More Widespread Than Thought (5:30 p.m. NY)
A collaborative study between the Los Angeles County Department of Public Health and the University of Southern California estimated that about 4.1% of the county's adult population has antibodies to the coronavirus. That estimate, researchers said, is 28 to 55 times higher than the 7,994 confirmed cases of the virus in the county at the time of the study.
Antibody tests, which show not whether a person is currently suffering from Covid-19 but whether they have ever been exposed in the past, are crucial to understanding how widespread and deadly the virus really is. Such tests are typically conducted with drops of blood from a finger or a draw from a vein.
In Los Angeles, researchers collected samples from a representative sample of the county population at six drive-through testing sites using a rapid antibody test. When accounting for study limitations and potential errors, they said the number of people with antibodies could range from 2.8% to 5.6%.
The presence of antibodies, though, doesn't necessarily mean someone is immune to the virus. Antibody tests for SARS-Cov-2, the virus that causes Covid-19, are new to market, and there is evidence that many do not perform as well as they should. Still, the tests are regarded as crucial to reopening efforts. Several other antibody studies conducted so far have confirmed suspicions that the number of infections in the U.S. and elsewhere may currently be significantly under-counted.
L.A. County reported its highest number of daily deaths yet on Saturday, at 81, with the total surpassing 600. Barbara Ferrer, director of the county's public-health department, last week said she hopes the area can start taking steps toward relaxing restrictions next month.
Southern States Move to Lift Lockdowns (5:23 p.m. NY)
Southern Republican governors who were among the last to institute shelter-at-home orders pushed to become the first to lift them. Tattoo parlors, movie theaters and nail salons in Georgia will begin opening up this week, along with beaches, florists and shoe shops in South Carolina.
The announcements came Monday afternoon after Georgia Governor Brian Kemp spent the weekend talking to his fellow Republican governors in the South about how best to re-open their economies in response to guidelines from the White House late last week.
South Carolina Governor Henry McMaster announced in a Monday briefing he was forming a task force termed "Accelerate South Carolina" to look at quickly and safely opening up the economy and serve as a resource to citizens. "We must be ready to stomp on the gas when the green light comes up," McMaster said.
Brazil Deaths Rise; Peak Seen Weeks Away (4:40 p.m. NY)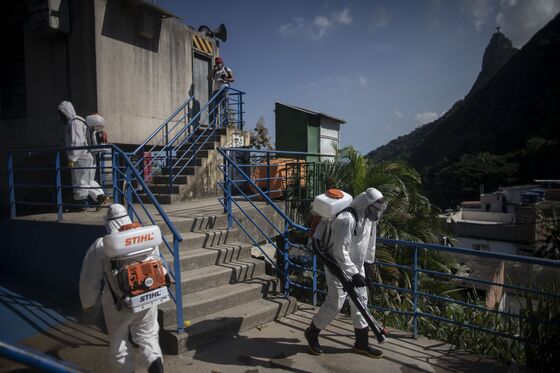 Brazil reported an increase in coronavirus fatalities as the country's public health system nears capacity and the pandemic spreads to poorer states that are ill-equipped for a surge in patients.
The country's death toll rose by 113 to 2,575, health authorities said on Monday. Confirmed infections rose by nearly 2,000 to 40,581, more than three times the number seen two weeks ago. Health officials say Brazil is probably still weeks away from the peak cases.
U.S. Confirmed Cases Rise 2.7% (4 p.m. NY)
U.S. cases rose 2.7% from the day before to 766,664 by Monday afternoon, the lowest daily increase in at least two weeks, according to data compiled by Johns Hopkins University and Bloomberg News. That was lower than Sunday's growth rate of 5.6% and down from the average daily increase of 4.5% over the past week.
New York cases rose 2.4%, as the hardest-hit state shows signs of stabilizing in the past week. New York's cases were rising at a rate of 3.3% a week ago.
California had 42 deaths from the virus overnight, bringing the state's total to 1,208, according to Governor Gavin Newsom. Hospitalizations rose 1.9%. The number of patients in intensive-care units increased 2.8%, a figure that has been fluctuating and has yet to show the downward trend needed to provide more clarity on easing restriction measures, Newsom said at his daily press briefing.
New cases in Texas fell by 19% to 535, the fourth consecutive daily decline in the nation's second most-populous state, the state's heath department reported on Monday.
Iowa had the biggest daily increase, with cases rising 26% to 3,159.
Virus-Testing Swab Deal Near (3:40 p.m. NY)
Peter Navarro, trade adviser to President Donald Trump, said the Defense Department is finalizing negotiations under the Defense Production Act with Puritan Medical Products to make more nasal swabs.
Under the deal, the Maine-based company would increase its production goal to 20 million swabs a month from 3 million, within 30 days of the contract award, Navarro said in statement.
N.J. Seeks Cash from U.S. (3:05 p.m. NY)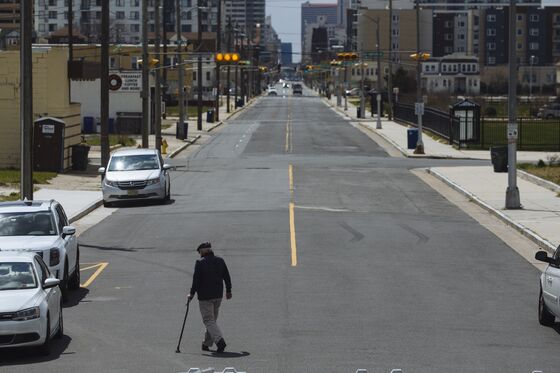 New Jersey Governor Phil Murphy said President Donald Trump indicated during a private conversation that direct cash assistance may be coming for the state. Amid signs of a slowdown in the outbreak, the state needs money for "people, manpower and technology," Murphy said. "A solid testing regime will be critical -- essential -- in our reopening strategy."
New Jersey reported an additional 177 deaths from the new coronavirus. Last week, fatalities increased by more than 300 for four straight days. Cases climbed by 3,528, to 88,806, the 14th straight day of an increase of less than 10%.
The state's emergency management office has distributed more than 10 million pieces of personal-protection equipment, Murphy said. It's nowhere near what the state needs to do more widespread swabbing, he said.
Florida Plans for Reopening (2:40 p.m. NY)
Florida Governor Ron DeSantis said predictions of massively overwhelmed hospitals haven't materialized in the state as he laid the groundwork for potentially reopening the economy. Ensuring adequate hospital capacity was among the main reasons for shutting down the state.
"We've got an enormous amount of capacity," DeSantis said, as he addressed the first meeting of his Re-Open Florida Task Force on Monday. "The system is holding up."
DeSantis, a Republican, said testing, including antibody testing, would be key to successfully reopening the state. Florida has had 789 Covid-19 deaths and 26,660 total confirmed cases, with South Florida hit especially hard.
Another Big U.S. Meat Plant Closes (2:36 p.m. NY)
JBS SA, the world's top meat company, will shutter its pork processing facility in Minnesota following an outbreak of coronavirus, adding to concerns that slaughterhouse logjams will tighten meat supplies for consumers.
The shutdown is the latest blow to the U.S. meatpacking industry, which is struggling to contain the spread of coronavirus among its workers, and spurring concerns of a shortfall in pork and beef at grocery stores. Smithfield Foods Inc., the world's biggest pork producer, indefinitely shut down a slaughter plant in South Dakota last week after hundreds of workers tested positive for Covid-19.
French Hospitals See Fewer Patients (2:20 p.m. NY)
France reported new cases rose by 2,832 infections to 178,774, increasing from Sunday but still lower than other days in recent weeks. The number of hospitalized patients fell for a sixth day to the lowest in almost two weeks, and patients in intensive care fell for a 12th day.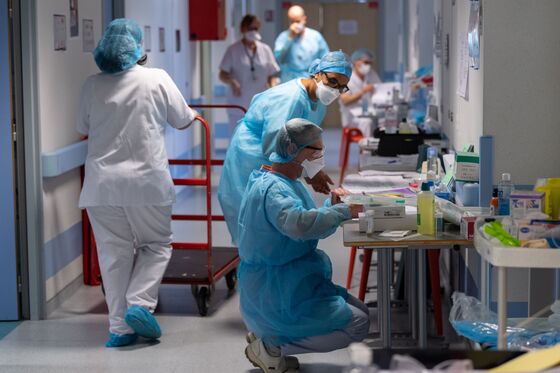 The country recorded 547 deaths, putting it alongside the U.S., Italy and Spain with more than 20,000 deaths. France's daily coronavirus figures have fluctuated amid inconsistent reporting from nursing homes, which were first included in the tally this month.
France will unveil plans within two weeks to progressively lift the restrictions aimed at curbing the epidemic, Prime Minister Edouard Philippe said on Sunday. France has been on lockdown since March 17, and confinement measures have been extended to May 11. Less than 10% of the French population has been exposed to the virus, according to the health ministry.
Texas Cases Fall for Fourth Day (1:28 p.m. NY)
New cases in Texas fell by 19% to 535, the state's heath department reported on Monday. It was the fourth consecutive daily decline in the nation's second most-populous state and represented a 63% drop from the April 10 peak, state data showed.
Fatalities fell for a third straight day to 18 on Monday, bringing the total so far to 495. Governor Greg Abbott is scheduled to unveil preliminary plans at the end of this week for reopening the biggest economy in the U.S. outside of California. Meanwhile, elected officials in Houston appointed czars to oversee the process of unwinding the lockdown in the state's largest metropolitan area.
Virus's Stability Helps Vaccines: WHO (1:20 p.m. NY)
Researchers have studied about 10,000 genome sequences, and it appears that the virus is relatively stable, which is good news for the potential of developing a vaccine, epidemiologist Maria Van Kerkhove said at a World Health Organization press briefing in Geneva. If viruses mutate too much, vaccines can become ineffective.
A big proportion of people are vulnerable to Covid-19 infection as several studies suggest that only a single-digit percentage has been infected, Van Kerkhove said. That's smaller than expected, which raises the risk that lifting lockdowns too quickly or all at once will fuel a resurgence, she said. Several Asian countries have been reporting increases after easing restrictions.
"We have been warning from day one: This is a devil that everyone should fight," WHO Director-General Tedros Adhanom Ghebreyesus said. Politics may fuel the pandemic further, he warned, denying allegations from the U.S. that the group withheld information and from Taiwan that the country had alerted the WHO about the possibility of human-to-human transmission on Dec. 31.
Cuomo Urges Hazard Pay for Front-Line (1 p.m.)
Front-line workers deserve hazard pay, New York Governor Andrew Cuomo said at his daily press conference. "Give them a 50% bonus." One-third of front-line workers are members of low-income households, and people of color disproportionally make up the front line, he said, in part explaining why minorities have been hit harder by the virus.
Cuomo announced a "reimagine task force" principally focused on downstate New York, which is where the epidemic is centered. "Let's use this moment to really plan change that we could normally never do unless we had this situation."
He also warned that if federal funds are not allocated to states, Cuomo anticipates 20% cuts to schools, local governments and hospitals. The governor also said there is no plan yet to reopen schools.
Italy's New Cases Fall (12:22 p.m. NY)
Italy reported the fewest new coronavirus cases since March 10 as government advisers urge caution before easing the lockdown. There were 2,256 new cases of the disease, compared with 3,047 a day earlier, according to the civil protection agency. Confirmed cases now total 181,228.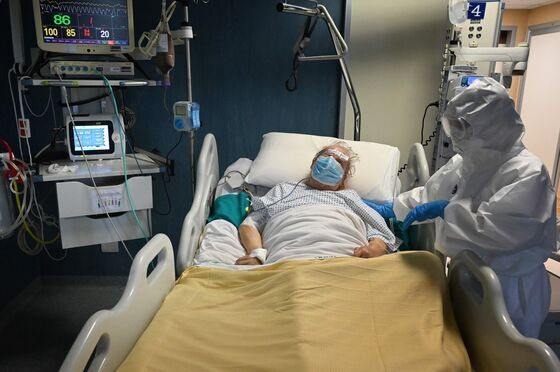 Deaths fell as well with 454 reported Monday, bringing the total to 24,114. The number of people who are currently carrying the virus declined for the first time, and Italy also reported 1,822 patients recovered over the past 24 hours.
The government's medical and scientific advisers have focused on the reproduction factor to help assess the spread of the disease. Italy's has fallen to below 1, meaning that each person with the virus infects an average of less than one other person.
U.K. Deaths Lowest Since April 6 (11:55 a.m. NY)
U.K. hospitals recorded 449 deaths from coronavirus, the lowest daily increase since April 6. It's the second consecutive day with less than 600 deaths, after the 596 reported on Sunday.
Some 4,676 new cases of the disease have been registered, down from 5,850 yesterday, according to figures from the Department of Health and Social Care. The rate of infection from the virus in the U.K. appears to be slowing, even as more people are tested each day, Deputy Chief Medical Officer Jenny Harries said on Sunday.
NYC Short on Hospital Gowns (10:25 a.m. NY)
New York City hospitals face a shortage of surgical gowns, Mayor Bill de Blasio said as he announced that public events through June are canceled.
While the city has enough equipment, including ventilators, for the coming week, de Blasio said he's concerned that it might run of gowns despite help from the federal government over the weekend to get 265,000 Tyvek suits and fabric to help make 40,000 gowns this week and 400,000 by May 23.
It's "nowhere near" what the city needs, he said. He asked for more federal help as well as gowns from other states.
Among the June events canceled are the National Puerto Rican Day Parade and the Pride Parade, which is celebrating its 50th anniversary.
EU Expects to Complete Repatriation Next Week (9:42 a.m. NY)
Around 90,000 European Union citizens are still stranded abroad and may be repatriated by the end of next week, EU foreign-policy chief Josep Borrell said. To date almost 500,000 people have been repatriated to the EU, Borrell told a virtual meeting of the European Parliament's foreign-affairs committee.
U.A.E. Plans to Test All Citizens, Residents (9:41 a.m. NY)
The United Arab Emirates is widening the scope of coronavirus testing to cover all citizens and residents across the Gulf nation. The country performed 25,795 tests and confirmed 484 new infections in the past 24 hours, Farida Al Hosani, the official spokesperson for the U.A.E. health sector, said on TV on Monday. Total coronavirus cases are now at 7,265, including 43 deaths.
Merkel Warns Against Easing Too Quickly (9:39 a.m. NY)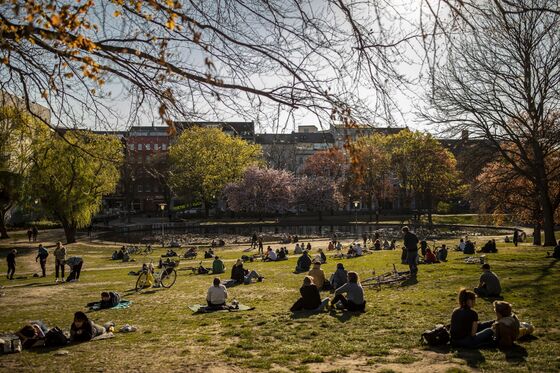 The chancellor warned that Germany shouldn't move too quickly with a further easing of its social distancing measures, or it risks having to fall back on a stricter national lockdown.
"We have reached a lot but we have not yet reached our target," Merkel said on Monday after a meeting of her government's coronavirus crisis cabinet.
In an earlier closed-door meeting of her Christian Democratic party, she said opening discussions threatened to destroy the progress in fighting the pandemic, according to a participant, who asked not to be identified because the discussions were private. After weeks on stringent lockdown, smaller stores across the region's largest economy were allowed to reopen on Monday.
Earlier, data showed that the number of cases in Germany rose by the least this month, with 2,018 new infections in the 24 hours through Monday morning, taking the total to 145,742. The number of fatalities rose by 104, the lowest since April 1, to 4,642.
Fauci to Protesters: No Recovery If Virus Not Controlled (9:22 a.m. NY)
The U.S. economy won't recover until the virus is under control, Fauci said. He said his message to the protesters is that "this is something that is hurting from the standpoint of economics" but that reopening too soon could cause even more harm. His comments on ABC's "Good Morning America" contrasted with remarks made by Trump, who has encouraged the protests.
"Unless we get the virus under control, the real recovery economically is not going to happen," Fauci said.