More States Find Variant; N.Y. Cases Reach Record: Virus Update
(Bloomberg) -- Connecticut, Texas and Pennsylvania reported their first cases of the virus variant that helped trigger a U.K. lockdown amid concern that Covid-19 deaths in the U.S. are likely to maintain a near-record pace at least through January. Mounting hospitalizations are offsetting any positive effect from the halting start to inoculations.
New York, New Jersey, Florida and North Carolina are among states that reported daily records as Illinois became the fifth state to surpass 1 million infections. Fatalities in Arizona reached a high and those in California were just two deaths from the record set at the end of 2020.
British medics will be able to give Covid-19 shots to hundreds of thousands of people every day by Jan. 15, U.K. Prime Minister Boris Johnson said. Brazil surpassed 200,000 virus deaths, second only to the U.S., on a day when it reported the most infections of the pandemic.
Subscribe to a daily update on the virus from Bloomberg's Prognosis team here. Click CVID on the terminal for global data on coronavirus cases and deaths.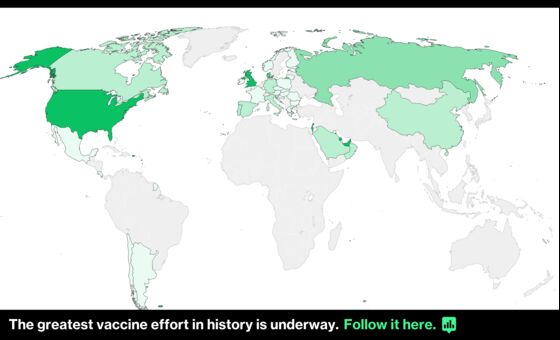 Brazil Deaths Pass 200,000 With Vaccinations Still on Hold (4:32 p.m. NY)
Brazil's coronavirus death toll passed 200,000 as the respiratory disease again pummels the Latin American country and a nationwide vaccination plan remains weeks away at best. Another 1,524 people died, while new cases rose to a daily record of 87,843.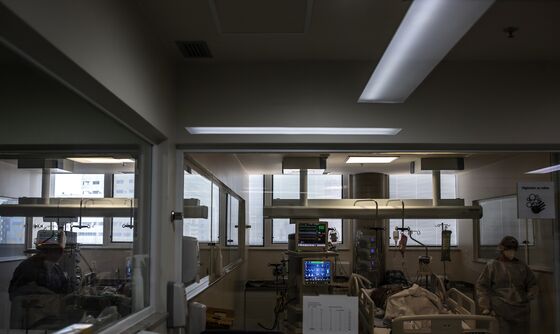 Much like in Europe and the U.S., the virus has resurfaced across the sprawling country in the past few weeks. Year-end festivities which saw large gatherings, and the detection of the new, more contagious variant of the virus in Sao Paulo, have added to concerns about the strength of a second wave.
Florida Cases Rise to High (3:04 p.m. NY)
Florida reported 19,816 new infections, the highest one-day total since the start of the pandemic. The state has been hit hard in the latest surge, far surpassing the number of infections reached in the summer. Total cases are now 1,429,722, the most after California and Texas. Another 164 residents died, for a total of 22,481.
France to Keep Curbs Through at Least Jan. 20 (2:50 p.m. NY)
France will keep gyms, theaters and ski lifts closed until at least the end of January, and bars and restaurants until mid-February, Prime Minister Jean Castex said. New infections rose by 21,703 on Thursday while deaths increased by 276 to 66,841. Curfew measures will remain in place across France until at least Jan. 20, Castex said.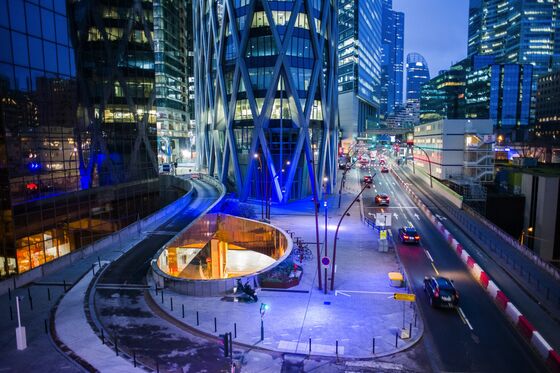 The country said it has found 19 confirmed cases of the more-transmissible U.K. Covid-19 variant and 3 cases of the South African variant. Health authorities are investigating two probable clusters of infection with the U.K. variant in the western region of Brittany and the Paris region. Authorities found a confirmed case of the U.K. variant in Paris region that they haven't been able to link to any travel history.
New York, New Jersey Report Record Daily Cases (2:30 p.m. NY)
New York reported 17,636 positive tests and and 197 fatalities, while New Jersey had a record 6,314 new cases and 123 fatalities, a third straight day of more than 100.
Both states had warned of a post-New Year's Eve celebration surge. New York Governor Andrew Cuomo and New Jersey Governor Phil Murphy have been battling a second wave as colder weather nudged people indoors and holidays increased social gatherings.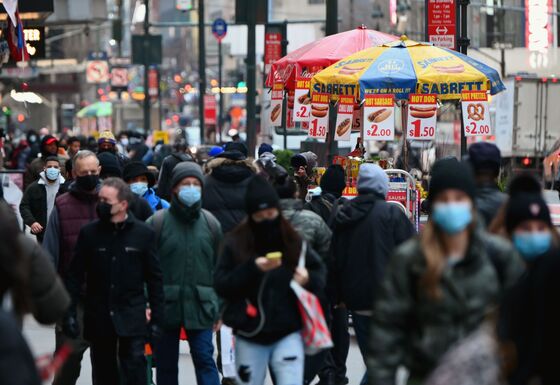 Hospitalizations in New Jersey for Covid-19 dipped slightly to 3,711 on Thursday, while those in New York also fell slightly to 8,548. At the height of the first wave of the pandemic, New York had more than 18,000 hospitalized at one time.
Still, New York City's Covid-19 hospitalizations rose to their highest rate since May at 3,107 as of Jan. 5, according to state data. Hospitals admitted 273 people on Tuesday, and the rate of admissions has climbed to 4.28 per 100,000 residents, well above the city's goal of keeping that rate below 2 per 100,000.
California Deaths Jump, Near Record (2:20 p.m. NY)
California reported 583 new deaths, just two fewer than the record set at the end of the year, raising the toll to 28,045 since the Covid-19 pandemic began. The state added 36,385 new cases, bringing the total to 2.5 million.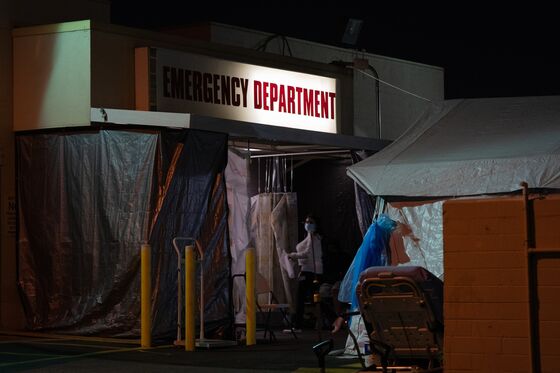 The Golden State has been a focal point of the latest outbreak as a growing number of regions across the state, particularly in Southern California, run out of ICU beds. Statewide, the number of ICU beds have fallen to the lowest level based on data going back to early April, as hospitalizations climb to the highest during that time.
Connecticut Finds Two Variant Cases (2:18 p.m. NY)
Connecticut Governor Ned Lamont said the two cases of the variant initially discovered in the U.K. came from a patient who had traveled to Ireland and another to New York state. The cases are unrelated, he said, citing genetic sequencing of the virus.
Spain Surpasses 2 Million Cases (1:49 p.m. NY)
Spain's total cases rose by 6,498 to surpass 2 million, according to the Health Ministry on Thursday. The total number of fatalities reached 51,675. The country will start receiving 600,000 doses of Moderna Inc.'s Covid-19 vaccine in the coming days, Health Minister Salvador Illa said.
Illinois Surpasses 1 Million Infections (1:45 p.m. NY)
Illinois passed another "tragic" milestone by logging more than 1 million coronavirus cases, Governor J.B. Pritzker said in a statement.
On Thursday, the state reported 8,757 cases and 177 deaths. That pushed the total to 1,008,045 confirmed and probable cases, and 17,272 deaths since the start of the pandemic, according to the Illinois Department of Public Health.
Texas, Pennsylvania Report New Virus Variant (1:29 p.m. NY)
Texas and Pennsylvania became the latest states to report cases of the more-transmissible variant of the coronavirus.
In Texas, the variant was detected in an adult man from Harris County, home to the country's fourth largest city of Houston, who has no history of travel, according to the Texas Department of State Health Services.
"The fact that this person had no travel history suggests this variant is already circulating in Texas," said Dr. John Hellerstedt, DSHS commissioner.
In Pennsylvania, a person in Dauphin County tested positive after "known international exposure," Secretary of Health Rachel Levine said. The person had mild symptoms that were resolved while isolated at home.
At least five other U.S. states have reported cases of the variant.
U.K. Aims to Vaccinate at Least 200,000 People a Day (12:39 p.m. NY)
British medics will be able to give Covid-19 shots to hundreds of thousands of people everyday by Jan. 15, Prime Minister Boris Johnson said.
"We are in a race against time, but we are doing everything we can to vaccinate as many people as possible across the U.K.," Johnson said at a televised press conference.
North Carolina Reaches Records (11:57 a.m. NY)
North Carolina infections rose to a daily record, of 10,398, as did total hospitalizations, to 3,960. Another 137 people died, state data showed.
Arizona Deaths Rise to New High (11:39 a.m. NY)
Arizona on Thursday reported a daily record of Covid-19 fatalities for the second time this week. The 297 deaths brought the state's toll from the pandemic to 9,741. The state Department of Health Services also reported 9,913 new cases for a total of 584,593.
Italy Cases, Deaths Slow (11:35 a.m. NY)
Italy registered 18,020 new virus cases on Thursday, from 20,331 the day before. Daily deaths declined too, with 414 fatalities reported, compared with 548 on Wednesday, while the positivity rate rose to 14.9% as fewer tests were carried out.
Italy has extended through mid-January some curbs imposed during the holiday season, including a limit of two guests per household.
Arthritis Drugs Reduced Covid-19 Deaths, ICU Time in Study (11:06 a.m. NY)
A pair of arthritis medicines, including Roche Holding AG's Actemra, reduced mortality and shortened recovery times in intensive care for Covid-19 patients in a study, opening the possibility for another treatment option for the severely ill.
Some 27% of critically ill patients who got the arthritis drugs in the study died in the hospital, compared with about 36% of those who didn't get the drugs, an Imperial College London research team said.
UAE Breaks Record (10:27 a.m. NY)
The United Arab Emirates reported its highest daily number of new cases with 3,988 Thursday, for a total of 221,754. The country has seen a spike in virus numbers in recent weeks as it aims to vaccinate half its residents in the first quarter.
Portugal May Tighten Restrictions (10:25 a.m. NY)
Portugal may tighten restrictions next week after reporting a record increase in virus cases on Wednesday, Prime Minister Antonio Costa said. The government on Thursday reported 9,927 new confirmed coronavirus cases in a day, less than Wednesday's record of 10,027 new infections.
Sinovac Covid Shot 78% Effective in Brazil Trial (9:19 a.m. NY)
The vaccine developed by China's Sinovac Biotech Ltd. was shown to be 78% effective against Covid-19 in late-stage Brazil trials, newspaper Folha de Sao Paulo reported, citing data presented to the country's health regulator.
Conflicting and incomplete information from Sinovac's trials last month created confusion over how effective the shot is. Researchers in Brazil delayed releasing complete data on the so-called CoronaVac shot in late December, saying only that it was found to be more than 50% effective.
The release of more definitive data was delayed because the company needed to reconcile results from different trials using varying protocols, according to a person familiar with the matter.
S. Africa Virus Strain More Transmissible (9:18 a.m. NY)
The new coronavirus strain identified in South Africa appears to be more transmissible than earlier variants and has accelerated the onset of a second wave of infections, according to a scientist advising the country's health minister.
Yet there's no evidence that it causes a more severe or different form of the disease, and hospitalization and mortality rates as a proportion of the number of infections are lower than during the first wave in July and August, said Ian Sanne, an infectious diseases doctor and head of Right to Care, a non-profit that provides treatment to people with HIV and associated diseases.
South Africa agreed to receive the country's first coronavirus vaccines this month and next, the first phase of a plan the government says will inoculate two-thirds of the population by the end of 2021.