Illinois Clamps Down; N.Y. Hospital Use Surges: Virus Update
(Bloomberg) -- Pfizer Inc. Chief Executive Officer Albert Bourla said that a key safety milestone had been reached in the study of its Covid-19 vaccine, and the drugmaker is now preparing to seek an emergency-use authorization.
Hospitalizations in New York state increased by the most since the peak of the pandemic in April. New Jersey said its intensive-care unit bed use has quadrupled over the past six weeks, and Pennsylvania required travelers to test negative or undergo quarantine. Illinois will close indoor dining, museums and casinos as part of a series of new restrictions.
Angela Merkel warned that the situation in Germany remains "very serious," while expressing optimism that an economic recovery will gather pace once the pandemic is brought under control. Boris Johnson was advised to consider strengthening regional restrictions after England exits its second national lockdown next month. Italy reported the most virus deaths in seven months.
Subscribe to a daily update on the virus from Bloomberg's Prognosis team here. Click CVID on the terminal for global data on coronavirus cases and deaths.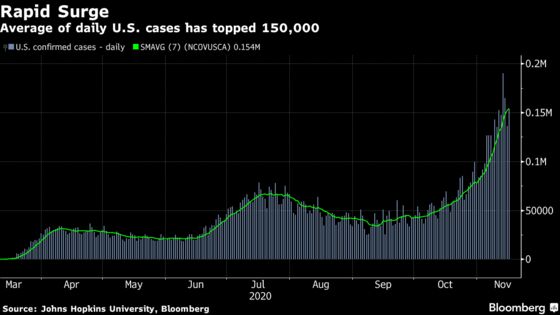 Illinois Governor Orders New Restrictions (5:11 p.m. NY)
Illinois Governor J.B. Pritzker announced a series of new statewide restrictions that go into effect Nov. 20. Casinos and museums will close, gyms will cease indoor group classes, and bars and restaurants will stop indoor service. Retailers will reduce capacity to 25%. Pritzker also called for home gatherings to be limited to household members and for employees to work remotely when possible.
The state's hospitalizations from the virus have reached a record, while daily cases on Tuesday rose to 12,601 from 11,632, according to the Illinois Department of Public Health. The seven-day Covid-19 case positivity rate of all tests is 12.5%.
"Increases in cases and hospitalizations that used to take weeks are now happening in days," Pritzker said. "This is not a stay-at-home order, but the best way for us to avoid a stay-at-home order is to stay home."
Houston Warns Against Holiday Celebrations (5 p.m. NY)
Houston canceled its annual Thanksgiving Day parade and the highest-ranking county official urged residents to call off large celebratory gatherings as hospitalizations soar.
Almost 200 new virus patients were admitted to Texas hospitals in the last 24 hours, pushing the census to 7,468, a 22% surge in the past week, state health department figures showed.
In the nine-county Houston metro area, virus hospitalizations jumped 44% in the past two weeks to 749, the highest since Aug. 26, according to the SouthEast Texas Regional Advisory Council.
South Australia Urges Isolation to Contain Cluster (4:50 p.m. NY)
South Australia is urging 4,000 people to self-isolate to contain a cluster of Covid-19 infections in the state capital of Adelaide.
Twenty people have been infected after a cleaner at a quarantine hotel was exposed to the virus and health authorities are conducting extensive contact tracing in an effort to prevent a wider outbreak. Officials are urging anyone who has visited a list of places including schools, shopping centers and restaurants or taken particular public bus routes to get tested and stay at home for 14 days.
Colorado Governor Wants Aid for Businesses (4:20 p.m. NY)
The governor of Colorado Tuesday called a special session of the legislature to provide "prompt and direct" aid to small business and families facing eviction. Governor Jared Polis also told a news conference he will be stepping up Covid-19 restrictions over a large swath of the state, including the suspension of dine-in services at restaurants.
Denver Mayor Michael Hancock said he anticipates the state's largest city will go to alert level red, which is one level below a full shutdown. More than 1,300 people are hospitalized in Colorado, Polis said.
N.Y. Hospitalizations Highest Since June (4:15 p.m. NY)
Coronavirus hospitalizations in New York have topped 2,000, the highest since early June, Governor Andrew Cuomo announced Tuesday.
"The number of cases across the country and in New York are only continuing to climb," Cuomo said.
Of the nearly 160,000 tests conducted statewide on Monday, 3.18%, or 5,088 were positive, according to state data. Hospitalizations increased by 156 to 2,124, the largest one-day jump since the peak of the pandemic in April. There were 29 virus-related deaths on Monday.
Cases continued to increase in hot spot areas of the state including Queens, Brooklyn, Rockland and Westchester counties, Western New York, the Finger Lakes, Central New York, and counties that border Pennsylvania.
Cuomo urged New Yorkers to follow state Covid-19 rules and regulations. "We all have a part to play -- wear a mask, stay socially distant, avoid gatherings large and small, and wash your hands religiously," Cuomo said.
Ohio Imposes 10 p.m. Curfew (2:35 p.m. NY)
Ohio Governor Mike DeWine is imposing a curfew starting at 10 p.m. Nov. 19, clamping down on retail establishments in a bid to stop the spread of Covid-19 in the state.
The curfew will run from 10 p.m. to 5 a.m. each day for 21 days, the Republican governor announced Tuesday in one of his regularly scheduled briefings.
"We know that if we reduce the number of people we come in contact every day with, we reduce the chances of getting the virus," DeWine said. Unlike last spring, "we're not talking about closing any businesses as we did then, but what we are asking every Ohioan to do is limit your contact."
The state reported 7,079 cases and 30 deaths in the past 24 hours.
Pennsylvania Puts Restrictions on Travelers (2:05 p.m. NY)
Pennsylvania is requiring that travelers entering the state, as well as residents returning home, have a negative Covid-19 test within 72 hours prior to entering or they must quarantine for 14 days upon entry. The order will take effect on Nov. 20. Those who fail to comply may be fined between $25 and $300.
The state reported an additional 5,900 positive cases. It has reported at least 4,000 daily cases since Nov. 9.
The Netherlands Eases Some Curbs (2 p.m. NY)
The Dutch government extended partial lockdown measures while at the same time lifting some restrictions imposed two weeks ago. That means libraries, theaters, cinemas, museums and swimming pools can reopen in a rare move in Europe to ease curbs on movement. Bars and restaurants will remain closed.
"The numbers we see every day are still too high, but the trend is one of decline and that is positive" Dutch Prime Minister Mark Rutte said in a press conference in the Hague. "No extra measures are necessary."
The number of new Covid-19 infections in the Netherlands declined by 14% last week from the previous seven days, health agency RIVM said on Tuesday. In the week ending Tuesday, 37,706 infections were confirmed, down from 43,621 new patients in the prior period. The number of reported hospital admissions also fell last week.
France to Maintain Virus Restrictions Post Lockdown (1 p.m. NY)
France's next phase in efforts to slow the spread of the coronavirus won't be a full end to lockdown measures, Prime Minister Jean Castex said in a hearing in the National Assembly on Tuesday.
Some restrictions will be maintained "because the situation will have improved, but not sufficiently," he said. "The idea is to be able to manage a little more over time."
N.J. ICU Use Quadruples (12:15 p.m. NY)
New Jersey's intensive-care unit bed use quadrupled over six weeks, to 458, while Covid-19 hospitalizations reached their highest number since May.
The state now has 2,320 inpatients, about 13% higher than the number reported by New York. New Jersey in the past 24 hours also reported 38 deaths, the most since July.
Starting today, New Jersey Governor Phil Murphy lowered limits on many indoor gatherings to 10 people, from 25, although the maximum is 150 for weddings, funerals, memorial services and religious and political activities.
Outdoor gatherings, including youth sports and performances, on Nov. 23 will be capped at 150, down from 500.
Italy Sees Biggest Death Toll in 7 Months (11:40 a.m. NY)
Italy registered 731 deaths related to Covid-19 on Tuesday, the biggest daily increase in seven months. New infections rose to 32,191 from 27,354 on Monday, but fell 8.3% compared with Tuesday last week, an initial signal that the government's restrictions are starting to pay off.
NYC Positive Rate Stays Below 3% Trigger (10:30 a.m. NY)
New York City's Covid-19 positive-test rate over a seven-day average is 2.74%, below a 3% threshold that would trigger a shutdown of in-person learning.
The daily positive test rate is 3.2%, according to city data. The city's seven-day average of daily reported cases increased to 1,117 from 1,057.
Scotland Puts Parts of Country Into Lockdown (9:43 a.m. NY)
Scotland imposed its highest level of restrictions on Glasgow and Stirling, as well as swathes of central and western parts of the country, to combat a "worrying" rise in cases.
"The infection rate in all of these areas remains stubbornly and worryingly high," First Minister Nicola Sturgeon told lawmakers in Edinburgh. "Pressure on hospitals in these areas is already high and is at risk of becoming intolerable."
The so-called level four restrictions, where schools stay open but non-essential businesses must close, will last for three weeks.The total number of deaths since the start of the pandemic is expected to breach 5,000 this week, Sturgeon said.
Poland Won't Change Restrictions Before Nov. 29 (9:41 a.m. NY)
The worst may be over for Poland as the nation is seeing declining number of new infections amid fewer tests, Health Minister Adam Niedzielski tolds reporters in Warsaw. Recently announced restrictions will remain in place until Nov. 29 unless the situation worsens, he said.
Poland registered 19,152 new coronavirus cases in the past 24 hours, down from 20,816 on Monday, the Health Ministry said earlier on Twitter.
Astra CFO Says Vaccine Data Imminent (9:20 a.m. NY)
Trial data for AstraZeneca Plc's vaccine with the University of Oxford is "days to weeks" away, the company's chief financial officer told investors at a Jefferies conference.
Marc Dunoyer said Astra's management was encouraged by the data seen from Pfizer Inc.'s and Moderna Inc.'s vaccines in the last week because of shared traits, according to a note published by Jefferies after the discussion Tuesday, which was closed to the media. Dunoyer said that even though the Astra-Oxford vaccine differs from the other two, which use messenger RNA technology, they all target the same spike protein that lets the virus enter and infect healthy cells.
Astra has taken steps to minimize the impact of the vaccine on cash flow because it has committed to delivering the vaccine at cost during the pandemic, Dunoyer said.
Workers Want to Be at Home, Just Not Every Day (8:45 a.m. NY)
Office employees are getting used to the perks of telecommuting, and expect it to continue even after the pandemic ends, but most aren't ready to abandon the office entirely, according to a survey by Jones Lang LaSalle Inc. A majority of employees want to continue working from home at least two days a week, according to the brokerage's survey of more than 2,000 workers globally.
Independent Hotel Owners Band Together (7:55 a.m. NY)
A group of independent hotel owners is forming a "rebel alliance" to survive the pandemic and prevent their properties from getting swallowed up by the likes of Marriott International Inc. and Hilton Worldwide Holdings Inc.
The group, led by Pebblebook Hotel Trust, is launching Curator Hotel & Resort Collection, a new company that aims to reduce costs on everything from bed linens to credit card processing.
Austria's Partial Lockdown Shows Impact (7:47 a.m. NY)
While Austrians experienced the first day of stricter measures, softer rules imposed two weeks earlier showed some results. The 7-day incidence fell for the fourth consecutive day, and recoveries reported on Tuesday outpaced new cases for the second time since early October.
Still, the incidence per 100,000 remains above 500, and hospitalizations and ICU usage are at record levels. The tougher rules are planned to last until Dec. 6.