Marlins, Yankees Cancel Games After Positive Tests for Miami
(Bloomberg) -- Major League Baseball on Monday lost its first two games to the persistent coronavirus pandemic, just days into the start of a truncated 60-game season.
After 12 Miami Marlins players and two coaches tested positive for Covid-19, according to ESPN, the team canceled its home opener. Shortly thereafter, the Philadelphia Phillies -- the Marlins' opponent this past weekend -- postponed their Monday game against the New York Yankees.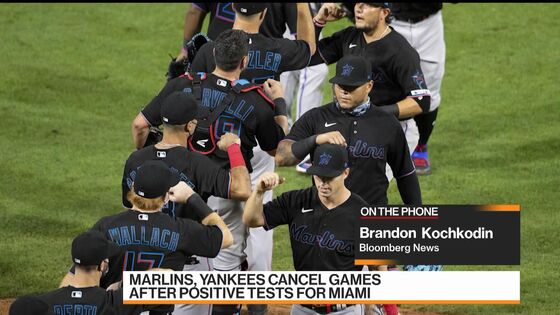 The Marlins, who opened their season on the road against the Philadelphia Phillies, delayed their trip back to Miami from Sunday to Monday after pitcher Jose Urena tested positive. He missed his scheduled start Sunday. Three other players -- catcher Jorge Alfaro, infielder Garrett Cooper and outfielder Harold Ramirez -- were previously held out of games during the opening series due to positive tests.
"Postponing tonight's home opener was the correct decision to ensure we take a collective pause and try to properly grasp the totality of this situation," Marlins Chief Executive Officer Derek Jeter, the former star Yankees shortstop, said in a statement Monday.
Major League Baseball confirmed the game postponements in a statement, saying the league is conducting additional Covid-19 testing. The Athletic reported the Phillies-Yankees postponement earlier Monday.
The cancellations are the latest challenge as MLB remains resolved to play the season in the midst of the pandemic. Delayed testing results beset summer-camp preparations as teams readied for the season's start, which came July 23. Star players such as San Francisco Giants catcher Buster Posey and Los Angeles Dodgers pitcher David Price have opted out of playing the season.
No reports have yet surfaced about Philadelphia Phillies players testing positive.