Jokowi Urges 'Sense of Crisis' in Asia's Coronavirus Hotspot
(Bloomberg) -- Indonesia's President Joko Widodo urged for a "sense of crisis" among his ministers as the country becomes one of the worst hotspots in the world.
Jokowi, as the president is known, also called off a paid vaccination plan and told state officials not to travel overseas after wide public backlash, urging them to exercise "social sensitivity," Cabinet Secretary Pramono Anung said in a statement. Only the foreign minister and those given special permission by the president can travel internationally, he added.
Indonesia added 51,952 Covid-19 cases with 1,092 people dying from the disease on Saturday. Brazil reported more than 45,500 infections on Friday, while U.S. ones are climbing again.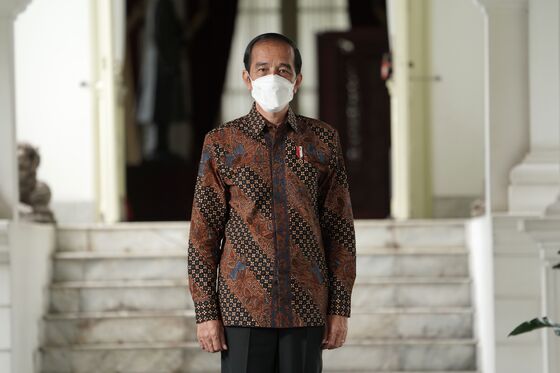 "The president has emphasized that in this period of emergency curbs, surely there must be a sense of crisis throughout all ministries, institutions and leaders," Anung said.
Photos of ministers spotted overseas and a plan by a state-owned company to sell vaccines to individuals were met with anger and questions on why entities are allowed to profit from the doses. While support for Jokowi has stayed high through the pandemic -- a May survey showed 75.6% approval -- the virus resurgence has seen people voicing more discontent as infections and deaths surge amid an overwhelmed healthcare system.
The government will decide in the next few days whether to extend virus curbs imposed on the most populated islands of Java and Bali, said Luhut Panjaitan, minister for maritime and investment affairs, who oversees the measures. There's been a significant drop in people's mobility and there are signs that cases in Jakarta and Bali may start to flatten, he added.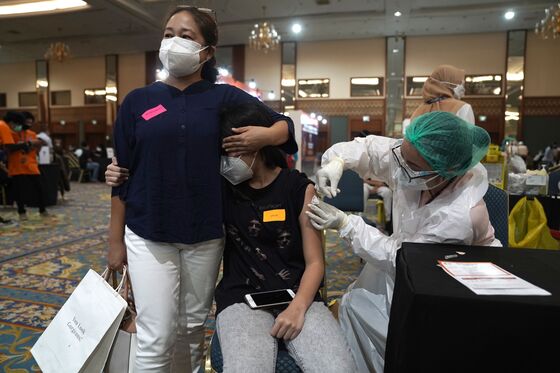 All vaccines will remain free for individuals while the cost of doses procured for the private vaccination program will be borne by employers as originally planned, Anung said.
Health Minister Budi Gunadi Sadikin had bemoaned the private vaccination program organized by the Indonesian Chamber of Commerce and Industry as it was slower than the public campaign and shots were bought at too-high prices. It was due to the lag in the private program that the government decided to offer unused shots for sale to individuals.
Jokowi seeks to ramp up vaccination, targeting herd immunity for the most-populated island of Java by mid-September. More than 1.3 million doses were given out on Saturday, down from a record 2.4 million reached on Wednesday. Nearly 15% of its 270 million population have gotten at least their first shot, with most of the vaccinated people centered in Jakarta and Bali.
While the capital remains the epicenter of infections with nearly 20% of Saturday's confirmed cases found there, it accounts for only 6% of deaths. East and Central Java provinces were hardest hit by fatalities. Combined, they account for half of total deaths in the same day despite recording a quarter of cases.
The inoculation program has been hampered by an unequal lack of access to Covid-19 vaccines globally as well as issues with local distribution. LaporCovid19, a crowdsourced information-sharing platform, said people reported weekslong waits for shots as demand exceeds the doses available, especially for those living on islands beyond Java.