Japan's Virus Wave Is Easing Despite Lack of Government Action
(Bloomberg) -- Japan's most recent and largest wave of coronavirus infections is showing signs of subsiding, despite a lack of heavy intervention from the government to bring it under control.
After peaking at the start of August, the country is on track for a sixth consecutive day where new cases are below 1,000. The seven-day average of cases is falling in almost every hotspot, including in Tokyo where the 250 cases reported Thursday are about half of the peak level found earlier this month. The test positivity rate in the capital has been below 5% for three days.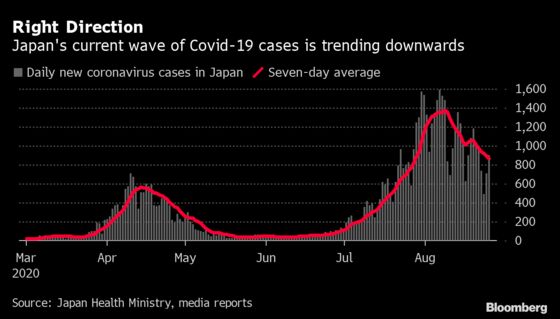 The trends, if they continue, may give support for policymakers who have resisted calls for tougher measures in order to avoid further blows to the economy. The state of emergency in Japan earlier in the year, as well as lockdowns in the country's major partners, have hammered consumer spending, production and exports. More than 66% of those polled by Kyodo News in July, when cases had been surging, thought the government should again declare a state of emergency.
Unlike places like Hong Kong and Australia which re-imposed strict measures after virus resurgences, Japan has taken no nationwide steps to restrict business hours or people's movement. Regional governors made limited requests such as reducing party numbers at restaurants and avoiding domestic travels, many of which have already expired. In Tokyo, the city extended for two weeks its call for bars, restaurants and karaoke rooms serving alcohol to close at 10 p.m. -- one of the few requests that the city made during the flareup.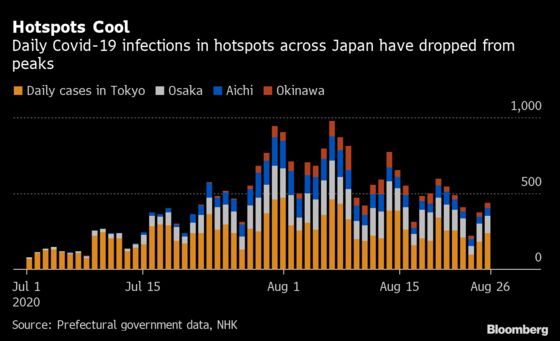 Japan's situation illustrates that strict restrictions on people's daily lives may not be necessary to flatten the infection curve -- though the country has advantages difficult to replicate elsewhere, including the near-universal practice of mask-wearing. Nations are also wary of the economic costs of re-imposing lockdowns as resurgences flare, with European countries like Italy, France and Spain ruling out the measure.
The Japanese government's advisory panel last week suggested the worst was over and the current wave had peaked, but officials are so far remaining cautious.
"We don't yet know if the peak has passed," Yasutoshi Nishimura, the minister in charge of the nation's virus response, told parliament on Thursday, after his comments saying the second wave of the virus is bigger than the first caused jitters in the foreign exchange markets on Wednesday.