Jack Ma Thanks Russian Defense Minister With a Million Masks
China's richest man donated more than a million medical masks and 200,000 coronavirus test systems to the Russian army to help it fight the spread of the novel coronavirus.
Jack Ma told Defense Minister Sergei Shoigu he was returning the favor after Russia donated supplies in February during the peak of the pathogen's spread in China, according to a ministry statement Thursday.
The assistance comes as Russia steps up measures to contain the spread of coronavirus domestically, with Moscow ordering all non-essential businesses to shut starting Saturday. While the Kremlin says there isn't an epidemic in Russia yet and the total number of infections remains less than in many other European countries, cases nationwide nearly doubled over the last two days to 840.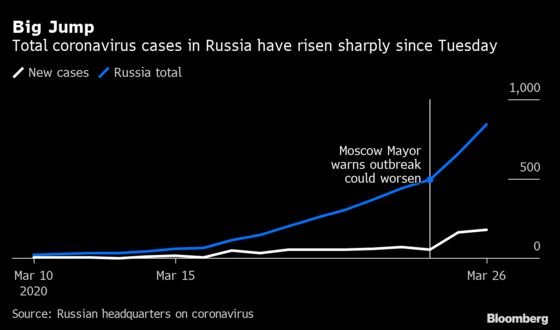 As the number of cases in China declines, Beijing is providing aid and medical expertise to Europe as it confronts the coronavirus crisis. Last week, President Xi Jinping described China's mass deployment of medical assistance countries including Italy, Greece and France as an effort to further a "Health Silk Road," stretching his Belt and Road trade-and-infrastructure initiative.