U.S. Cases Rise at Slower Pace; States Ease Rules: Virus Update
Global confirmed cases passed the 3 million mark, even as Italy reported the lowest levels of new infections in seven weeks and prepared to begin reopening. U.S. states including Florida and Ohio took steps toward easing restrictions.
British Prime Minister Boris Johnson returned to work but warned that lifting the lockdown now would risk a "second spike" as the country recorded the fewest deaths since March. Presumptive Democratic nominee Joe Biden called for more testing and criticized President Donald Trump's inaction.
U.S. stocks climbed alongside equities in Europe and Asia as major economies edged toward reopening, the Bank of Japan boosted stimulus and corporate results rolled in. The dollar weakened and oil slumped again.
Virus Tracker: Total cases 3 million; deaths pass 208,000
N.Y. may reopen some parts in May; N.J. says not so fast
European lockdowns ease as cases drop and economies reel
Tale of two economies will determine post-lockdown growth
Russia has more than 6,000 cases again, total infections top China
China now hasn't reported a fatality in 12 straight days
Subscribe to a daily update on the virus from Bloomberg's Prognosis team here. Click VRUS on the terminal for news and data on the coronavirus.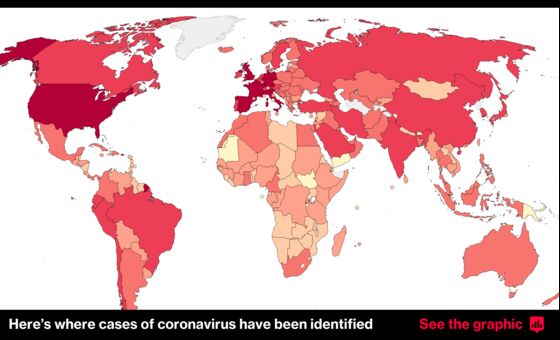 Florida Counties to Reopen Some Outdoor Areas (5 p.m. NY)
Florida's three most populous counties are reopening parks, marinas and golf courses on Wednesday in a limited capacity, according to coordinated announcements by their local governments.
Miami-Dade, Broward and Palm Beach rolled out a series of rules to ensure limited contact as park-goers, golfers and boaters return. In Miami-Dade, Florida's biggest county by population, Mayor Carlos Gimenez told reporters that he would sign an order later in the day making the move official.
Gimenez said the county had hired 400 security workers to ensure compliance with rules, including a prohibition on organized sports at parks, with the exception of singles tennis.
The three counties account for 60% of Florida's 32,138 confirmed Covid-19 cases. Earlier Monday, Governor Ron DeSantis said he may approach the reopening of the southeastern counties differently from the other 64 counties, which have had comparatively small outbreaks.
California May Ease Rules in Weeks, Newsom Says (4:23 p.m. NY)
California Governor Gavin Newsom said there will likely be "meaningful" changes to the state's stay-in-place orders in weeks, while the six major counties in the San Francisco Bay area said they will extend their restrictions through May.
Newsom, in his daily briefing, said a relaxing of orders depends on new cases continuing to flatten and ongoing social distancing. He warned residents against becoming lax in their measures, noting that several beaches were crowded this weekend and data show more people on the move. He plans to lay out some details about how California will "phase in" businesses on Tuesday.
"The only thing slowing down our ability to reopen the economy is people not practicing physical distancing," Newsom said. "It will be weeks, not months, if the curve continues where it's been."
In the Bay Area, stay-at-home orders will largely be kept in place and extended through May, the region's counties said in a press release. They said a new order will be issued this week allowing for limited easing of restrictions for "a small number of lower-risk activities."
U.S. Confirmed Cases Rise 2.3% (4 p.m. NY)
U.S. cases rose 2.3% from the day before to 979,077, the slowest pace since at least April 1, according to data compiled by Johns Hopkins University and Bloomberg News. That was lower than Sunday's growth rate of 3.3% and below the average daily increase of 3.5% over the past week. Deaths rose 1.8% to 55,563.
Nebraska reported the sharpest surge in new cases, up 11% to 3,031, according to the Johns Hopkins and Bloomberg News data.
New York's cases rose 1.4%, according to the Johns Hopkins and Bloomberg News data.
New Jersey, which has the second-highest Covid-19 rate, reported 106 new deaths, for a total of 6,044, according to the state's health department.
Texas reported 15 new deaths, the lowest daily increase since early April, bringing total fatalities in the state to 663, according to the state's Health and Human Services division. New cases rose 2.7% from Sunday to 25,297.
Florida reported 32,138 cases, up 1.9% from a day earlier, according to the state's health department. Deaths reached 1,088, an increase of 1.3%.
Ohio had 16,325 total cases, up from 15,963 on Sunday, and 753 deaths, an increase from 728 the previous day, according to Governor Mike DeWine. The five-day trend of cases, deaths and hospitalizations is declining, DeWine said.
California reported 45 deaths since Sunday, an "encouraging sign" after the daily toll reached a peak of more than 100 last week, Governor Gavin Newsom said.
Ohio to Begin Gradual Reopening (3:12 p.m. NY)
Ohio Governor Mike DeWine announced a gradual reopening of businesses starting Friday, while maintaining restrictions such as social distancing and wearing masks under the slogan, "no mask, no work, no service, no exception."

Starting Friday, health-care procedures that don't require an overnight stay in a hospital can move forward, and dentists and veterinarians can resume all activity, DeWine said at a press conference in Columbus.
On May 4, manufacturing, distribution, construction, and general offices can reopen with people still encouraged to work from home if possible, DeWine said. Consumer, retail and services firms can reopen May 12 with proper precautions, he said.
Ohio's restriction on gatherings of no more than 10 people will remain, and restaurants, hair salons and day-care centers will stay closed for now, he said.

The governor, a Republican, said testing and tracing of cases is expected to increase enough during May to allow the phased-in reopening but that the state will be watching for signs of a spike in infections.

DeWine was among the first U.S. governors to close schools and non-essential businesses, and the state issued a stay-at-home order that took effect March 23 and initially was set to expire April 6 but was extended to May 1.
Florida May Reopen by Region (1:45 p.m. NY)
Florida Governor Ron DeSantis said his strategy for reopening the economy may differ by region as three of the state's 67 counties -- Miami-Dade, Broward and Palm Beach, all in the southeast -- account for 60% of the state's 32,138 confirmed Covid-19 cases.
"Pretty much the rest of the state has really handled this very well," DeSantis told reporters Monday in Tampa. "I think that is something that you take into consideration."
DeSantis's stay-at-home order is set to expire Thursday, and he hasn't provided details of how he intends to proceed. Phase one of the reopening would be "a baby step," he said, and his approach would be "very slow, methodical and data-driven."
Texas New Deaths Drop (1:35 p.m. NY)
Texas reported 15 new deaths from Covid-19 Monday, the lowest daily increase since early April, bringing total fatalities in the state to 663. Positive cases rose 2.7% from Sunday to 25,297. Another 14,496 virus tests were performed, down from the record 20,269 reported Saturday.

Governor Greg Abbott is expected to lay out his plans for easing lockdown restrictions across Texas. He allowed retailers to begin operating to-go operations on Friday. He has said his plan will allow businesses and some services to reopen "in strategic ways" starting in early May.
Ireland Warned Not to Reopen (1:25 p.m. NY)
Ireland shouldn't lift its coronavirus restrictions right now, according to the nation's chief medical officer, Tony Holohan, even as the country reported its lowest number of deaths since April 12. There were 18 more confirmed coronavirus deaths, with 386 new cases.
"I'm more firmly of that view" not to lift restrictions now "given what we're seeing," Holohan said. Intensive-care admissions remained "persistent," he added. Ireland, which is under a virtual lockdown until May 5, has 19,648 coronavirus cases, with 1,102 deaths.
WHO Warns on Southern Hemisphere (1:15 p.m. NY)
The World Health Organization is concerned about the rising number of cases in Latin America, Africa, some Asian countries, as well as eastern Europe, Director-General Tedros Adhanom Ghebreyesus said, adding that the pandemic is far from over. Everyone in the Southern Hemisphere should get the seasonal flu shot now as that season is starting there, he added.
Countries can avoid a second wave if they put the right policies into place, but they need to be vigilant if they try to ease lockdowns. "It's pretty logical that if you lift that too quickly, the virus can jump back," said Mike Ryan, the head of the WHO's health emergencies program.
Countries that followed WHO advice have fared better, and the world should have paid attention when it declared a global public health emergency on Jan. 30, Tedros said. "We don't have any power to force countries to implement what we advise," he said. "It's up to the countries to take our advice or reject it."
Trump, Retailers to Expand Testing (1:05 p.m. NY)
President Donald Trump and retailers are expected to announce wider availability of coronavirus tests as his administration seeks to address concerns from states and business leaders that U.S. testing must be more robust for Americans to feel comfortable returning to work.
The president is scheduled to make the announcement this afternoon in a meeting with retail executives, according to two people familiar with the matter. They asked not to be identified because the details aren't public.
In pushing to start reopening the country, the White House has fielded broad concerns from business leaders and states that the U.S. doesn't have sufficient testing to relent on social-distancing practices that have crippled the economy. It isn't clear whether the president will address shortages of materials needed to expand testing, including swabs to collect samples and chemical media to transport them to labs.
N.Y. Cancels Presidential Primary (12:45 p.m. NY)
New York canceled its presidential primary scheduled for June 23, becoming the first state to do so during the pandemic. At least a dozen states, including New York, have postponed their primaries or moved to mail-in only voting. Democratic candidate Joe Biden has virtually sewn up the presidential nomination as the last of his rivals, Bernie Sanders, dropped out earlier this month.
The state reported 337 deaths from Covid-19, down sharply from daily peaks earlier this month, but still "tragically high," Governor Andrew Cuomo said. Overall, the state has reported 17,303 deaths due to the virus. New cases rose to 291,996, up from 288,045 the day before.
U.K. Deaths Fall to March Levels (12:25 p.m. NY)
A further 360 people are reported to have died from the coronavirus in U.K. hospitals, the latest figures show, the lowest daily increase since March 28.
Some 4,310 more people were reported to have been tested positive for the disease, figures released by Health Secretary Matt Hancock in the government's daily briefing show, lower than the five day average daily increase of 5,237 positive cases a day, according to data calculated by Bloomberg. The total number of people who tested positive is currently at 157,149 from 152,840.
On Sunday, 37,024 more tests for the virus were carried out, as the U.K. races to meet its target of 100,000 tests a day by the end of the month.
Colorado, Nevada Join Western Pact (12:20 p.m. NY)
Colorado and Nevada are joining California, Oregon and Washington in what is coming to be known the Western States Pact, a bloc coordinating policies and strategies to combat the pandemic.
"There's no silver bullet that will solve this pandemic until there is a cure so we must have a multifaceted and bold approach in order to slow the spread of the virus, to keep our people safe and help our economy rebound," Colorado Governor Jared Polis said in a news release.
As states try to develop testing-and-tracing capacities and set policy with little help from Washington, regional groups have formed in the Northeast, Midwest and South. Oregon Governor Kate Brown said in the news release that states can't act alone without risking a fresh outbreak of disease.
"As Western states, we are all in this together," she said. "In the same way that we share expertise and help one another during wildfire season, we will work together as we recover from the impacts of this pandemic––with a shared vision, a common purpose, and individual paths forward."
Italy New Cases at Seven-Week Low (12:05 p.m. NY)
Italy posted its lowest number of new coronavirus cases in seven weeks on Monday, as Prime Minister Giuseppe Conte tentatively started to map a way out of a national lockdown and restart the economy.
Civil protection authorities reported 1,739 cases for the 24-hour period -- the fewest since March 10 -- compared with 2,324 a day earlier. Confirmed cases now total 199,414. The number of recovered patients rose by 1,696 to 66,624.
'Food Supply Chain Is Breaking': Tyson (11:10 a.m. NY)
Tyson Foods Inc. Chairman John Tyson warned in a blog post Sunday that "the food supply chain is breaking," explaining that the closing of several meatpacking plants after coronavirus outbreaks will lead to meat shortages and "a serious food waste issue" as farmers won't be able to send their liverstock for processing.
Tyson has implemented several measures to keep operations going since January, including taking worker temperatures, supplying face masks, and adding daily deep-cleaning and sanitizing to facilities, according to the post. Even so, the company has had to close several plants, which will cause shortages of some of its products in stores.
"The government bodies at the national, state, county and city levels must unite in a comprehensive, thoughtful and productive way to allow our team members to work in safety without fear, panic or worry," Tyson wrote. "The private and public sectors must come together."
NYC to Close Some Streets to Cars (10:53 a.m. NY)
New York City will close 40 miles (64 kilometers) of streets to cars, mostly near parks, to expand the amount of space that pedestrians have to keep social distance, Mayor Bill de Blasio said.
The mayor has been pressed by the City Council, particularly Council Speaker Corey Johnson, and bike advocates to open more streets to pedestrians and cyclists, and to give more recreation possibilities to New Yorkers.
Vaccine Could Be Ready in 2020 (10:28 a.m. NY)
A vaccine could be available as early as this year, according to the Coalition for Epidemic Preparedness Innovations, which is funding nine coronavirus vaccine projects.
Earlier timelines of 12 to 18 months didn't account for the possibility of companies working closely together to accelerate the process, faster enrollment in human trials and other factors, Richard Hatchett, the head of CEPI, said on a call Monday.
Hatchett said he doesn't want to overpromise but that several vaccines backed by CEPI may enter a second phase of testing as soon as late spring or this summer. An Oxford University team led by Sarah Gilbert, a professor of vaccinology, has begun trials of a potential vaccine and aims to get efficacy results as soon as September. If they prove safe and effective, the first could become available in 2020, probably on an emergency-use basis, accessible only to certain at-risk populations such as health-care workers.
Still, some experts have called for caution, noting that most vaccines go through years of tests before they hit the market and that even 12 to 18 months would be extraordinarily fast. The coronavirus shots moving most rapidly are made with new technologies that have never proven useful in humans.
N.J. Schools Could Reopen in May (10:21 a.m. NY)
Governor Phil Murphy left open the possibility of New Jersey students returning to class in May as he prepared to detail a framework for reopening the state's businesses, workplaces and government services.
"We're going to go through later today the principles that will guide us" on easing the state's social-distancing policy, Murphy said during an interview on CNBC. Hospitalizations must go down first and testing must at least double, he said.
"We have some amount of optimism" that testing will increase dramatically in the next month, he said. Almost 6,000 New Jerseyans have died and at least 109,000 people have tested positive for the coronavirus. Only New York has more cases.
Israeli Schools to Reopen Gradually (10:21 a.m. NY)
Israel's Prime Minister Benjamin Netanyahu has approved the gradual reopening of the educational system beginning next week, provided coronavirus infection rates don't worsen.
In the first phase, preschools will reopen in small groups, with children attending only part of the week, the prime minister's office said in a statement on Monday. First through third graders will also study in small groups of up to15 children.
U.K. Betting Firms to Remove Ads (9:54 a.m. NY)
The U.K.'s largest betting and gaming firms will voluntarily remove all television and radio gaming advertising during the lockdown period, the Betting and Gaming Council said in a statement. All BGC members will look to implement the changes as soon as possible and no later than May 7, with the commitment remaining in force for six weeks and at a minimum until June 5.
"This latest move by the regulated industry further underlines our commitment to safer betting and gaming with many people cut off and feeling anxious," BGC Chief Executiver Michael Dugher said in the statement.
Portugal May Require Masks (9:49 a.m. NY)
Portugal is preparing to ease restrictions on some activities with rules that include the use of masks on public transport and in schools, Prime Minister Antonio Costa said on Monday. The government will announce Thursday what businesses can resume operating from May 4. It hasn't shut down the economy entirely, with industrial, construction and transport operations allowed to continue.
The health ministry on Monday reported the smallest daily increase in confirmed coronavirus cases since March 19, while the number of patients in intensive care units fell for a ninth day. There were 163 new cases, taking the total to 24,027. The total number of deaths rose by 25 to 928.
Virus Lingers in Air of Crowded Spaces, Study Finds (8:24 a.m. NY)
The new coronavirus appears to linger in the air in crowded spaces or rooms that lack ventilation, researchers found in a study that buttresses the notion that Covid-19 can spread through tiny airborne particles known as aerosols.
At two hospitals in Wuhan, China, researchers found bits of the virus's genetic material floating in the air of hospital toilets, an indoor space housing large crowds, and rooms where medical staff take off protective gear. The study, published Monday in the journal Nature Research, didn't seek to establish whether the airborne particles could cause infections.