U.S. May Ease Outdoor Mask Mandate; India Aid: Virus Update
Vaccinated Americans may get clearance as soon as Tuesday to doff masks outdoors. The governors of New York and New Jersey both took steps to ease restrictions on crowds as infections and hospitalizations continue to slow in the metropolitan region.
The U.S. said it would send 60 million doses of AstraZeneca PLC's coronavirus vaccine abroad, and President Joe Biden pledged his full support to Indian Prime Minister Narendra Modi as he combats the world's largest surge in Covid-19 cases. Biden plans to announce on Tuesday new guidance on wearing masks outdoors for vaccinated people, CNN reported.
A combination of curbing the virus and rolling out vaccines at one of the fastest rates in Asia saw Singapore top Bloomberg's Covid Resilience Ranking this month, dethroning New Zealand for the first time in the measure of best and worst places to be in the pandemic era.
Subscribe to a daily update on the virus from Bloomberg's Prognosis team here. Click CVID on the terminal for global data on cases and deaths.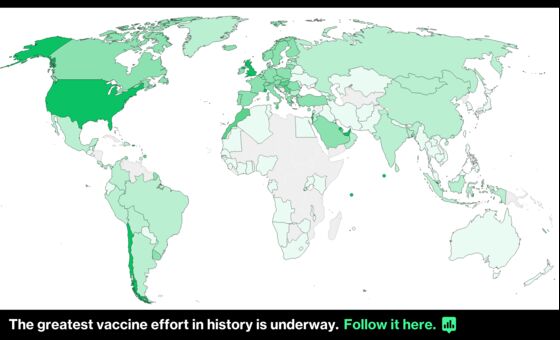 U.S. May Ease Outdoor Mask Mandate: CNN (4:42 p.m. NY)
Vaccinated Americans may get clearance to shed masks outdoors in one of the most significant changes to virus guidelines since the U.S. first told people to don the face coverings to curb the spread of Covid-19.
President Joe Biden is expected to announce as early as Tuesday that the U.S. Centers for Disease Control and Prevention will issue the new guidance, according to a CNN report citing unidentified sources.
With the U.S. averaging 2.74 million vaccine doses daily -- with a total of 231 million given out overall -- some public health experts have called for less strict guidelines as warmer weather arrives.
Fauci Sees Turning Point in Few Weeks: CNBC (3:09 p.m. NY)
Anthony Fauci, President Joe Biden's chief medical adviser, said Americans should begin to see a turning point in the pandemic "within a few weeks," CNBC reported. If the U.S. continues its vaccination pace, "literally within a few weeks, we're going to start to see a turning around of the dynamics," Fauci said Monday during a virtual event hosted by the Harvard T.H. Chan School of Public Health.
N.J. to Allow Larger Crowds (1:35 p.m. NY)
New Jersey starting on May 10 will relax some gathering restrictions, allowing bigger crowds to attend high school proms and graduation ceremonies, Governor Phil Murphy said on Monday.
In all, 2.8 million people have been fully vaccinated against Covid-19, he said at a Trenton news conference. That's 60% of the 4.7 million adults whom the state wants fully protected by June 30.
Indoor events, including weddings, proms, memorial services, performances and political get-togethers, will increase to 50% capacity, from 35%, for a maximum of 250 individuals. Dance floors at such events can open, but not those at bars and nightclubs.
Outdoors, 500 individuals will be able to gather, up from 200. At venues with 1,000 or more seats, capacity will grow to 50%, so long as 6 feet (1.8 meters) of distance can be maintained among groups.
U.S. Will Share Astra Vaccines, AP Says (1:05 p.m. NY)
The U.S. will begin sharing its entire pipeline of vaccines from AstraZeneca once the vaccine clear federal safety reviews, the White House told The Associated Press on Monday, with as many as 60 million doses expected to be available for export in the coming months.
The AstraZeneca vaccine is widely in use around the world but not yet authorized by the U.S. Food and Drug Administration.
Turkey Imposes 3-Week Lockdown (1 p.m. NY)
President Recep Tayyip Erdogan imposed an almost 3-week lockdown starting Thursday. All students will enroll in remote schooling during the lockdown period, which runs until May 17, Erdogan said in a press conference following Monday's cabinet meeting in Ankara.
The daily number of cases should be lowered to below 5,000 so that Turkey can reopen economy along with the rest of Europe, Erdogan said. On Sunday, Turkey reported 38,553 new cases of Covid-19 and 347 deaths, bringing the death toll from the pandemic to 38,358.
Cuomo Raises Stadium Capacity (11:50 a.m. NY)
With infections falling to the lowest level since November, New York Governor Andrew Cuomo said he is increasing allowable capacity to 33% from 20% at outdoor stadiums, to 50% from 25% at casinos, to 50% from 33% at gyms outside New York City, and to 75% from 50% at office buildings.
Cuomo spoke at a press conference at the state fairgrounds in Syracuse, where he announced that the fair, one of the biggest in the U.S., will resume this summer after last year's cancellation. The fair begins on Aug. 20, and runs for 18 days.
N.J.'s Murphy to Outline Reopening Plan (9:19 a.m. NY)
New Jersey Governor Phil Murphy tweeted that he'll make a "major announcement" at 1 p.m. on Monday about the state's reopening efforts.
Pakistan Records Deadliest Week Yet (9:06 a.m. NY)
Pakistan reported 874 deaths in the week ended April 25, the worst week since the pandemic started more than a year ago. The South Asian nation that neighbors India is going through a new wave of infections and government officials are warning this one may be the worst yet.
Macron Hints at Reopening Plans (8:09 a.m. NY)
France's Emmanuel Macron gave some hints about how the country will start to reopen some businesses from mid-May.
During a school visit Monday, just as pupils were going back to class after an extended vacation to tackle the virus, Macron said restaurants would reopen gradually between May and the end of June. He added that the timeline will be based on local virus circulations, potentially diverging from one region to another. Cultural venues would start to reopen from mid-May, with limited occupancy rates, and the current 7 p.m.-6 a.m. curfew might be pushed back, he told pupils.
EU Sues AstraZeneca for Breaching Contract (7:44 a.m. NY)
The EU filed a suit against AstraZeneca for breaching the advanced purchase agreement for vaccine doses, Health Commissioner Stella Kyriakides said in a tweet.
The company failed to come up with a "reliable strategy" to ensure timely delivery of vaccine doses, Commission spokesman Stefan De Keersmaecker told reporters in Brussels. "We want to make sure that there's a speedy delivery of a sufficient number of doses the European citizens are entitled to and which have been promised on the basis of this contract," he said.
AstraZeneca Vaccine Designer's IPO Valuation (7:33 a.m. NY)
Vaccitech Plc, the University of Oxford spin-out that designed AstraZeneca's vaccine, is seeking a valuation as high as $613 million in its initial public offering in the U.S., a move to help fund the development of its vaccines for hepatitis B virus, human papillomavirus and prostate cancer.
It's set to offer 6.5 million American depository shares for as much $18 each, and will be listed on the Nasdaq Stock Exchange, according to a filing.
No Talks of EU-U.K. Free Travel (6:48 a.m. NY)
The EU isn't currently in direct talks with the U.K. on free travel options for vaccinated individuals. The bloc would be open to start such talks, a spokesman said on Monday in Brussels. The comment comes after Commission President Ursula von der Leyen told the New York Times that such talks were taking place with the U.S.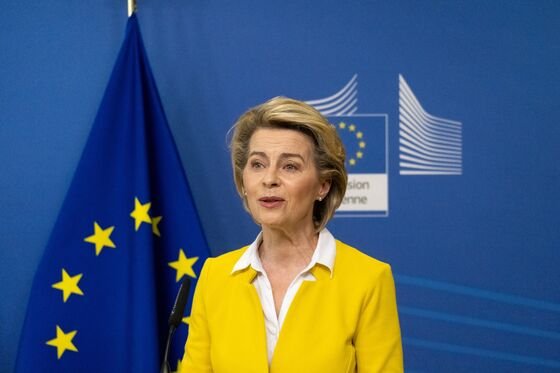 "On the U.K. side there are no such contacts yet," the spokesman said. "On the U.S. side there are contacts on the technical level and there was also a call between Commissioner Reynders and U.S. Secretary of Homeland Security Alejandro Mayorkas last Wednesday where this issue was raised."
Serbia Starts Walk-In Vaccinations (6:08 a.m. NY)
Seeking to speed up inoculations, Serbia no longer requires patients to register online before receiving Covid-19 shots. With a relative abundance of vaccines from four suppliers, the Balkan nation first lifted the registration requirement for AstraZeneca vaccines earlier this month, and then for the rest. The nation of about 7 million people has inoculated almost 2 million, including 1.3 million with both doses.