Trump Campaign Sees Bounce; Australia Adds Funding: Virus Update
(Bloomberg) -- Donald Trump's new campaign manager credited the revival of the president's daily virus briefings with narrowing the gap between him and Democratic nominee Joe Biden. Ohio Governor Mike DeWine tested positive for the virus, after a standard test ahead of Trump's visit to his state.
U.S. Covid-19 cases increased 1.3% on the day, more than the 1.2% average daily increase over the past week. Modeling by the University of Washington sees the U.S. death toll almost doubling by December if the pandemic's pace doesn't change.
As people stayed home, Uber Technologies Inc. made more money delivering food than transporting people for the first time last quarter. Australia is committing more funds to its JobKeeper program to support employment amid the pandemic.
Global Tracker: Global cases top 18.8 million; deaths pass 707,000
Track the race for vaccines that might end the coronavirus pandemic
NYC is a holdout on in-person schools as districts defy Trump
Trump campaign chief sees bounce with revival of daily virus briefings
Fauci says testing too slow while Trump says it's 'best ever'
Why Florida doesn't look as deadlyas New York
Travelers are getting creative just to get on a plane
Johnson's decision to stick by his chief aide hurts confidence in U.K. government
Subscribe to a daily update on the virus from Bloomberg's Prognosis team here. Click CVID on the terminal for global data on coronavirus cases and deaths.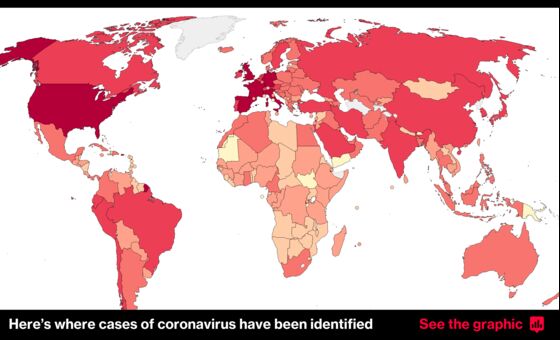 Australia to Add Funds to JobKeeper Program (5:30 p.m. NY)
Treasurer Josh Frydenberg said in an ABC radio interview the government is adding A$15.6 billion ($11.3 billion) to expand the JobKeeper program, a wage subsidy that supports jobs.
Brazil Adds 53,139 New Cases (5:25 p.m. NY)
Brazil, the second-most infected country, reported a total of 2.9 million cases, 53,139 of which were recorded in the last 24 hours, according to Health Ministry's press office.
The country added 1,237 new Covid-19 deaths, with a total fatality count of 98,493.
The health ministry also said Brazil will begin production of a vaccine in December as part of an agreement with AstraZeneca and University of Oxford.
Texas' Positive-Test Rates Jumps (5 p.m. NY)
Texas's positive-test rate jumped to 17.05%, the second-highest since the pandemic began, according to state health department data figures.
The rate has been growing for five days, the longest streak of increases since late June. The peak was 17.43% on July 16.
Fatalities increased by 306 to 7,803, the figures showed. The Lone Star state recorded 7,598 new cases for a cumulative total of 467,485.
Africa Cases Exceed 1 Million (4:55 p.m. NY)
Cases in the continent have surpassed 1 million and the actual number of infections could be several times higher with a lack of testing, the Associated Press reported, citing global health experts. Some countries have only one testing machine, it said, and some have had fewer than 500 tests per million people.
Separately, South Africa reported 306 additional deaths and 538,184 cases.
Uber Makes More Delivering Food Than Carrying People (4:30 p.m. NY)
Uber generated more revenue from delivering food than transporting people for the first time last quarter. Food delivery has become a central part of that strategy, even more so after the $2.65 billion deal to buy Postmates Inc.
Still, it failed to offset a steep and prolonged decline in ridership brought on by the coronavirus pandemic, mirroring the overall contraction of the travel industry.
U.K. Safe-Traveler List Boots Belgium, Adds Malaysia (4:15 p.m. NY)
People arriving in England from Belgium, the Bahamas and Andorra starting Saturday will have to quarantine for two weeks because of increasing Covid-19 cases in those countries, according to a U.K. government statement.
Brunei and Malaysia were added to the list of so-called travel corridors for England following decreases in confirmed coronavirus cases.
U.S. Cases Rise 1.3% (4 p.m. NY)
Coronavirus cases in the U.S. increased 1.3% compared with the same time Wednesday to 4.85 million, according to data collected by Johns Hopkins University and Bloomberg News. The increase was higher than the average 1.2% daily gain over the past week. Deaths rose 1.3% to 159,433.
Florida reported 510,389 cases, up 1.5% from a day earlier, compared with an average increase of 1.6% in the previous seven days. Deaths reached 7,747, an increase of 120, or 2.4%.
Illinois reported 1,953 new cases, 11% more than the previous day and the most since May 24, according to state data. The seven-day rate of positive tests rose to 4% from 3.9%. Deaths declined to 21 from 30 a day earlier.
Hawaii experienced a 6.6% increase in cases, bringing the total to 2,763.
Iowa Governor Warns on Mask Mandates (3:30 p.m. NY)
Iowa Governor Kim Reynolds signaled she'd overrule any local officials who impose outdoor mask-wearing requirements. While businesses, school districts and local governments can legally require people to wear face masks inside their premises, anything beyond that would be subject to reversal by the governor, Reynolds said.
"We don't believe during a public health emergency that the local governments have the authority to supersede what is in place at the statewide level by the governor," Reynolds, a Republican who has refrained from issuing a statewide stay-home order, said Thursday.
Dutch Leader Pleads With Public (2:45 p.m. NY)
Prime Minister Mark Rutte told the Dutch public the country can "prevent a second lockdown if we don't throw away the head start we achieved together." National measures may be required to rein in the virus, Rutte said on national television, after new cases almost doubled this week compared to the previous week.
The Netherlands lifted most virus-related restrictions on July 1. A 1.5-meter (5-foot) distancing rule remains in effect nationwide.
California Cases Extend Decline, Deaths Above Trend (2:20 p.m. NY)
California reported 166 additional deaths from the coronavirus, exceeding the 14-day average of 132 and bringing its total to 9,869.
There were 5,258 new cases, below the 14-day average of 7,455 and extending a recent decline from two weeks ago, when infections peaked at more than 12,000 day.
The data, however, may be unreliable. The state is struggling with issues with its electronic laboratory reporting system and has said there may be an underreporting of positive cases.
U.S. Lifts Blanket Foreign Travel Advisory (2:05 p.m. NY)
The U.S. State Department lifted a global Level 4 health advisory in effect since March 19 that counseled U.S. citizens to avoid all international travel due to the pandemic. U.S. airline stocks rose on the news.
"With health and safety conditions improving in some countries and potentially deteriorating in others," the department is returning to country-specific levels of travel advice, according to an emailed statement.
Ireland's Transmission Rate Rises (2 p.m. NY)
Ireland's so-called reproduction rate rose to 1.8 from about 1.3 a week ago, and the country faces "a significant risk" of community transmission in the coming days, according to the Health Ministry.
With the seven-day rolling average of cases per day more than doubling in a week, Ireland reported 69 new cases on Friday for a total of 26,372, and five more deaths. The country delayed moving to the final stage of reopening the economy this week.
Illinois Has Most Cases Since May (1:35 p.m. NY)
Illinois reported 1,953 new cases, 11% more than the previous day and the most since May 24, according to state data. The seven-day rate of positive tests rose to 4% from 3.9%. Deaths declined to 21 from 30 a day earlier.
France Cases at Levels Last Seen in April (1:18 p.m. NY)
France reported 1,604 new cases, marking the first time since April that the country has counted more than 1,600 infections on two consecutive days. Another seven deaths increased the total to 30,312, according to the Health Ministry.
French authorities are increasingly ordering people to wear masks outdoors and indoors and warning of a pandemic resurgence as soon as September.
Model Sees U.S. Deaths Almost Double (1 p.m. NY)
The U.S. death toll could almost double to 295,000 by December if the pace of the pandemic doesn't change, though 70,000 of those deaths could be avoided if everyone immediately wore masks, according to modeling by the University of Washington's Institute for Health Metrics and Evaluation.
"We're seeing a roller coaster in the United States," Christopher Murray, the institute's director, said in a statement. People wear masks and socially distance more frequently as infections increase, then let their guard down and "the potentially deadly cycle starts over again," he said.
The virus has claimed more than 158,000 lives in the U.S. The death toll rises to 295,011 by the beginning of December in the university's model.
Ohio Governor DeWine Positive (12:31 p.m. NY)
Ohio Governor Mike DeWine Thursday took a test for Covid-19 and tested positive, according to a statement from his office. The test was taken as part of the standard protocol to greet President Trump on the tarmac at Burke Lakefront Airport in Cleveland.
DeWine has no symptoms at the present time, according to the statement, and plans to quarantine at his home in Cedarville for the next 14 days
Italy Reports Most Cases Since June (11:58 a.m. NY)
Italy registered 402 new coronavirus cases on Thursday, the highest since early June. New cases in the Lombardy region account for 30% of the total, according to civil protection agency data. The increase continues to be driven by an outbreak among employees of a farm in the Mantua area last week.
The numbers remain distant from the pandemic's peak when new infections reached a high of 6,557 in one day on March 21. There were 6 deaths reported Thursday. Total cases reported since late February rose to 249,204.
Arizona Case Average Declines (11:36 a.m. NY)
Arizona's seven-day average increase in cases fell to 1%, the lowest since late June. The state reported 1,444 new cases on Thursday, an increase of 0.8% that brings the total to 183,647. Officials reported 70 more fatalities, lifting the death toll to 4,002.
Arizona's rate of positive tests reached 14%, compared with 13% reported on Wednesday, according to the state Department of Health Services. Maricopa County reported a positive rate of 17.3%, more than 14.8% a day earlier.
Florida Positives Lowest Since June (10:45 a.m. NY)
The rate of people in Florida testing positive fell to 8.3% for Wednesday, the lowest since June 21. It was down from 10.9% a day earlier.
The state reported 510,389 Covid-19 cases on Thursday, up 1.5% from a day earlier, compared with an average increase of 1.6% in the previous seven days. Deaths among Florida residents reached 7,747, an increase of 120, or 2.4%, according to the report, which includes data through Wednesday.
U.S. Jobless Claims Fall (8:44 a.m. NY)
Applications for U.S. unemployment benefits fell more than expected last week to the lowest since the pandemic began in a broad decline across nearly all states, suggesting the labor market is improving.
The drop, the largest in almost two months, comes as U.S. lawmakers are still working toward a stimulus package that would once again bolster the size of millions of Americans' unemployment checks.