Covid Vaccine Would Help World Avert Crisis With Ballooning Debt
(Bloomberg) -- The recent surge in coronavirus cases in the U.S. and Europe is underscoring the importance of finding a vaccine as soon as possible, first and foremost for public health, but also for the global economy.
The world is headed toward a massive debt burden because of the pandemic, but finding and distributing a vaccine would allay risks, according to a report by S&P Global Ratings.
"Although we're heading toward record levels of debt-to-GDP, we believe a near-term debt crisis is unlikely," according to Alexandra Dimitrijevic, global head of research at S&P in the note. The rating company says an economic rebound is predicated on the wide availability of a Covid-19 vaccine by mid-2021 and continued accommodative monetary policies.
The S&P 500 dropped the most in four months on Wednesday, and yield premiums on Asian dollar bonds widened this week for the longest stretch since the pandemic engulfed markets in March, as concerns about the pandemic returned with a force. Finding a vaccine that could be available for use by mid-2021 would be a "critical milestone" from an economic standpoint, according to S&P.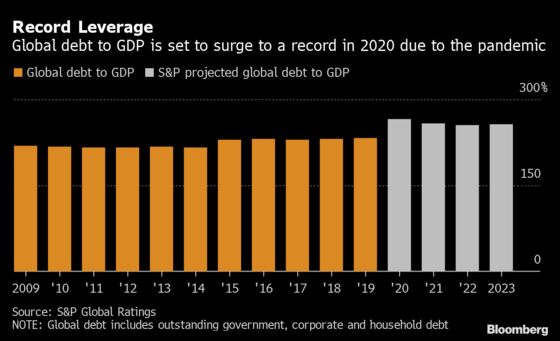 S&P projects global outstanding debt, including that of governments, corporates and households, to rise 10% to $200 trillion in 2020, peaking at 265% of gross domestic product by year-end.
Stresses for weaker corporates and industries most exposed to the impact of social restrictions will remain over the short term, and S&P expects defaults to likely rise to levels not seen since the global financial crisis in 2009.
Beyond alleviating the burden on countries' health systems, a proven vaccine would, for the most part, remove the need for the sorts of social restrictions that brought economic activity to a virtual standstill earlier this year, according to the ratings firm.